Luscious Chia Seed Pudding takes a minute to make, is super healthy and so versatile it can be served for breakfast, as a snack, even dessert. You can find a big batch of it in my fridge at all times.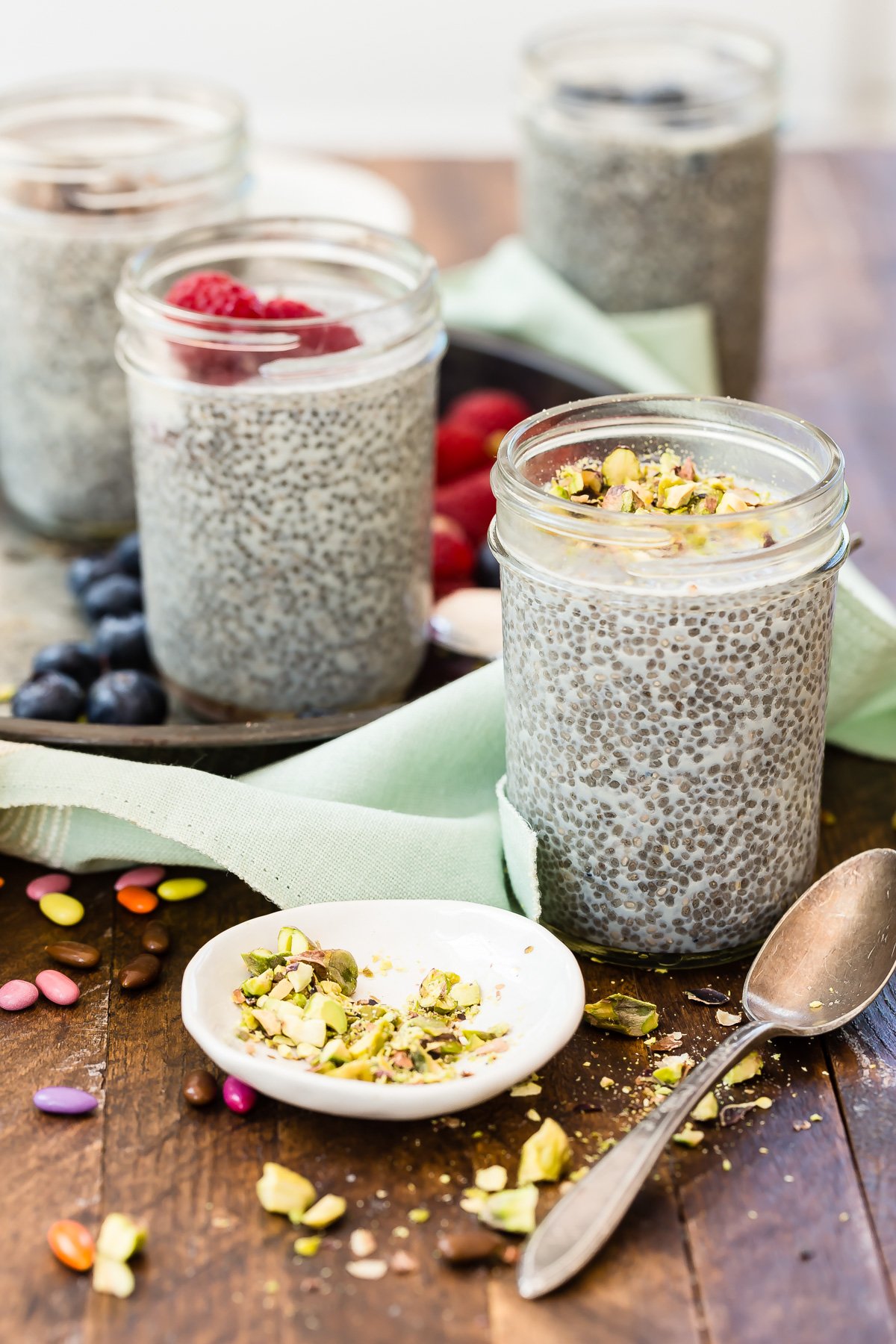 Our family has been sprinkling chia seeds on yogurt and cereal for quite some time, but it wasn't until my girlfriend Kimberly told me about her kids' love of her chia seed pudding that I decided to try using them in a different way.
Chia seeds are known for their high level of omega-3 fatty acids and antioxidant properties, but how do those hard little granular chia seeds produce a pudding so creamy, rich, and well, pudding-like? When mixed with liquid chia seeds expand and take on a different texture, like gelatin.
Adding just three other simple ingredients to them results in this silky smooth and healthy dessert with the addictive flavor combination of vanilla and honey (or maple syrup — your choice!) in every bite.
This recipe caught on like wild fire in my house. My whole family loves it so much, my husband makes us 1-2 batches a week. In fact, he's so territorial about it, he insists on being in charge of making it. That's because he experimented with all different types of milks before arriving at the one he believes to make the creamiest chia pudding (in his opinion, oat is the best, but almond a close second). I personally like using full fat cow's milk for this recipe, but it works well with rice, almond, and most other kinds of milk.
We love putting out an array of toppings to adorn each of our bowls, from berries, to cacao nibs, chocolate chips, bee pollen, and shredded coconut to name a few. The possibilities are limitless.
If you prefer an utterly smooth texture (like the consistency of a chocolate pudding or mousse), or have a little one who does, just blend your ingredients till smooth in the blender before pouring into jars and refrigerating.
"Ch-ch-ch-chia!" Chia seed pudding, that is!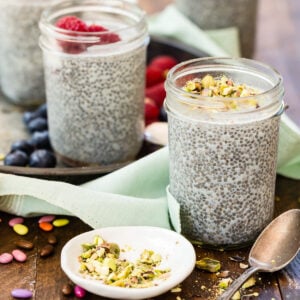 Chia Seed Pudding
Ingredients
2

cups

milk (almond, rice, soy or cow's milk)

1/4

cup

honey, maple syrup or agave

2

teaspoons

vanilla extract

1/2

cup

chia seeds
Instructions
In a small bowl, whisk together the milk, honey and vanilla. Add the chia seeds and stir to combine.

Refrigerate 4 hours, stirring once halfway through.

Serve chilled or at room temperature.