A Blueberry Chia Smoothie has everything you need in one glass to keep you going all day. It's filled with antioxidants and absolutely delicious too!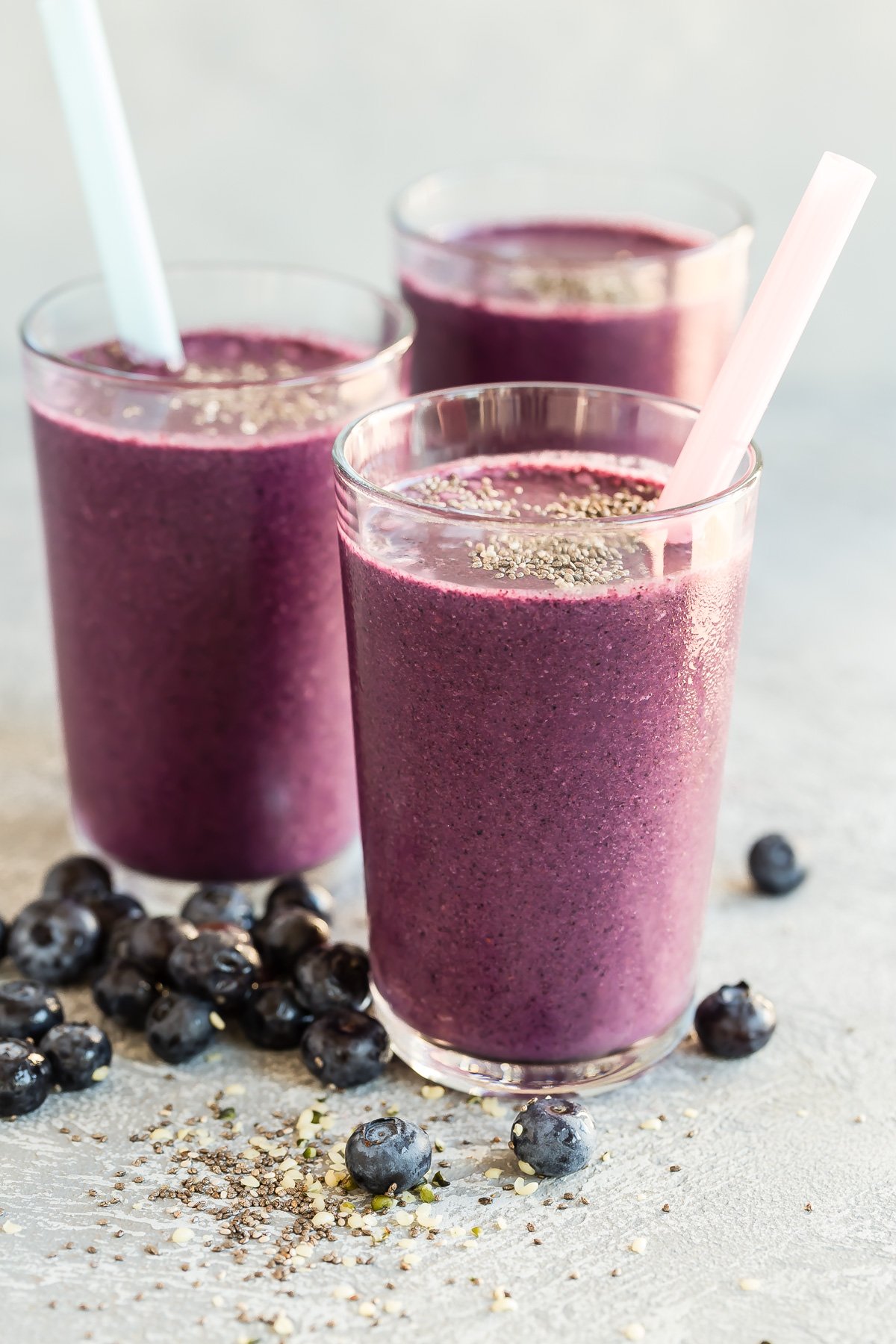 Why I Love a Blueberry Chia Smoothie
It's healthy: Starting you day with any smoothie, but especially this blueberry chia smoothie, is a great idea. It's super healthy and a great way to get in a serving of fruits and vegetables in your body before tackling the day.
Easy to make: Making a smoothie for breakfast is one of the easiest things you can do. Just dump it all in a blender and whiz it up! It's even faster if you prep smoothie jars with your favorite smoothie ingredients all ready to go!
Customizable: The best part about smoothies in general is that they're super customizable. You can add in any type of ingredients that will boost your health! You can leave out or add in ingredients to suit your tastes too!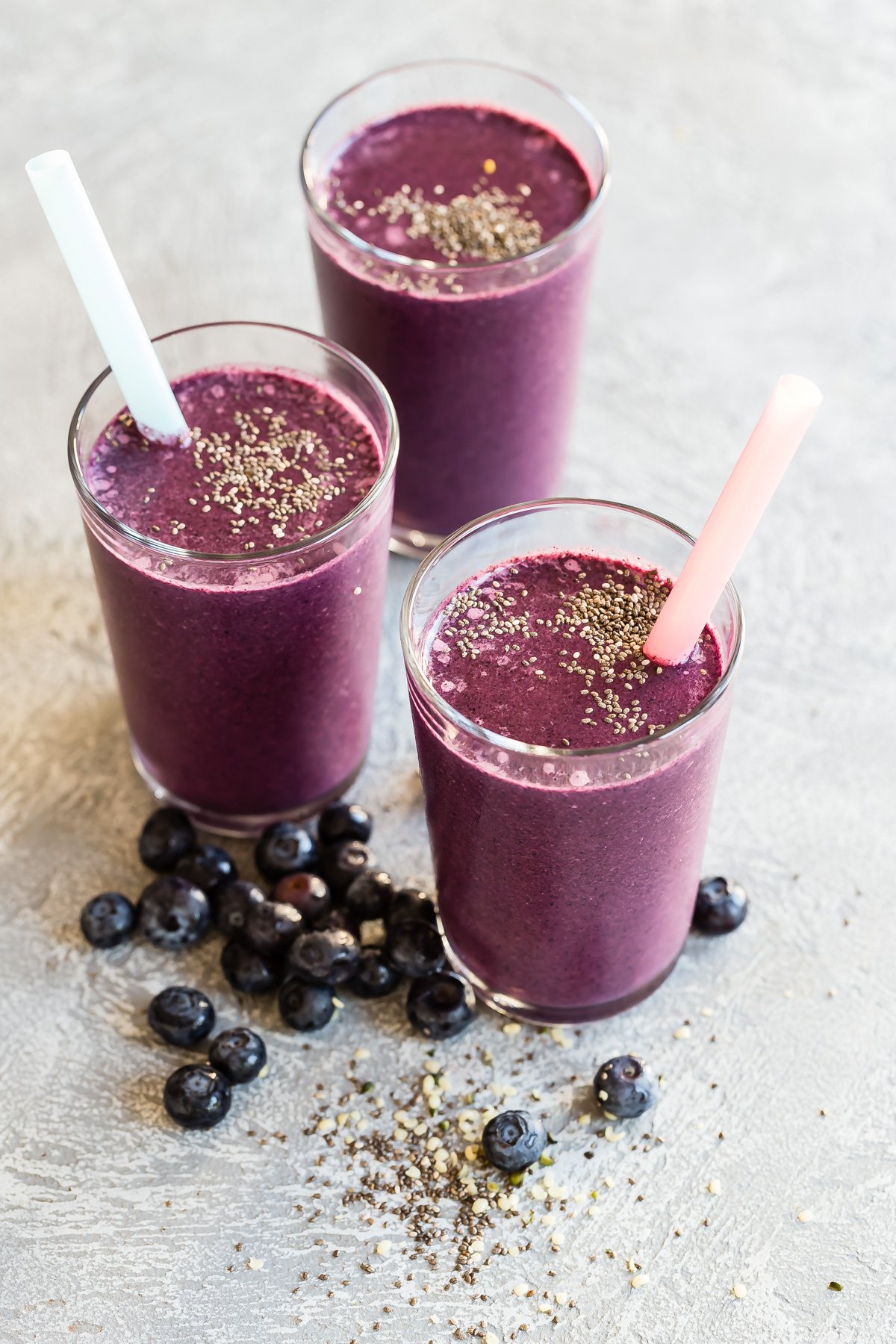 The Ingredients
Blueberries: The star of the smoothie! Blueberries have rightfully earned the status of superfood because they're packed with potent antioxidants, potassium, and Vitamin C. Plus, they bring a gorgeous purple color to this smoothie. What could be better than that?
Chia seeds: The other superfood in this smoothie. Rich in fiber, minerals, omega-3 fatty acids, and antioxidants, these babies are also a complete protein source. Just two tablespoons provide more calcium than a glass of milk (!). These small seeds expand up to nine times in the body, which has the benefit of making you feel full longer, which is a plus if you're focused on weight loss.
Nut butter: The option of adding your favorite nut butter takes this smoothie to the next level, transforming it into a salty/sweet concoction that also delivers the much needed protein boost we all need, kids and adults alike. My husband loves it with almond butter but recently tried it with peanut butter and said it was equally delicious. 
Hemp seeds: These are another good source of protein, healthy fats, and minerals such as magnesium, phosphorus, and zinc. They also contain fiber, which can help with digestion and promote feelings of fullness.
Banana: Besides it's health benefits, adding a banana to this smoothie adds some creaminess and natural sweetness. Use a frozen banana for an even more creamy texture!
Recipe Tip
No time to make this smoothie first thing in the morning? Here's a smoothie pro tip: toss all of the ingredients into your blender pitcher the night before and place it into the fridge so that all you need to do the next morning is whiz it up and pour it into a glass.
Looking for more smoothie recipes or to accomplish your health and wellness goals? Check out my cookbook Smoothie Project! Tag me on social media if you make this one!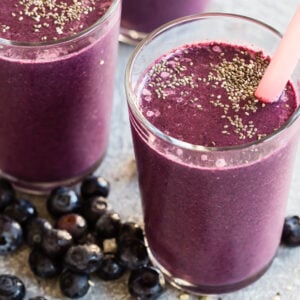 Blueberry Chia Smoothie
A Blueberry Chia Smoothie has everything you need in one glass to keep you going all day. It's filled with antioxidants and absolutely delicious too!
Ingredients
1

banana

1 1/2

cups

frozen blueberries

1

tablespoon

chia seeds

1

tablespoon

hemp seeds

1

tablespoon

nut butter of choice

(almond, peanut or sunflower)

1 1/4

cups

milk of choice
Optional boosts:
1

teaspoon

bee pollen

1

serving

protein or collagen powder
Instructions
Place all the ingredient in a high powered blender, and blend until smooth.