These 15 Spooky Halloween Recipes Kids Love are the result of years of me desperately trying to find nutritious meals with which to tempt my family before they are greeted with onslaught of candy from trick or treating that is coming down the pike.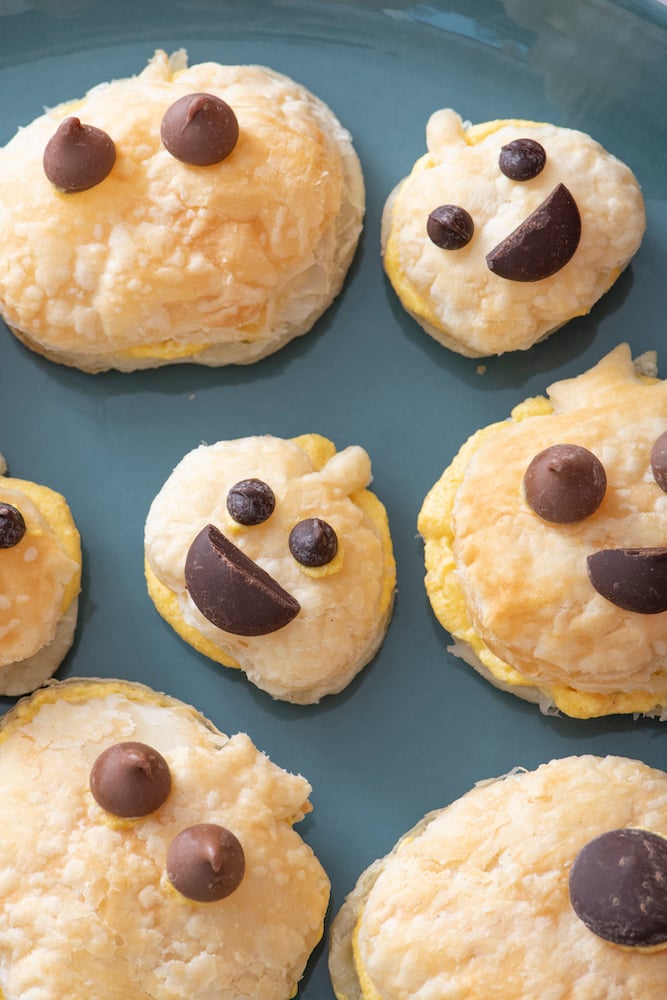 After all, Halloween is all about fun (ok, and it's about candy too). And given how every holiday seems to have a life that expands far beyond the day it's celebrated, Halloween can present some serious dietary challenges. In addition to trick-or-treating on the big night, your kids will likely be having Halloween parties at school and after school events, which means more candy. To help curb the sugar overload, serve up healthier choices that are as equally fun and appealing as the sweets with which they're smitten.
This year, try some of these spooky snacks and treats. They're easy to make and, unlike what will end up in the trick or treat bags, contain ingredients that won't give you a sugar overload! Many of these recipes are actually quite good for you, too. And even the sweeter ones are still made with better ingredients than your average store bought treat, so you can feel good about what you're feeding your family. Pro tip: if you fill everyone up on good stuff before the parties and trick or treating starts, maybe they'll have less room for candy! Maybe. A mom can dream, right?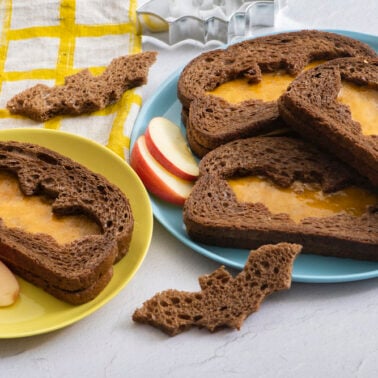 Spooky Grilled Cheese
This Spooky Grilled Cheese is a Halloween twist on a classic. It's super easy to make and is sure to bring a smile to your little one's face.
Caramel Popcorn
Make up little bags filled with this irresistible Caramel Popcorn to pass out to trick or treaters, and keep the little ghosts and goblins happy all night long!
Cookie Dough Bites
If you're looking for just a bite (or two) of a classic treat this Halloween — or any time of year for that matter — take a few minutes to whip up these healthy heavenly morsels.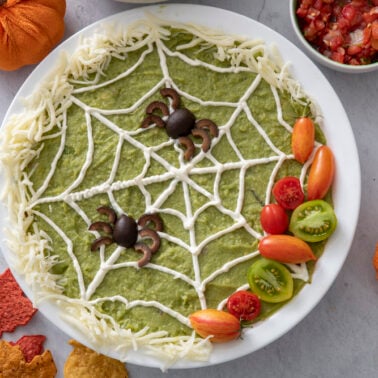 Halloween Taco Dip
Halloween Taco Dip is the most festive recipe you could ever make for your Halloween parties and get togethers this year!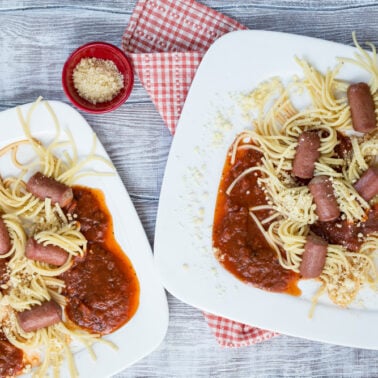 Freaky Franks
These creepy crawly Freaky Franks are so much fun to make! Devour a batch with your kids before trick or treating!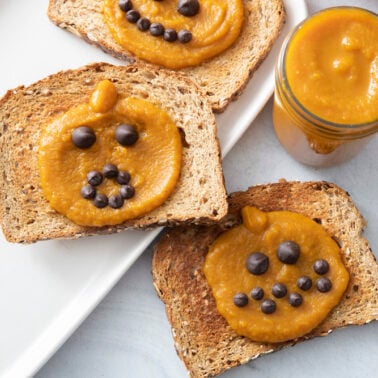 Pumpkin Toast
The simplest Halloween breakfast or snack is Pumpkin Toast! They're only three ingredients, healthy for you and not to mention super duper cute. 
Tangerine Pumpkins + Banana Ghosts
Not only are these totally adorable, but they're actually good for you. Now that's a crazy thought on Halloween, isn't it?!
Puff Pastry Pumpkins
Filled with a light and fluffy pumpkin whipped cream, there's nothing spooky about these Puff Pastry Pumpkins! They're just plain delicious!
Deviled Egg Spiders
These Deviled Egg Spiders are creepy and so delicious. The perfect, healthy Halloween snack for the whole family to enjoy!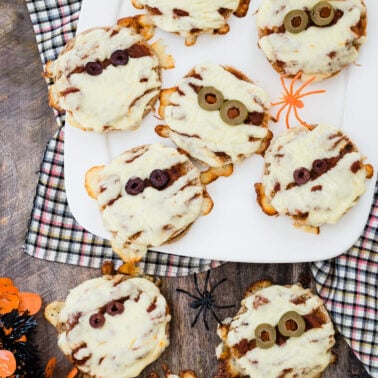 Pizza Mummies
My kids always get a kick out of making these mini pizzas with me for Halloween. Plus they're great to prep ahead of time and pop in the oven before trick or treating!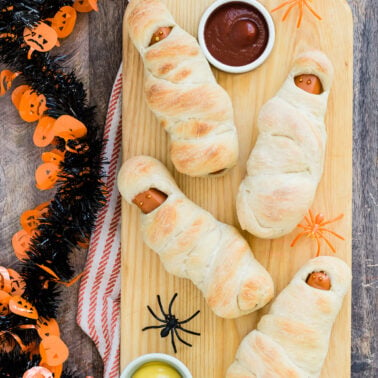 Mummy Dogs
Mummy Dogs are a great halloween dinner or lunch! Especially for older kids that know what mummies are.
Pumpkin Pie Pop Tarts
These Pumpkin Pie Pop Tarts are simple to make, don't use a ton of ingredients and bake up to a golden perfection for Halloween or really any time.
Pizza Dough Bones
The most simple Halloween recipe you'll ever make that brings lots of spooks!
Chocolate Tofu Pudding Pots
This pudding recipe packs some extra protein in and letting your kids decorate with "dirt", "worms" and other "bugs" is super duper fun!
Coconut Eyeballs
I love these because they're a super allergy friendly treat to make for kids!
Happy Halloween! Stay safe!