Instead of going to the store to buy Halloween candy to pass out to neighborhood trick or treaters, make up little bags filled with this irresistible Caramel Popcorn and keep the little ghosts and goblins happy all night long!
I arrived in Santa Rosa last night to start shooting another season of Guy's Grocery Games for Food Network. The show is a ton of fun to do, but I have to say that from the second I get on the plane, my heart starts aching terribly for my babies. I simply can't stand being away from them for even a day.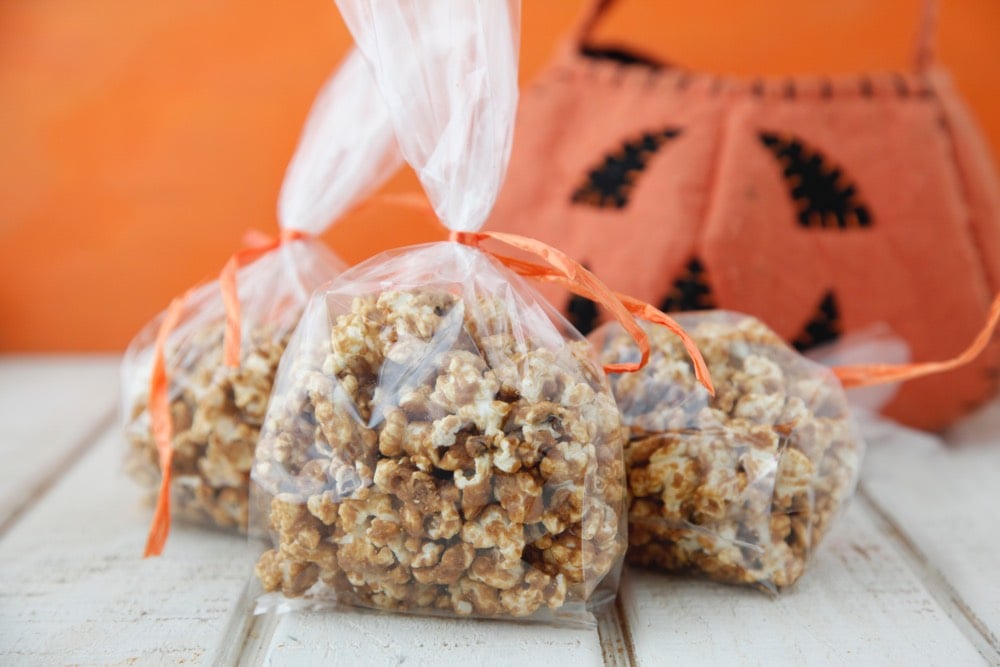 Knowing that I would be leaving town, I spent this past week making a ton of fun treats for my kids (and my hubby) to enjoy while I'm away. Caramel Popcorn was a childhood favorite of mine and it's quickly become one of Kenya and Chloe's as well.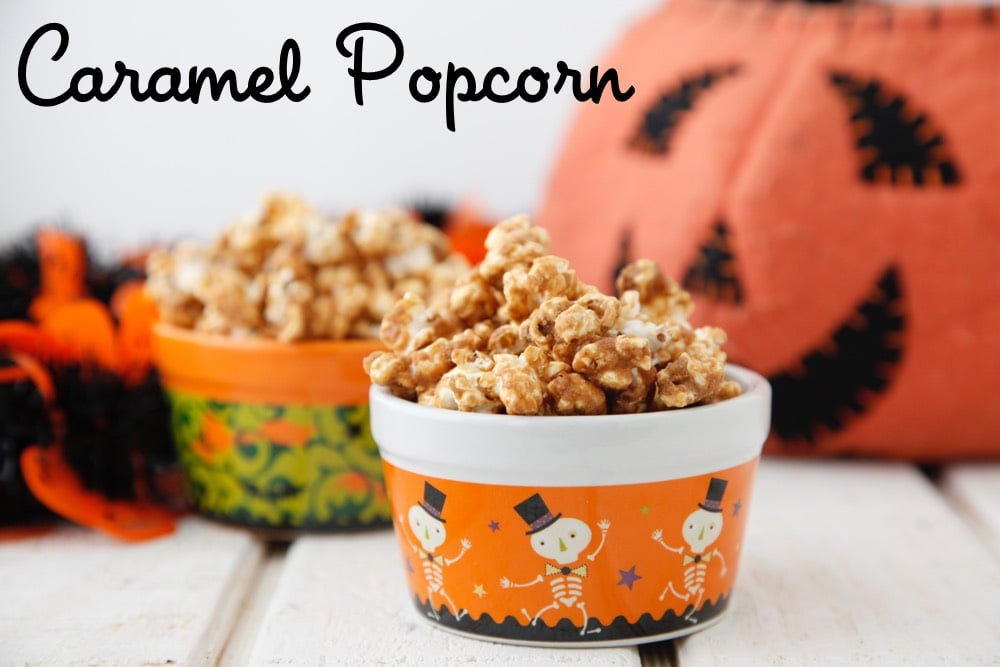 The first batch I made went over like gangbusters as neither kid had never tried it before. I brought little bags to school when I picked them up at the end of the day and they both shared it with their friends. There's nothing like combining a gaggle of starving kids after a long day of school and a big bag of Caramel Popcorn — what a ruckus (note to self_ next time bring more than two bags to school).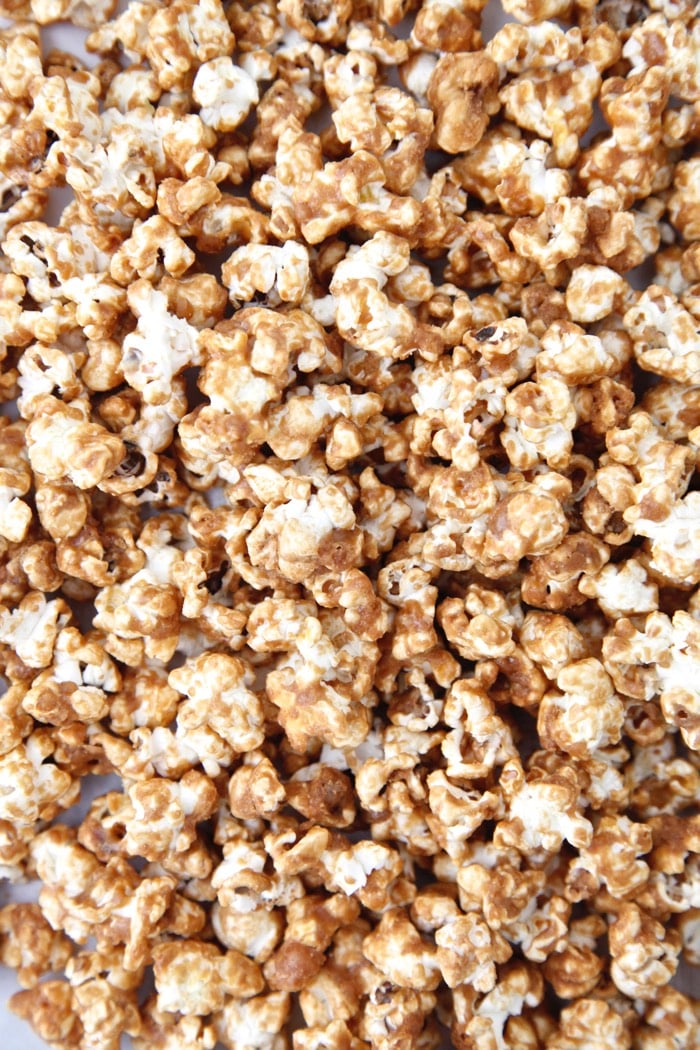 For the longest time I avoided making my own caramel popcorn, thinking I would need to use a candy thermometer to make the caramel coating, but I realized by trying it that it's so much easier than I had imagined. I just cooked up a delicious mixture of butter, brown sugar and vanilla until it was golden and bubbly before combining it with the popcorn and baking it till my kitchen smelled like total heaven. That first first whiff you take in is generally when you know it's ready to go, but there's an exact cook time in the recipe below to help you know for sure.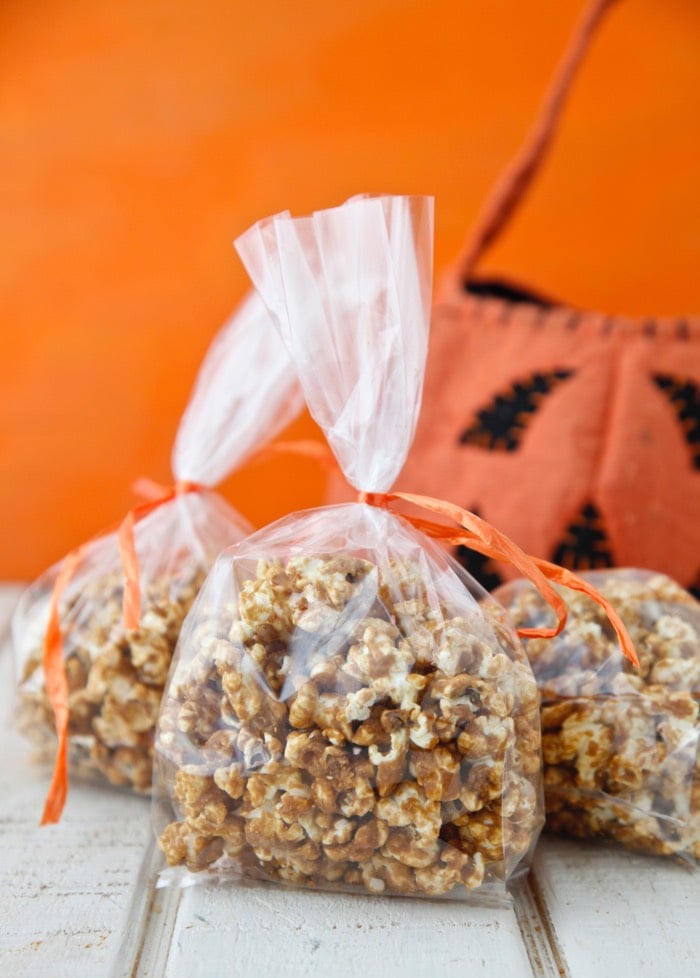 If you have a favorite Halloween snack, let me know down in the comments!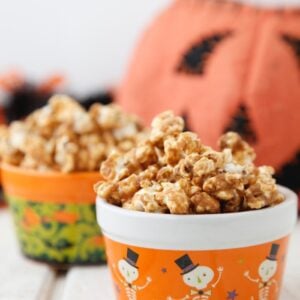 Caramel Popcorn
Make up little bags filled with this irresistible Caramel Popcorn to pass out to trick or treaters, and keep the little ghosts and goblins happy all night long!
Instructions
Preheat the oven to 250F. Line a baking sheet with a silpat or parchment paper before you begin cooking.

Place the popped popcorn into a large, heat-proof mixing bowl. Make sure you have no un-popped kernels in the bowl.

Melt the butter in a medium sized saucepan over medium-high heat. Mix in the sugar, and bring to a boil. Cook for 3-4 minutes, stirring and scraping the bottom of the pan continuously.

Turn off the heat and stir in the vanilla, baking soda, and salt. The mixture will bubble up a lot, this is okay. Continue stirring until the caramel is thick and glossy.

While stirring the popcorn, slowly pour the caramel over the popcorn. This is easiest if you have a partner help you. Stir until all the kernels are coated.

Spread the popcorn onto the baking sheet in an even layer.

Bake for 1 hour, stirring every 15 minutes, and breaking up any large clumps.

Let the caramel corn cool completely before serving.
Video