These 20 Easy Pumpkin Recipes guarantee two things: ease (essential, since cooking with pumpkin can seem daunting), and the delightful taste and nutritional benefits of PUMPKIN!
Whether you roast your own pumpkin to whiz up into a silky puree or use it from a can (Martha Stewart admits preferring canned to fresh, so it must be ok) you need these 20 Easy Pumpkin Recipes. Super duper easy and kid friendly. Whether you make them for school lunch, with kids for a class project or for a gathering, they're seasonal favorites!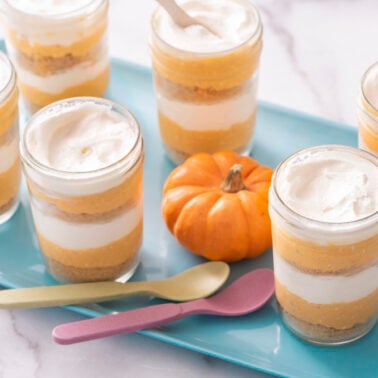 Pumpkin Pie Parfaits
I make these every year and the kids' LOVE them.
Pumpkin Waffles
We've made these for Christmas every year since I can remember. Great sandwiched with Pumpkin Butter or cream cheese for school lunch too!
Pumpkin Spice Oatmeal in the Crock Pot
We make this once a week during the winter. Makes your kitchen smell insanely good first thing in the morning!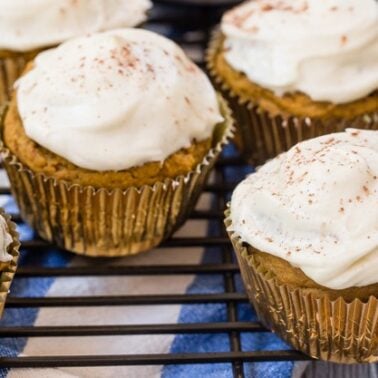 Pumpkin Muffins with Cream Cheese Frosting
If you have a child with a fall birthday, these are a birthday party must!
Pumpkin Apple Muffins
These are one of the first recipes I made for Kenya when he was a toddler. Great for little hands to gobble up.
Baked Pumpkin Doughnuts
Homemade doughnuts… need I say more?
Quick Pumpkin Cinnamon Rolls
If you've been too intimidated to make cinnamon rolls, don't be. These are quick and simple to prepare.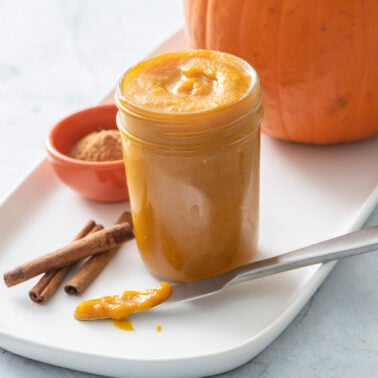 Pumpkin Butter
Slather this on a piece of toast or even pancakes for the best breakfast EVER!
Vegan Pumpkin Pancakes
These pancakes are in heavy rotation for our family during the fall and winter. Great for people with dairy and egg allergies too!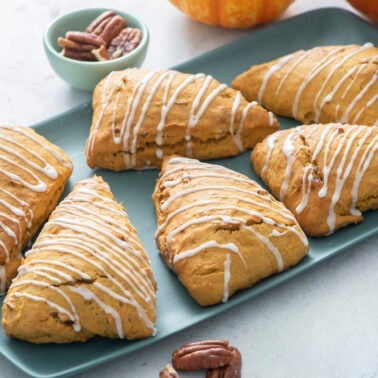 Pumpkin Pecan Scones
These Pumpkin Pecan Scones are a perfect fall time recipe. Loaded with crispy fresh pecans and pumpkin, these little treats are absolutely delicious! 
Sweet Pumpkin Quesadilla
These quesadillas are incredibly simple to make and the perfect way to use up the last few tablespoons in a can of pumpkin puree!
Pumpkin Milkshake
The perfect seasonal sweet treat.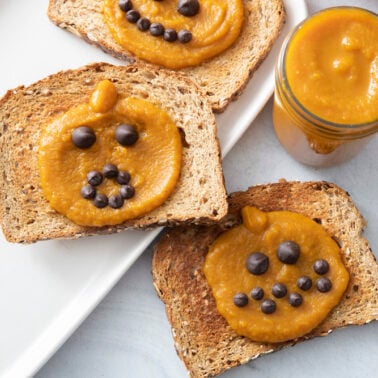 Pumpkin Toast
Make your pumpkin butter into something super cute for Halloween!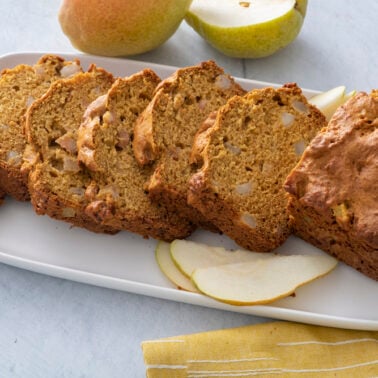 Pumpkin Pear Bread
Pumpkin Pear Bread is a delightful fall recipe that's not too sweet but absolutely delicious! 
Puff Pastry Pumpkins
Perfect for Halloween night and beyond!
Flourless Pumpkin Chocolate Muffins
When fall time hits, these pumpkin muffins are a staple in our house. Make these for snack time, breakfast or dessert!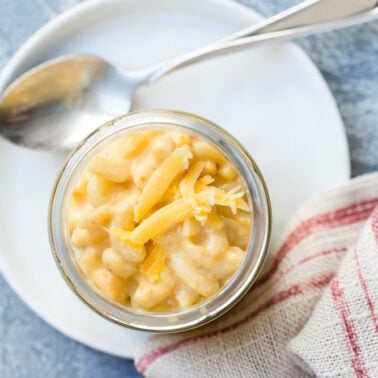 Mug Pumpkin Mac and Cheese
Who knew adding pumpkin puree to your mac and cheese could be so delicious?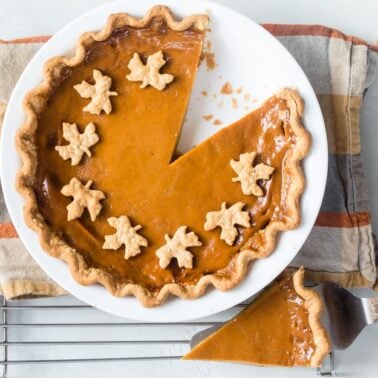 Maple Pumpkin Pie
A dessert staple, especially during the holidays.
Pumpkin Seed Cookies
I love using pumpkin seeds for some extra protein!
Maple Roast Pumpkin Seeds
Got a nut allergy? Pumpkin seeds are a great source of protein and super crunchy.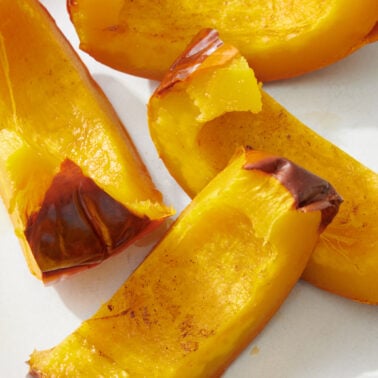 Roast Pumpkin and Toasted Pumpkin Seeds
Who knew making homemade pumpkin puree could be so easy?!
Individual Pumpkin Cheesecakes
Want something really special to serve this Thanksgiving? Try these individual little pots.