Pumpkin Pear Bread is a delightful fall recipe that's not too sweet but absolutely delicious!
The inspiration for this Pumpkin Pear Bread recipe came from some gorgeous, uber-ripe Bartlett pears I found last week at the farmer's market. At first thought I would just slice them for a snack, but then I remembered I had some canned organic pumpkin at home and wondered if that combination would work.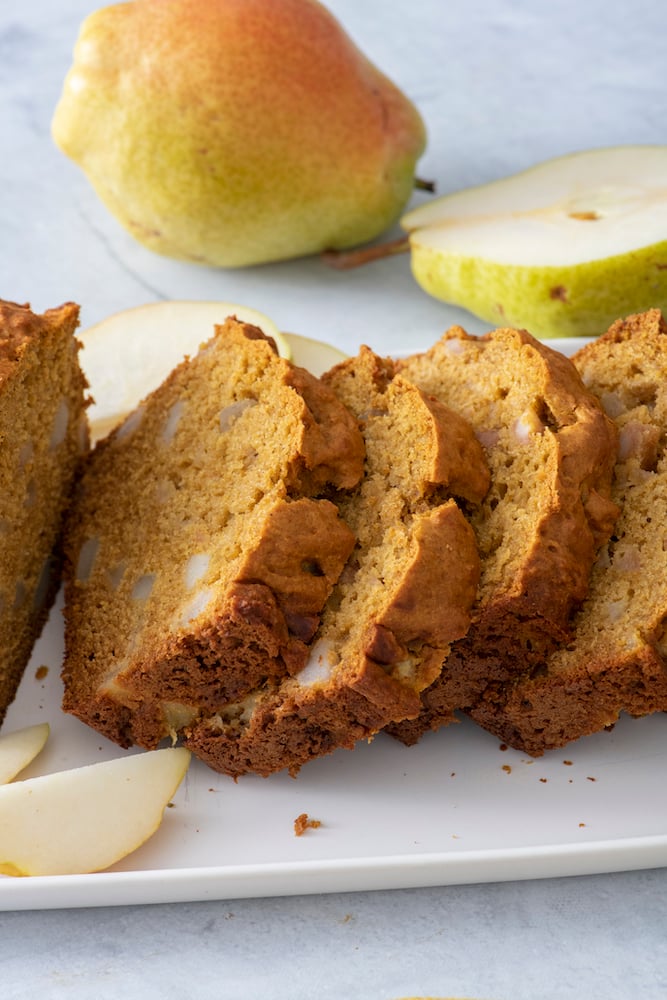 I've never seen Pumpkin Pear Pread, but it sounded like something yummy to eat in the autumn. The pears were so ripe, all I did was peel and mash them before adding to the recipe. If you don't have ripe pears you could place them next to bananas in a fruit bowl and they will ripen faster. A few larger pieces of pear are add some texture so don't fret if it's not fully mashed!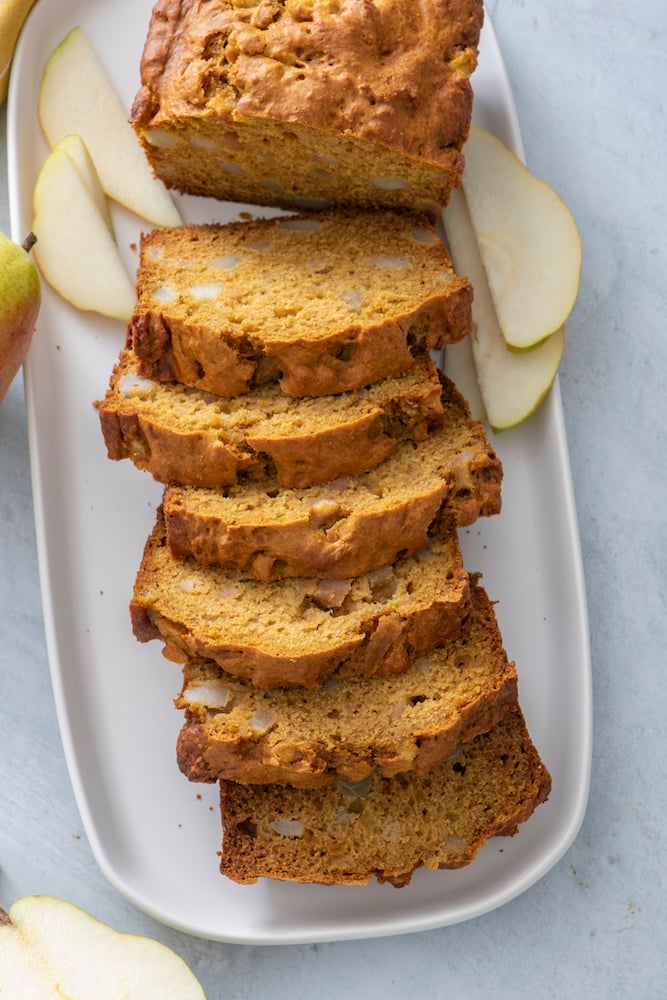 I'm usually not a fan of any type of canned fruit or veggie, but canned pumpkin really is a life saver. It's really a pain to make pumpkin puree, even when you roast it, the flavors never quite become as rich and sweet as the canned variety. So, this is one of those times that I give into convenience. If you're looking for more pumpkin recipes this fall try Pumpkin Waffles, Pumpkin Pie Parfaits, Pumpkin Apple Muffins, and Baked Pumpkin Doughnuts to name a few!
When the kids got home from school, the smell of fresh bread was all through the house. After it cooled we sat and tried it with all kinds of yummy spreads like pumpkin butter, apple butter, honey and just plain butter. Fall really is here! This might be my favorite time of year for cooking.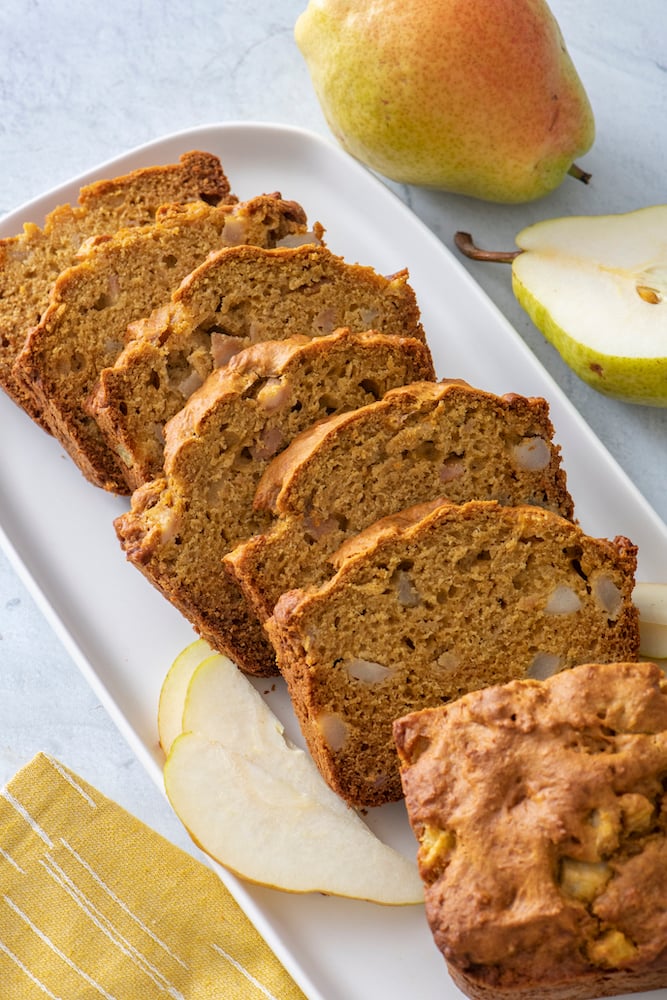 Will you be making this Pumpkin Pear Bread anytime soon? It makes a great snack, breakfast or even dessert so what are you waiting for?!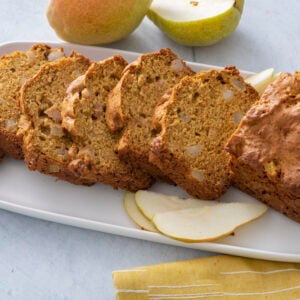 Pumpkin Pear Bread
Pumpkin Pear Bread is a delightful fall recipe that's not too sweet but absolutely delicious! 
Instructions
Preheat oven to 350 degrees.

Cream the butter and agave or honey with a standing or handheld mixer.

Add the pumpkin and pear purees.

Beat in the eggs one at a time.

In a separate bowl sift the flour and remaining ingredients.

Add the flour mixture to the pumpkin mixture a little at a time until combined. Do not overly mix or beat the mixture.

Place in a 6 individual greased loaf pans or in one 9×5 inch greased loaf pan.

Bake for 20 minutes for small loaf pans or 45-50 minutes for single loaf.

Cool for 10 minutes and then run a knife around the loaf pan to help release on to a cooling rack.
Notes
*A weelicious Mommy made muffins instead of the bread which cooked for 15-20 minutes and replaced maple syrup for the agave. She said they were delicious!
Nutrition
Calories:
120
kcal
|
Carbohydrates:
26
g
|
Protein:
3
g
|
Fat:
1
g
|
Cholesterol:
30
mg
|
Sodium:
270
mg
|
Fiber:
2
g
|
Sugar:
8
g