Pumpkin Spice Oatmeal in the Crock Pot is a simple way to make oatmeal exciting. It's like having pumpkin pie for breakfast, but much more healthy!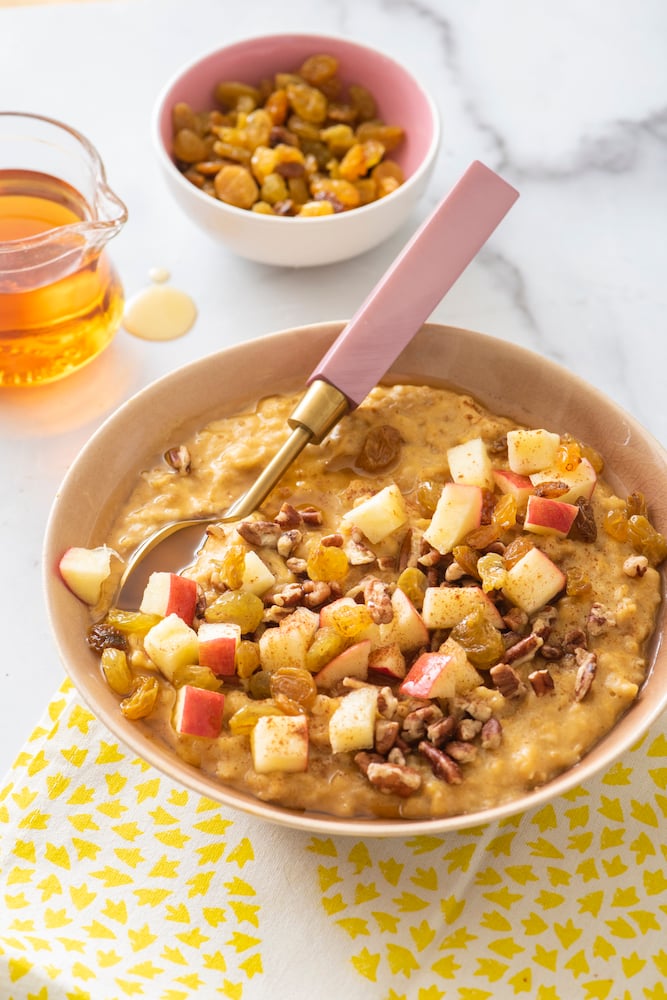 Very often during our nightly bedtime ritual, I will ask Kenya, Chloe and Geamma what they want for breakfast the next morning. Of course I want my kids to wake up to a breakfast they're excited about, but one of the real reasons for my question is a bit of a ploy. Bedtime in our house can occasionally be a challenge, and this tactic tends to get them into bed in a timely fashion, looking forward to the scrumptious meal that awaits them when they wake up.
By the time I finally get the kids off to dreamland, I'm pooped and ready to collapse in the fetal position on my bed. Yet, like most moms, I usually find myself back in the kitchen, preparing the next day's school lunch as well as prepping the breakfast from my bedtime bargain. Thankfully, the breakfast my kids repeatedly ask for is Oatmeal in the Crock Pot. It's a huge relief to hear those words because all I need to do is dump all of the ingredients in the crock pot (slow cooker), stir and go to bed. By the time we wake up, a creamy, piping hot breakfast is ready to fill our tummies.
I know this is going to sound silly, but only the problem in all of this is that the cook in me feels like a bit of a failure. Yes, oatmeal is full of fiber and one of the healthiest breakfasts you can eat, but somehow serving up the same old oatmeal time and time again feels inadequate and I'm compelled to jazz things up a bit.
Fortunately, I can do that and still keep life easy. Simply by adding pumpkin puree and a touch of spice, it changes one of our already favorite dishes into something the kids say tastes like their having pumpkin pie for breakfast! See what a good night's sleep will do for everyone's outlook?
Pumpkin Spice Oatmeal in the Crock Pot
Ingredients
2

cups

water

2

1/2 cups

milk of choice

1

cup

pumpkin puree

1

teaspoon

pumpkin spice

1

cup

steel cut oats

if desired
Instructions
Place all the ingredients in the crock pot and stir to combine.

Cover and cook on low for 4-8 hours (note that the cooking time can vary depending on your crock pot. Crock pots without non-stick surfaces tend to get hotter, so you'll want to stick closer to a 5 hour cooking time).

*You can also use oat, almond, rice or any plant based milk if you want to make the oatmeal vegan.
Nutrition
Calories:
200
kcal
|
Carbohydrates:
30
g
|
Protein:
11
g
|
Fat:
4
g
|
Cholesterol:
10
mg
|
Sodium:
80
mg
|
Fiber:
4
g
|
Sugar:
7
g