I really only serve cold cereal a few times a year as the kids prefer hot cereals like this Berry Delicious Oatmeal. It's one of the easiest, most nutritious breakfast recipes to make when you literally have 5 minutes to cook and keeps happy bellies and moods all around.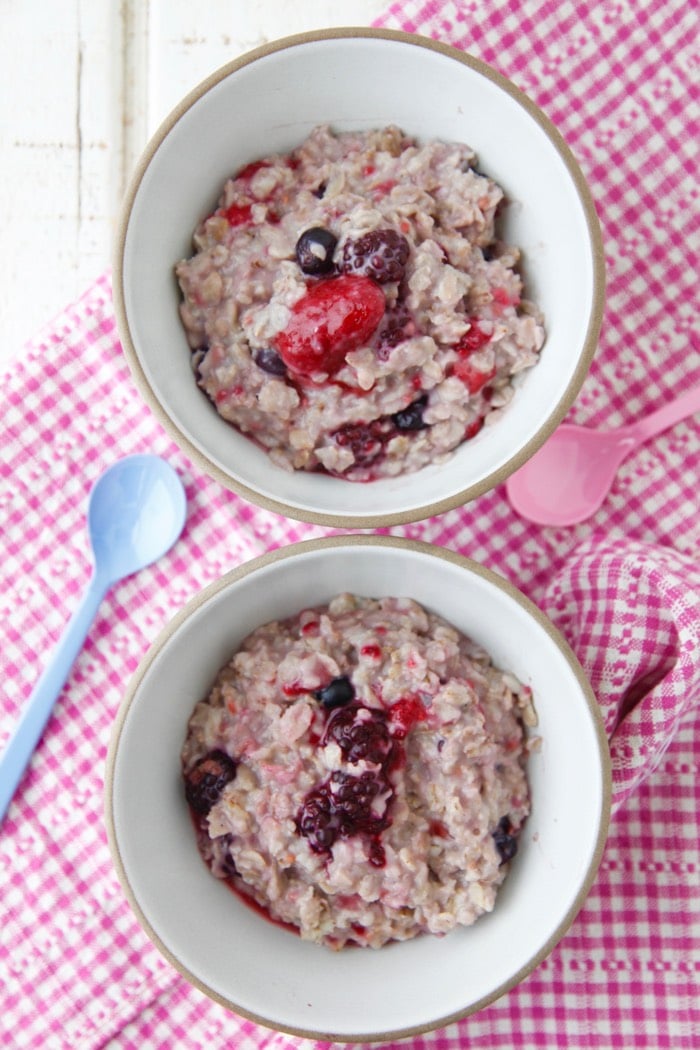 Pin
At this time of year when kids are headed back to school, most moms are focused on a million things, among them, trying to put together healthy school lunches that their kids will hopefully enjoy. Though possibly even more important than what's for lunch, is offering your little ones a meal first thing in the morning that will give them a boost of energy to get them out the door and stay focused in the classroom.
Oatmeal is not only nutritious, but also inexpensive and a real "stick to your ribs" food. It's delicious with a bit of honey or a touch of maple syrup, but why not add some blueberries for added vitamins and sweet flavor? Berry Delicious Oatmeal is not only bright and colorful, it's a breakfast that will send your kids off to school with a smile on their faces.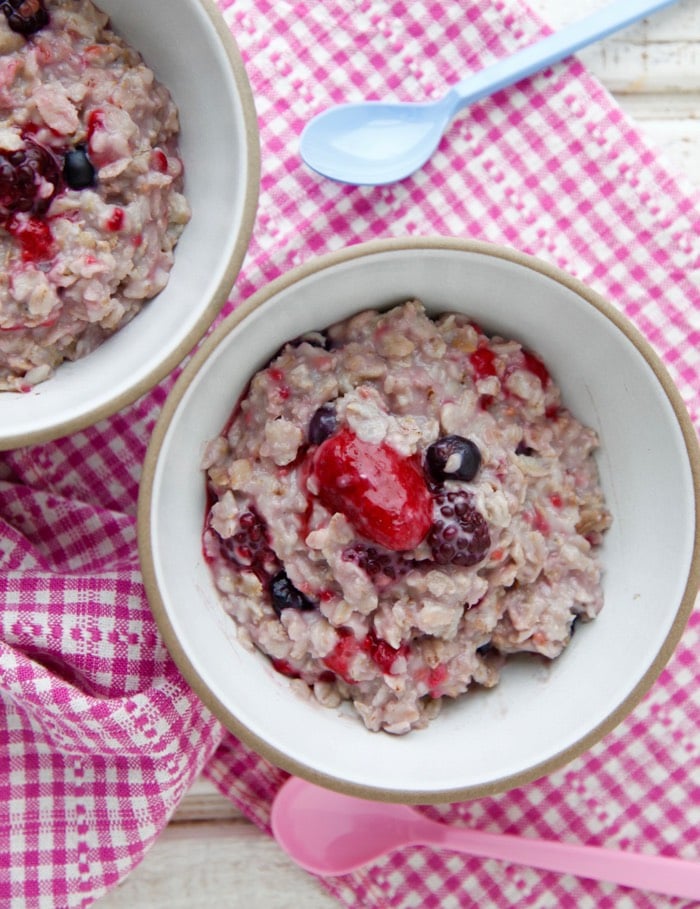 Pin
The best part of this recipe is that you probably have all the ingredients in your pantry. Oats, check. Honey. Check. Frozen berries? If you don't have a few bags on hand at all times you really should! You can use them in smoothies, in icing and especially in warm cereals. The oats can be piping hot and when you add the berries in at the last moment it cools the cereal down to the perfect temperature for little mouthes to enjoy.
In the comments below I would love to hear what your family enjoys best in their oatmeal and if you make this recipe I want to see the images! Just tag @weelicious or #weerecipes on social media. Enjoy!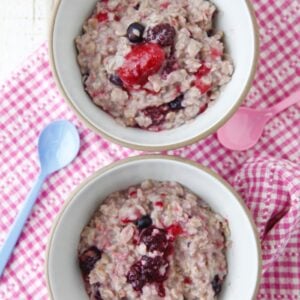 Berry Delicious Oatmeal
Ingredients
1

Cup

water

1

Cup

milk (almond, rice, soy or cow's milk)

1

Cup

Old Fashioned Oats (Five Minute Oats)

1

Tbsp

Honey, Maple Syrup or Agave Syrup

1/2

Cup

Blueberries, Blackberries and/or Raspberries (fresh or frozen)
Instructions
Bring the water and milk to a boil.

Add the oats, reduce to a simmer over low to medium heat, stirring occasionally, and cook for 5-7 minutes or until thick and creamy.

Add the honey, maple syrup or agave and berries, cook an additional minute or until the berries are warmed-through and start to pop (I like to add frozen berries so the oatmeal cools faster for kids to eat).

*If serving to a baby under 1 year old, don't use honey
Nutrition
Calories:
430
kcal
|
Carbohydrates:
73
g
|
Protein:
18
g
|
Fat:
8
g
|
Cholesterol:
10
mg
|
Sodium:
80
mg
|
Fiber:
9
g
|
Sugar:
19
g