A nice, cold Pregnancy Smoothie will satisfy your cravings while providing you with the nutrition your body (and growing baby) needs!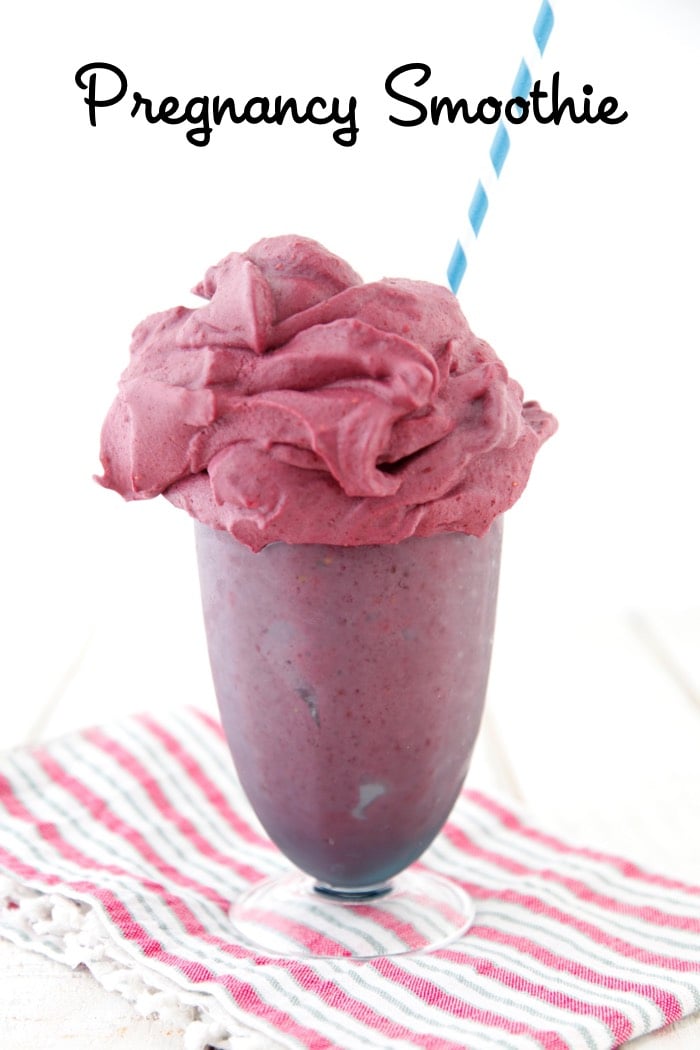 Are you pregnant and wanting to eat everything you see? That basically sums up the way I felt in my first and second trimesters of this pregnancy.
Ice cream is my major craving for breakfast, lunch and dinner. Being that I can't eat ice cream all day everyday (although I really want to), I started making creamy, luscious smoothies with fruit to fulfill some of the cravings while adding a ton of nutritious foods that I know I should be eating for the baby's brain and development.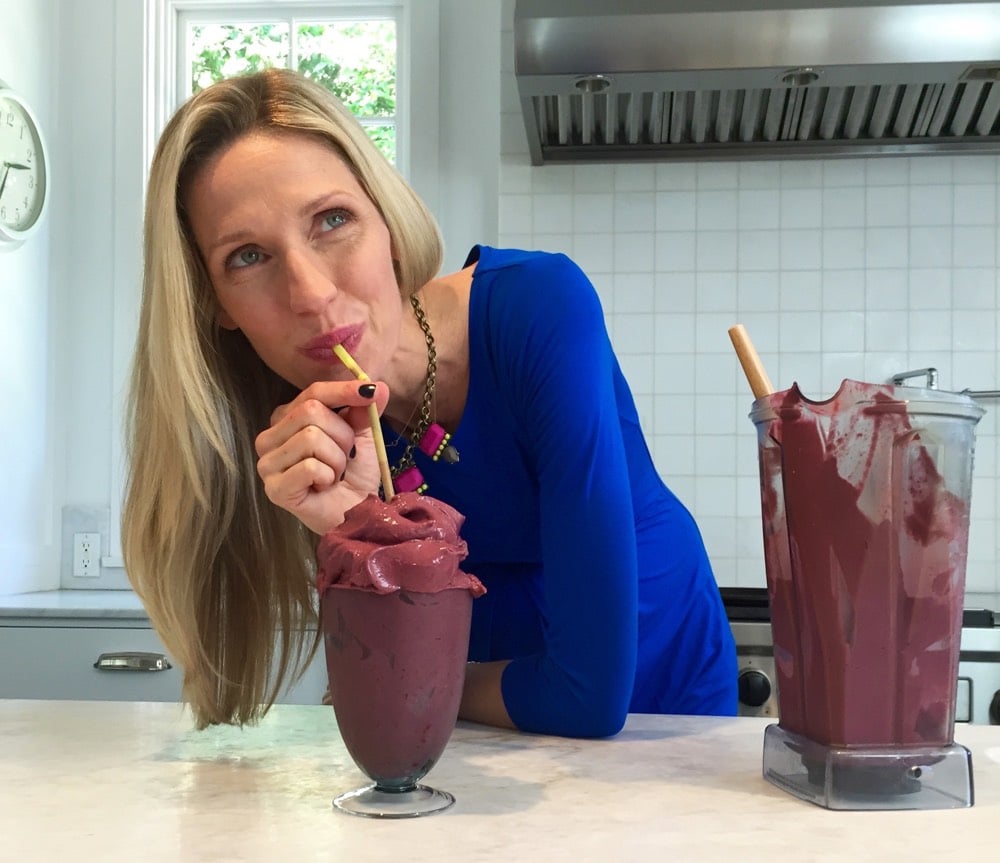 In my first 8-17 weeks I was having horrible headaches and my midwife told me I needed to eat protein every 2 hours, yes, every 2 hours, in order to help the headaches subside. I started by going to the health food store and per the manager's recommendations for a pregnant woman started trying a ton of chocolate protein powders.
You can easily make this smoothie with any brand or flavor of protein powder you enjoy, but Plant Fusion and Aloha Brands are two of my favorites as they're vegan and full of essential nutrients.
The best part is this Pregnancy Smoothie only takes a few minutes to make. I buy huge bundles of ripe bananas to chop and freeze, and I make sure all the other ingredients are always on hand in my freezer and pantry.
This smoothie isn't just for pregnancy either! When you're nursing and looking to boost your milk production you want to be consuming tons of liquid and smoothies are a great way to start.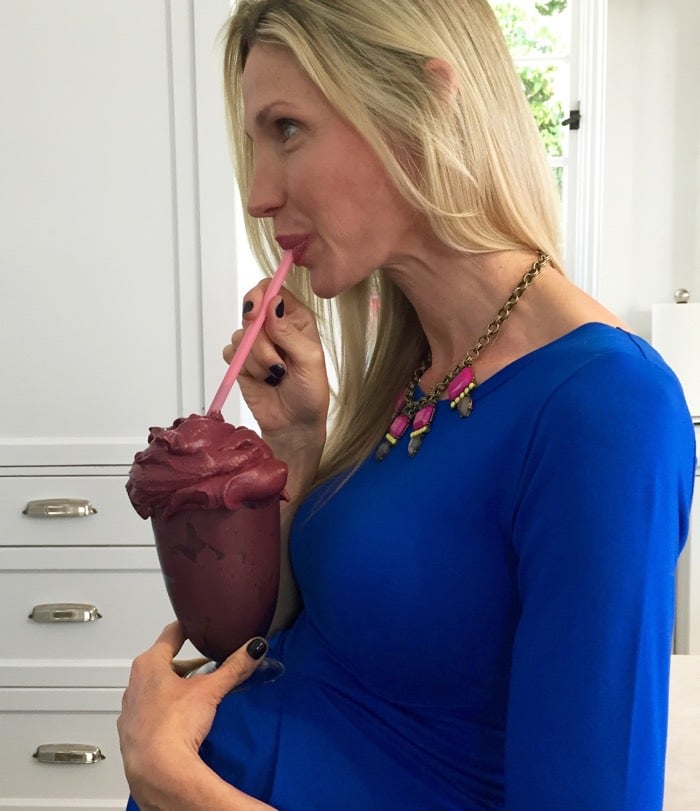 Here's a breakdown of what's inside:
Frozen Bananas
Frozen Raspberries and Blackberries
Milk. Any type you prefer. This adds major creaminess and a bit of extra protein especially if you use cow's or pea milk.
Bee Pollen. A great immunity booster. Make sure to buy locally so you're building up immunities to your local allergens.
Greens Powder (you can use fresh spinach or kale instead)
Protein Powder. Keep those pregnancy headaches away and your baby fed!
Collagen Peptides
Hemp, Chia, or Flax Seeds
I whiz it all up in my favorite blender using the plunger to get everything pulsed up and when I don't have time to enjoy it immediately I will put it in the freezer so later it tastes like my beloved ice cream.
Want to try even more smoothies. Cotton Candy, Blueberry Chia and Chocolate Almond Butter Smoothie are all favorites and scratch that satisfying itch you crave when you're pregnant. Whether you're pregnant or not, this is a treat you will want to have every day!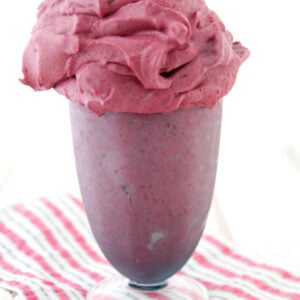 Pregnancy Smoothie
Pregnant or not this smoothie is filled with ingredients that are so good for you (and your growing bump!).
Ingredients
1

banana, frozen in chunks

1/2

cup

frozen blackberries

1

10-ounce bag

frozen raspberries

1

cup

milk (almond, soy, or cow's)

1

teaspoon

bee pollen

1

teaspoon

hemp, chai, or flax seeds, optional

1

serving

protein powder

1

serving

greens powder
1 serving collagen peptides
Instructions
Place ingredients in a blender and puree pushing down with attachment or spatula to combine between pulses (mixture is very thick so it may take a few minutes depending on the power of your blender.)

Place in a tall glass and drink immediately or freeze for several hours to achieve the consistency of ice cream.
Video