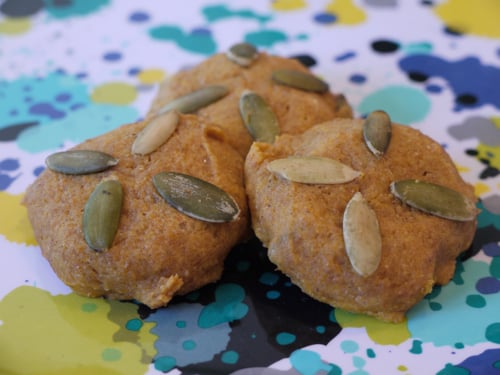 Halloween is quickly approaching and finding healthy treats (did I just use the words "healthy" and "Halloween" in the same sentence?) kids will get excited about can feel like a hopeless endeavor for many parents. No matter how vigilant I am most of the time, on Halloween night I'm not about to start to depriving my son of all the junky candy that goes with the fun of the holiday. However, with all of the school parties and events that also come with Halloween, I strive to make recipes for the little ones that will be viewed by them as a treat (but lean towards the healthier, more nutritious side of the fence).
These Pumpkin Seed Cookies are like a cross between a cookie and a bread. They're super soft and moist and have a delicious spice aroma from the cinnamon and nutmeg that makes them perfect for this time of year. Before popping them in the oven, Kenya went through and decorated all the cookies with pumpkin seeds. He got quite creative along the way — maybe the cookie with 25 pumpkin seeds on top went a bit too far — but he had a great time doing it….and eating them too!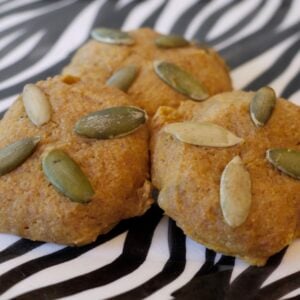 Pumpkin Seed Cookies
Instructions
Preheat oven to 350 degrees.

Combine the first 7 dry ingredients in a bowl and stir to combine.

In a mixer (or in a bowl using a hand beater) cream the butter for 1-2 minutes until light and fluffy then add honey and continue to beat for another minute.

Add the egg and vanilla and beat for 1 minute then add in pumpkin puree and mix until combined.

Combine the dry ingredients with the wet ingredients and slowly fold in pumpkin seeds.

Using a cookie scoop or a spoon, scoop about 1 1/2 tbsp of the dough onto a Silpat or parchment-lined cookie sheet and using your finger or the back of a spoon, gently pat down to flatten the tops of the cookies slightly.

Use the extra pumpkin seeds to decorate the tops of the cookies (your little one can help you with this step!)

Bake for 12-14 minutes.

Cool and serve.

* The cookies should have a fluffy consistency.

** To Freeze: After step 6, freeze for 30 minutes then place par-frozen cookies in a Ziploc bag, label and freeze for up to 4 months. When ready, pop them on a Silpat or parchment-lined cookie sheet, bring to room temperature, pat them down a bit so they flatten slightly, and follow steps 8-9.
Nutrition
Calories:
80
kcal
|
Carbohydrates:
12
g
|
Protein:
2
g
|
Fat:
3
g
|
Cholesterol:
5
mg
|
Sodium:
65
mg
|
Fiber:
1
g
|
Sugar:
6
g