The back-to-school season is here, and we all know how important it is to pack a lunch that will make our kids happy and satisfied. When it comes to delicious and easy lunch options, sandwiches are always a winner! Sandwiches are a classic lunchtime favorite, offering endless possibilities for creativity and flavor. I've rounded up my 15 favorite back-to-school sandwiches that are not only tasty but also a breeze to make.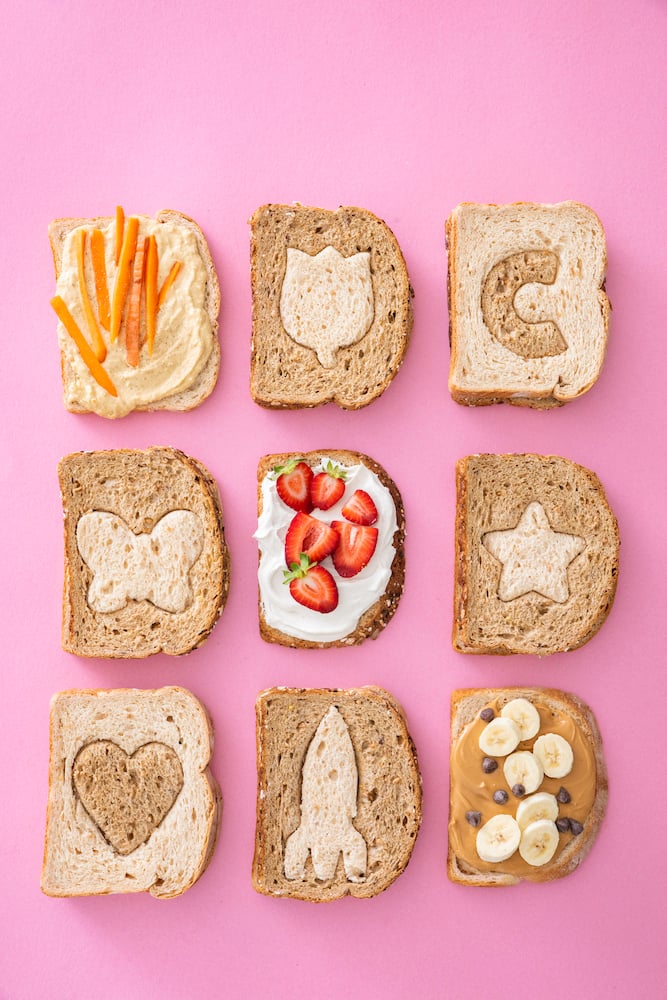 Tips to Make Sandwiches More Interesting for Kids
While sandwiches are a tried and true lunchtime favorite, they can be a bit mundane after a while. Making sandwiches more interesting for kids can be a fun and creative way to get them excited about lunchtime. Here are some tips to make sandwiches more enjoyable and appealing for kids:
Use Fun Shapes: Make sandwiches visually appealing by using cookie cutters to create fun shapes like stars, hearts, or animals. These playful shapes will instantly spark joy and have your kid excited about what shape they're getting that day!
Add Colorful Ingredients: Brighten up sandwiches with colorful fruits and veggies like strawberries, blueberries, cucumbers, or bell peppers. The vibrant hues will make the meal more enticing. After all, we eat with our eyes first!
Try Unique Spreads: Experiment with different spreads such as flavored cream cheese, hummus, guacamole, or pesto. These tasty spreads will add exciting new flavors to their sandwiches.
Build Your Own: Give your kids a sense of ownership by providing an assortment of ingredients and letting them build their own sandwiches. This hands-on approach will make lunchtime interactive and enjoyable.
Mini Sandwich Fun: Make lunchtime fun-sized with mini versions of their favorite sandwiches using slider buns, small rolls or just cutting them into little "sammies" as we like to call them. These adorable mini sandwiches are perfect for little hands.
Add a Sweet Twist: Add a touch of sweetness with sliced apples, a drizzle of honey, or a honey mustard dressing. This delightful contrast will elevate the taste.
Serve as Kabobs: Thread sandwich ingredients onto skewers to make sandwich kabobs. This presentation adds a playful twist and makes eating more enjoyable!
Make it a Wrap: Swap regular bread with tortilla wraps or lettuce leaves for a different texture and presentation.
Sandwiches Kids Love for Back-to-School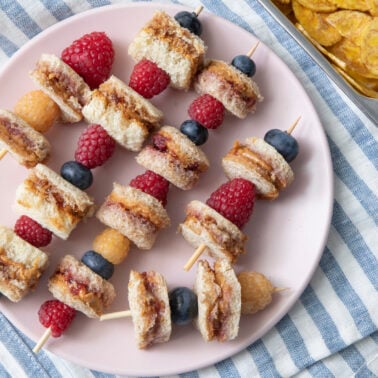 Peanut Butter and Jelly Skewers
Everyone knows and loves a good classic PB&J, but sometimes you just want to make something a little more fun. PB&J Skewers are a blast to make and kids love anything on a stick!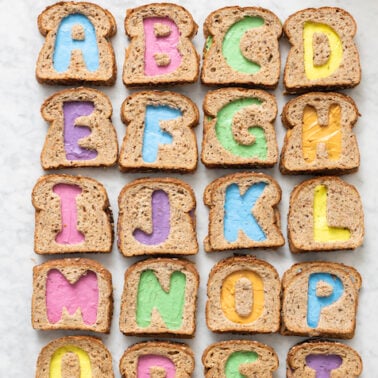 Monogram Sandwich
Monogram Sandwiches are a fun personal touch to your kids lunch time! It takes something ordinary and makes it special.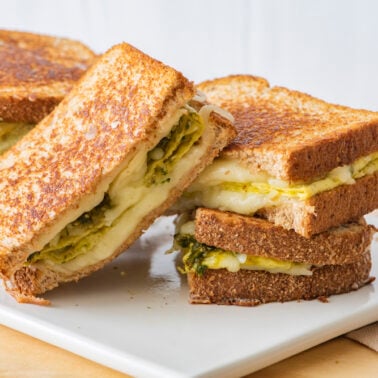 Egg Pesto Melt
My kids love a good egg sandwich and ask for this Egg Pesto Melt all the time. The pesto really takes it to the next level!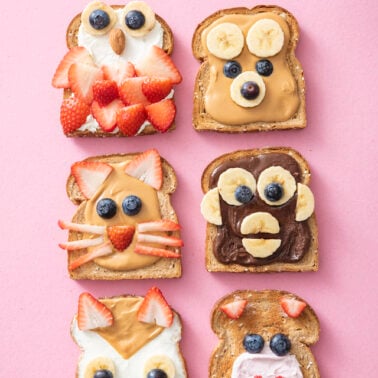 Animal Face Toast
I'm convinced there's nothing cuter than these Animal Face Toasts! Imagine your kid's eyes lighting up when they open their lunch box to one of these cuties.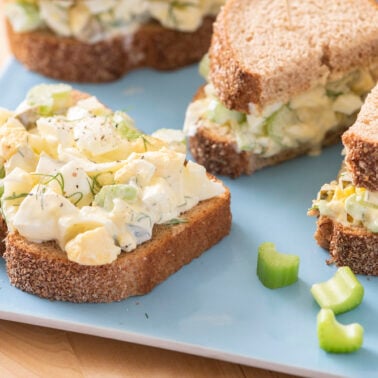 Egg Salad Sandwich
Egg Salad Sandwiches are so easy to make and this recipe is absolutely delicious. Tons of protein and tasty! A win-win.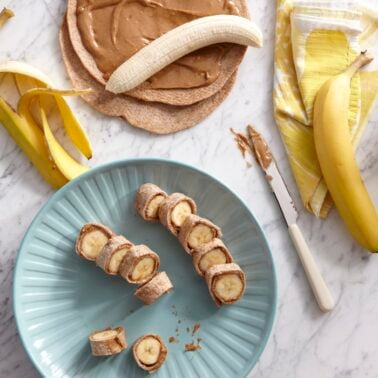 Banana Peanut Butter Roll Ups
All you need to make these Banana Roll Ups is your favorite nut or seed butter, a banana and a tortilla! Add a drizzle of honey for a little extra sweetness!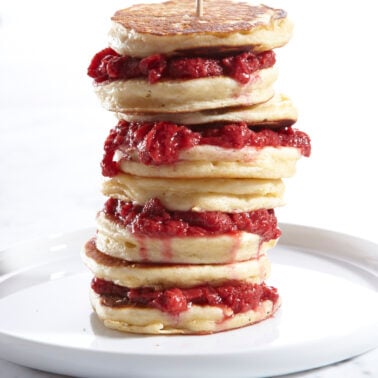 PBJ Pancakes Sandwiches
Make PB&J's more fun by using peanut butter pancakes as the "bread" and your favorite jam in the center!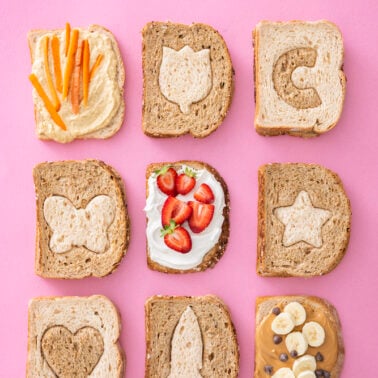 Two Tone Sandwich
School lunch should be fun to eat but also easy to make! These Two Tone Sandwiches are super cute and ready in minutes!
Sushi Sandwiches
When you want the simplicity of making a sandwich but with a more exciting look, Sushi Sandwiches are the ticket.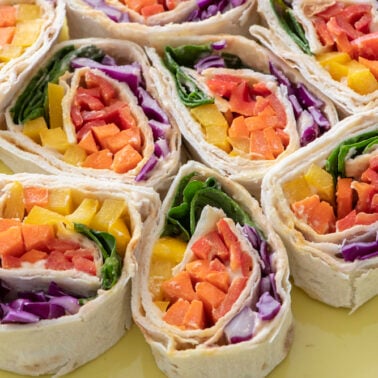 Rainbow Roll Up Sandwiches
Rainbows for Days! I don't know any kid who wouldn't love to open up their lunch box to these Rainbow Roll Up Sandwiches!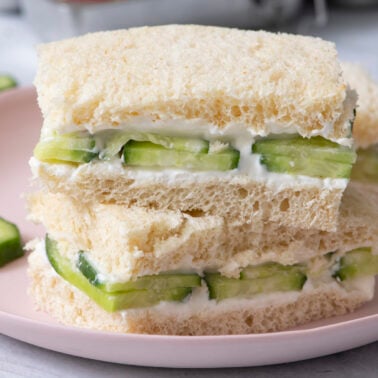 Cucumber Cream Cheese Sammies
Cut these sammies into 4 squares or use a cookie cutter to make fun mini sandwich shapes!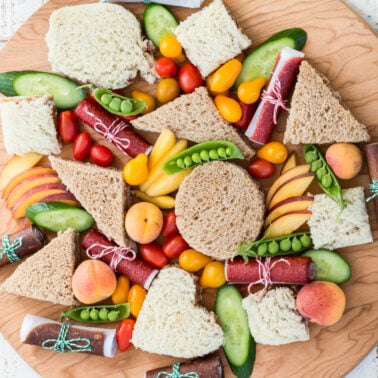 Uncrustables
Homemade uncrustables come in any shape you can dream up and so easy to make!
Pizza Pinwheels
These pinwheels are really like a pizza "sandwich" because the filling is savory, kind of like a ham and cheese sandwich, but much cooler looking.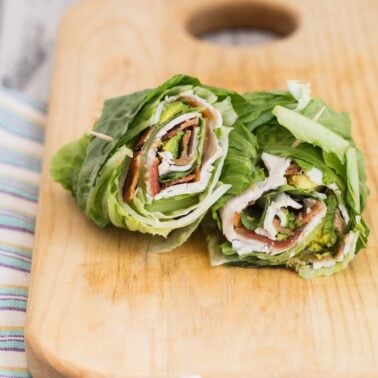 Turkey Club Lettuce Wraps
Low carb but highly delicious, these Turkey Club Lettuce Wraps are a great option for lunch.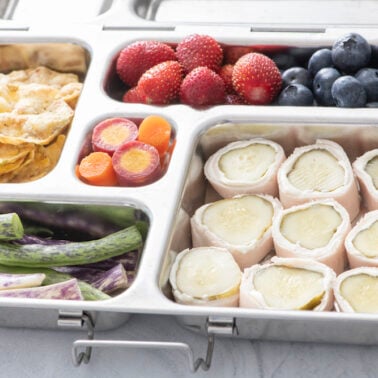 Turkey Pickle Roll Ups
Turkey Pickle Roll Ups are a simple yet fun addition to any school lunch.
Get creative when it comes to sandwich making and don't be afraid to think outside of the box. If you need even more tips for school lunch, get my Weelicious Lunches Cookbook filled with innovative solutions for quick, delicious, easy-to-make, kid-friendly lunch box meals that are perfect for back-to-school!