Looking for a fun and healthy lunch idea for kids? These Rainbow Roll-Up Sandwiches are a must-try! Packed with a rainbow of veggies, creamy hummus, and wrapped in a soft tortilla or lavash bread, these colorful creations are both visually appealing and nutritious. Get ready to bring a burst of color and flavor to your little ones' lunchboxes!
Why I Love This Recipe
Nutritious and Colorful: Rainbow Roll-Up Sandwiches are packed with vibrant, fresh vegetables, offering essential nutrients for growing kids.
Encourages Healthy Eating: The visually appealing nature of these roll-ups makes them enticing to kids, helping to develop a love for veggies and expand their palate.
Customizable and Versatile: With endless options for fillings and spreads, Rainbow Roll-Up Sandwiches can be tailored to suit your child's preferences.
Portable and School-Friendly: These mess-free roll-ups are perfect for school lunches. They're easy to pack, stay intact, and can be made in advance. Plus, they're the perfect size for tiny hands!
Fun and Interactive: Rainbow Roll-Up Sandwiches provide a fun and interactive eating experience for kids. The vibrant colors and hands-on assembly make it exciting and engaging for them to participate in their mealtime.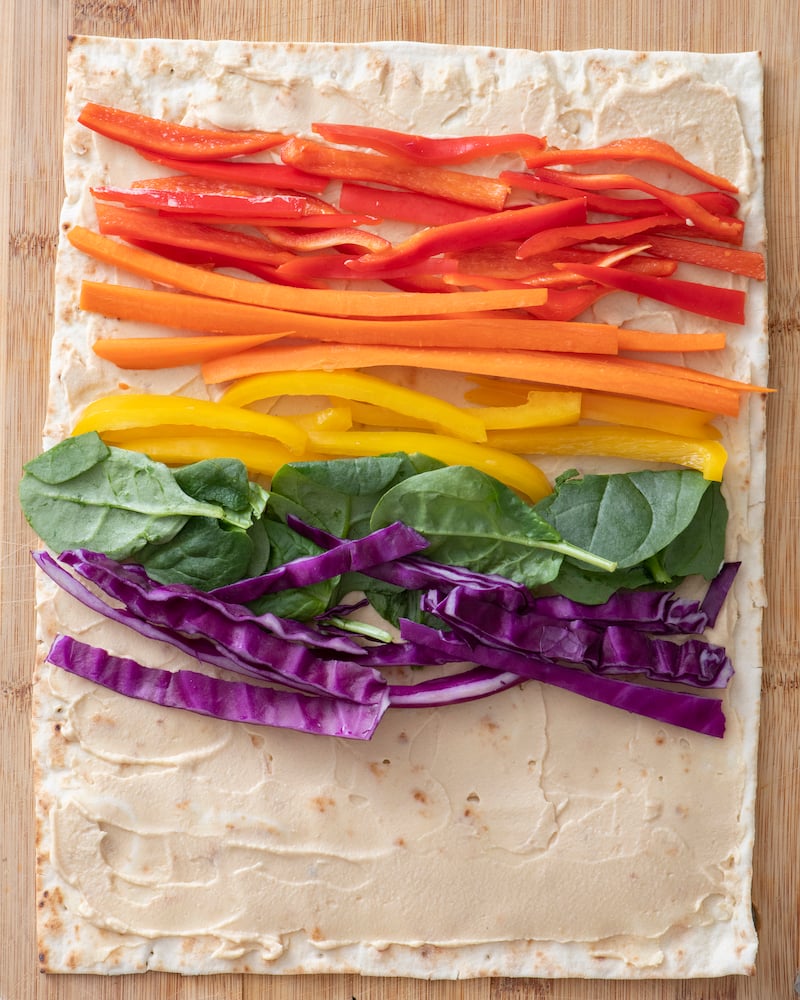 Rainbow Roll-Up Sandwich Ingredients
Hummus – Using hummus in a this sandwich not only adds a delicious flavor and helps keep everything together, but also boosts its nutritional value. Hummus is an excellent source of plant based protein and fiber.
Red Bell Pepper – Red bell peppers offer a host of health benefits, being rich in vitamins A, C, and E, high in fiber, and containing antioxidants that support eye health and reduce inflammation. But most importantly, they give a delicious crunch to this sandwich!
Carrot – Carrots provide a wealth of benefits as they are a great source of beta-carotene, which is converted into vitamin A in the body, supporting healthy vision and immune function!
Yellow Bell Pepper – Yellow bell peppers offer a range of benefits, as they are rich in vitamin C, which supports immune health and collagen production, while also providing a good source of antioxidants!
Spinach – Fresh spinach is like a superhero for your body, loaded with vitamins A, C, and K, and minerals like iron and calcium. It helps keep your eyesight sharp, your immune system strong, and your bones healthy.
Purple Cabbage – Purple cabbage is packed with vitamins, minerals, and powerful antioxidants to help boost your immune system and keeps your body happy and thriving.
Tortilla or Lavash Bread – You've got to have something to wrap all these delicious rainbow vegetables in! You can use either a tortilla or a piece of lavash bread to get perfect roll-up sandwiches.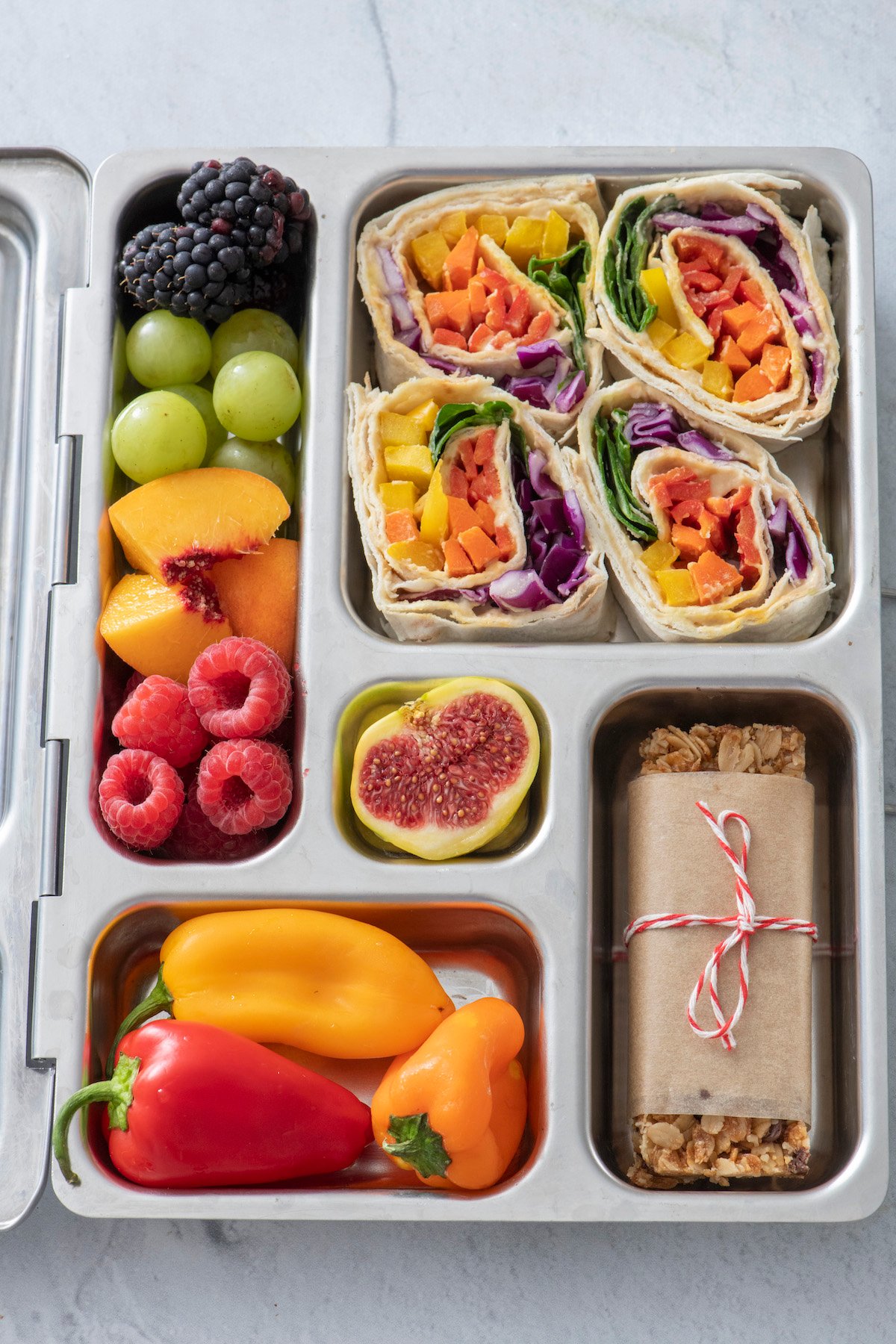 How to Make Rainbow Roll-Up Sandwiches
Prep the wrap. Spread hummus evenly on a tortilla or lavash bread. 
Add the vegetables. Place chopped vegetables in rainbow color order towards the middle of the wrap. Leave half of the wrap covered with just hummus so that everything will stick when you roll.
Roll and slice. Roll the tortilla or lavash up tightly starting from the end with the vegetables. Slice into coins using a serrated knife.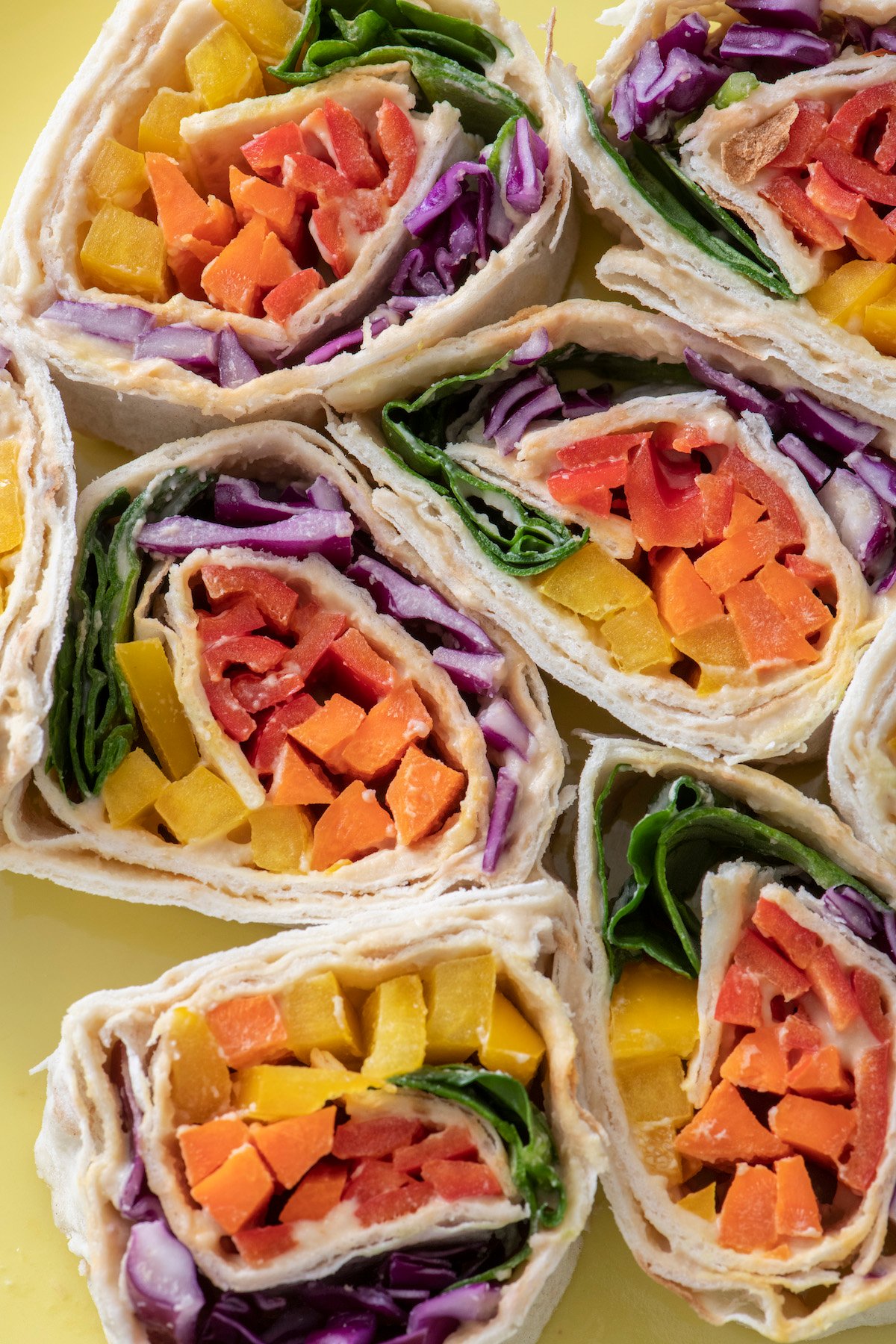 Substitutions, Additions and Tips!
Use your favorite hummus. Any hummus will work for these roll-ups. Mix it up by using different flavors like Red Bell Pepper Hummus, Cheesy Green Hummus, Sun Dried Tomato Basil Hummus or Black Bean Hummus to create something new each time!
Any vegetables will do. Any vegetables that are the color of the rainbow will work. Use strips of tomatoes instead of red bell peppers, purple onion instead of cabbage or avocado instead of spinach. Everything is customizable!
The hummus is your "glue". When you're building these wraps, layer the rainbow vegetables on one half and then leave the other half with just hummus so you have the "glue" to hold it all together! After you roll it up tightly, place it seam-side down before you cut it into coins.
Let the kids get involved. These Rainbow Roll-Up Sandwiches are a great recipe to make with your kids and may get them excited to eat their veggies! It's so much fun to have little ones line up the rainbow colored vegetables, wrap it all up and then see all the colors of the rainbow after you cut them into coins!
Make the lunch a theme. If you're including these wraps in a kids lunchbox, I recommend making the lunch a rainbow theme. Have these roll-ups, with rainbow colored fruit, maybe a few rainbow chocolate coated candies or anything that screams ROY G. BIV!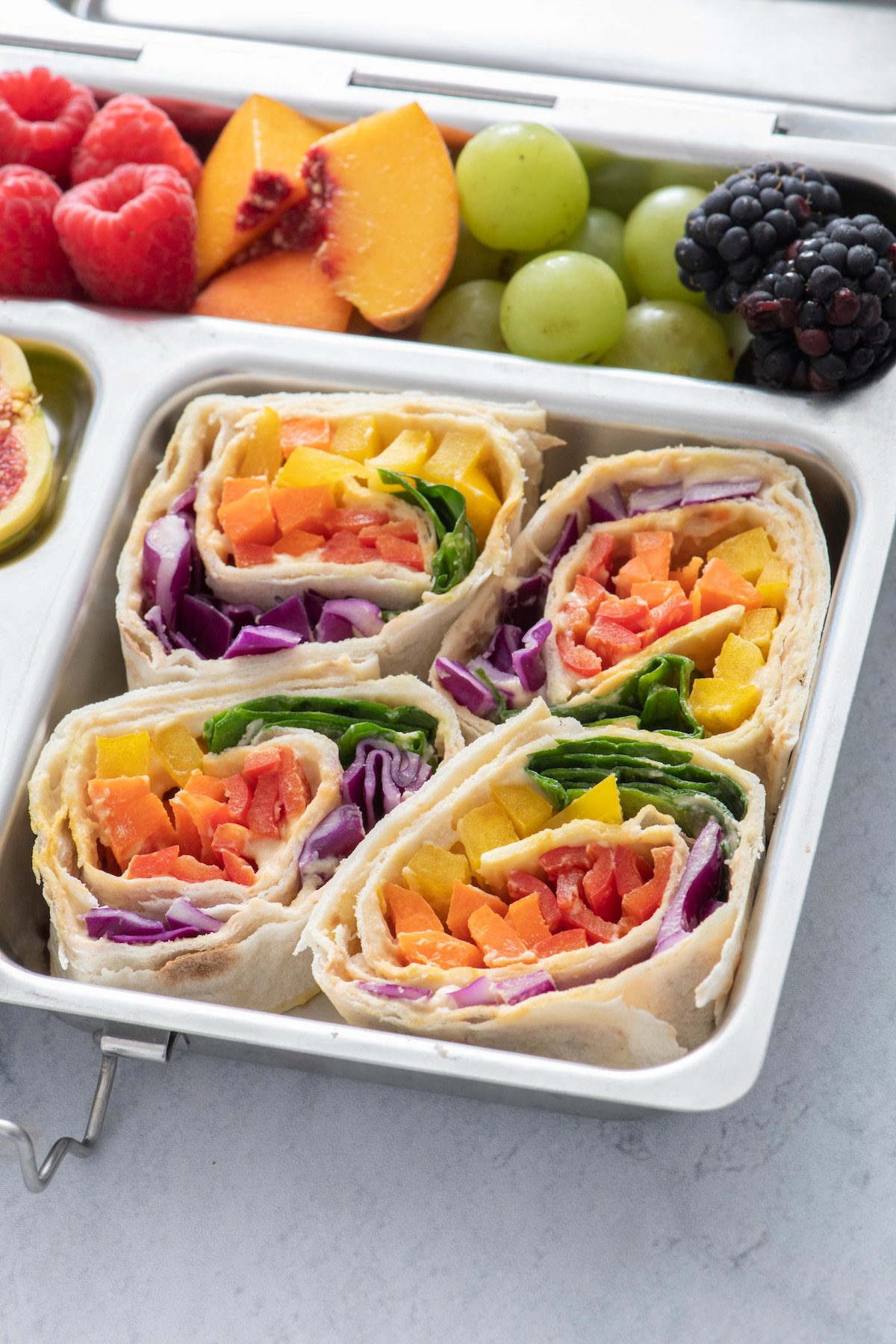 Make lunchtime exciting and nutritious with Rainbow Roll-Up Sandwiches – a fun, colorful, and kid-friendly option that will keep both parents and kids happy. I'd love to see your lunches with these sandwiches! Tag me on social media if you make them!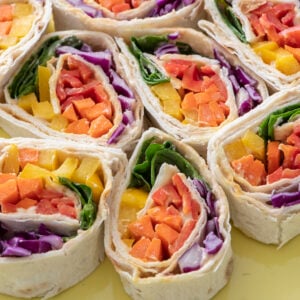 Rainbow Roll Up Sandwiches
Rainbows for Days! I don't know any kid who wouldn't love to open up their lunch box to these Rainbow Roll Up Sandwiches! 
Ingredients
1

large tortilla or lavash bread

1/3

cup

hummus of choice

1/2

red bell pepper, thinly sliced

1

small carrot, thinly sliced

1/2

yellow bell pepper, thinly sliced

1/4

cup

fresh spinach

purple cabbage, thinly sliced or finely chopped
Instructions
Spread hummus evenly on tortilla or lavash bread.

Place chopped vegetables in rainbow color order towards the middle of the wrap. Leave the edges with just hummus so that it will stick together. 

Roll up tightly, then slice into coins.
Video
Nutrition
Calories:
400
kcal
|
Carbohydrates:
67
g
|
Protein:
15
g
|
Fat:
9
g
|
Saturated Fat:
1
g
|
Polyunsaturated Fat:
3
g
|
Monounsaturated Fat:
3
g
|
Sodium:
667
mg
|
Potassium:
730
mg
|
Fiber:
11
g
|
Sugar:
7
g
|
Vitamin A:
13149
IU
|
Vitamin C:
204
mg
|
Calcium:
79
mg
|
Iron:
6
mg