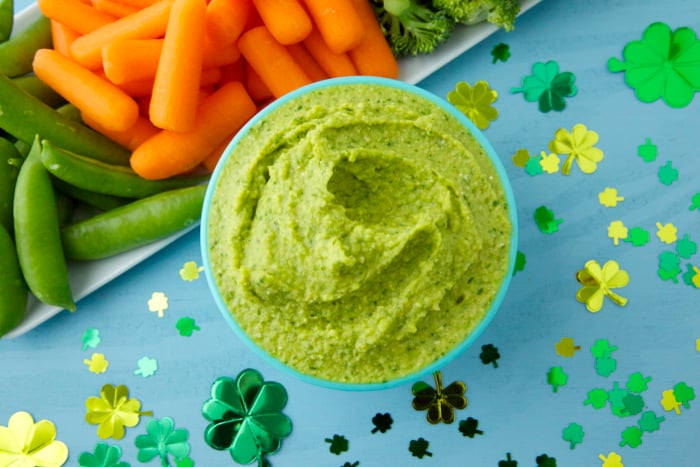 Pin
Isn't it cool to play with the color of your favorite foods and turn them into something new for your kids? I tend to do this kind of thing a lot because I find that in addition to being fun for my little ones, it also gets them excited about eating what I make. It's always a bit of a science experiment for me to see how things will turn out, and while there can be a lot of trial and error (that is heavy on the error), sometimes the results are spectacular. That happens to be the case with this Cheesy Green Hummus which is, dare I say, better than my original recipe.
With it's creamy texture and delicious full flavor it's just as tasty spread on sandwiches as it is to dunk raw veggies or pita chips in. I made a big batch of it last week and set it out before dinnertime with some chilled carrots, radishes and sugar snaps for dipping. I wasn't sure which kid would be the first one to chime in with, "yuck, it's green," but for whatever reason Kenya just sat down, dipped his finger in the bowl, licked some hummus off, and declared it to be delish. One of the great things about this recipe is that you can keep it in the fridge for up to a week, so on those days you don't have anything substantial to make at mealtime you can simply fall back on this protein packed hummus to fill everyone up. Not to mention, how perfect is this for St. Patty's!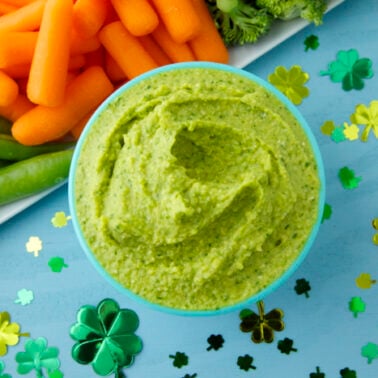 Cheesy Green Hummus
Ingredients
1

cup packed

fresh spinach

1

(15 ounce) can

garbanzo beans, drained and rinsed

2

tablespoons

tahini paste

2

tablespoons

parmesan cheese

1/4

cup

olive oil

1

garlic clove

1

tablespoon

lemon juice

1/2

teaspoon

kosher salt
Instructions
Place all ingredients in a food processor and pulse until smooth.
Nutrition
Calories:
150
kcal
|
Carbohydrates:
13
g
|
Protein:
4
g
|
Fat:
10
g
|
Sodium:
340
mg
|
Fiber:
3
g