Homemade Hummus is easy, simple and delicious.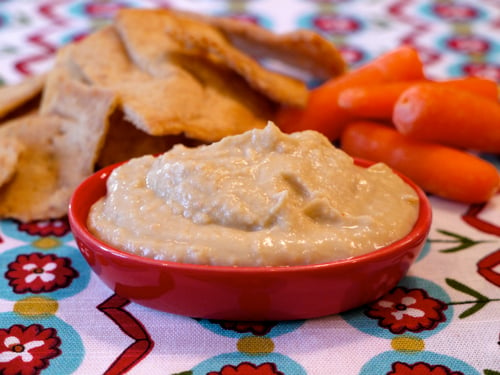 Pin
I was at my friend Monica's house last week and noticed a giant glass container filled chickpeas soaking in water on her kitchen counter. I can't help myself from being nosy whenever I notice something out of the ordinary in someone's kitchen. I had to know what she was going to make with them (by the way, soaking your own dried beans for recipes is unbelievably delicious if you've never tried it).
She told me she was simply going to eat them on their own or make homemade hummus. I was getting hungry just thinking about it. My hubby had been buying fresh hummus from a vendor at our local farmers' market and couldn't believe how unbelievable it tasted. Then the saddest day came for him when the "hummus man" stopped selling at the market and hubby had to come up with something to satisfy his fresh hummus jones. Since traditional hummus is made with only a few ingredients like olive oil, garlic, tahini and lemon, the quality of your ingredients are of primary importance, the chickpeas first and foremost.
I don't always have time to soak my own chickpeas (which takes several hours), making canned beans a great option for homemade hummus, but no matter what you use I guarantee you'll be shocked at how easy and inexpensive making your own hummus can be and totally worth the minutes it takes to prepare.
Even now, you can always find hummus in my fridge. It's easy to make and stays fresh for over a week, so I don't have to worry about having a healthy protein on hand that I know my kids love (even though it will probably all be eaten before a week is up). Whether I'm serving it as a dip with veggies, as a spread on a sandwich or even just to eat with a spoon straight out of a bowl (Chloe's preferred method), hummus is a recipe that's simple to prepare but packed with flavor!
Super Easy Hummus
Ingredients
1

15 ounce can garbanzo beans, drained and rinsed

1

Garlic

Clove

2

Tbsp

Tahini (can be usually be found right next to the peanut butter at your local grocery)

3

Tbsp

lemon juice

1

Tsp

kosher salt

1/3

Cup

olive oil
Instructions
Place all the ingredients except the olive oil in a food processor and puree.

Add the olive oil and continue to puree until creamy.
Nutrition
Calories:
220
kcal
|
Carbohydrates:
18
g
|
Protein:
4
g
|
Fat:
15
g
|
Sodium:
610
mg
|
Fiber:
4
g