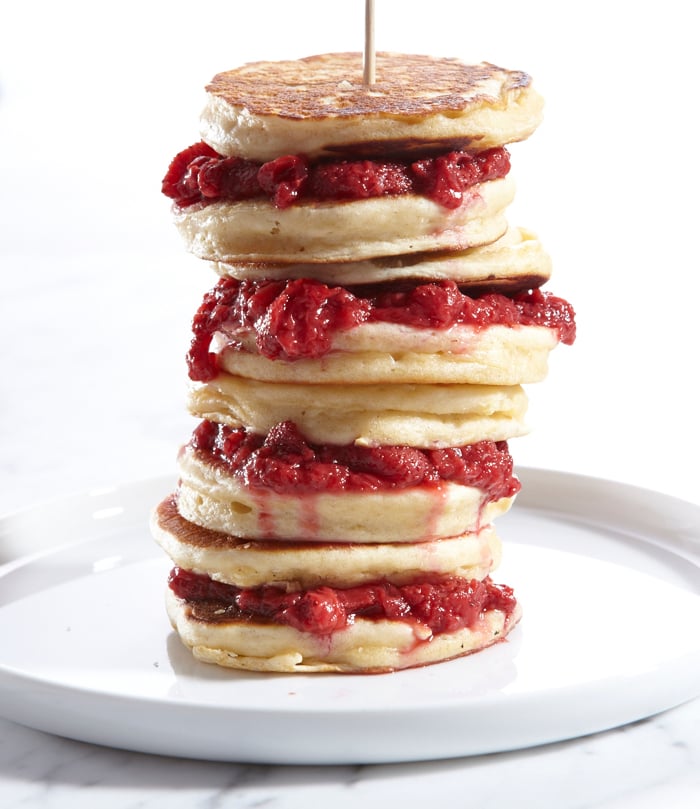 Recently, I was asked to come up with five recipes using peanut butter and jelly for LilSugar. Not only did they ask that the recipes be different than the standard PB&J sandwich that gets stuffed into most kids' lunch boxes everyday, but they also wanted them to be healthy.
I had the best time coming up with the recipes and my in-house testers were more then thrilled with the results. These Peanut Butter and Jelly Sandwiches were such a hit with Kenya that I barely heard him mumble "I WOVE these" as he stuffed bite after bite into his mouth with Strawberry Preserves dripping down his chin. I hope you get to see the same results with your little ones on their first day back to school!
Photo by Maren Caruso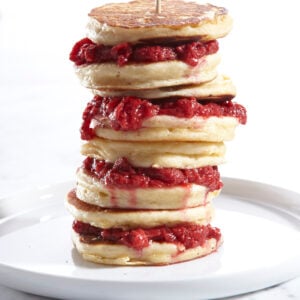 PBJ Pancakes Sandwiches
Make PB&J's more fun by using peanut butter pancakes as the "bread" and your favorite jam in the center!
Instructions
Whisk the first 3 ingredients in a bowl.

In a separate bowl whisk the peanut butter, egg and sugar until combined, then whisk in the milk until incorporated.

Whisk the wet ingredients into the dry ingredients until just combined (it's okay if there are a few lumps).

Heat a large sauté pan or griddle over medium heat and grease with oil (Vegetable or Canola).

Pour about 1/4 cup of the pancake mixture onto the griddle and cook for 2-3 minutes on each side.

Take a cooled pancake, spread 1-2 tbsps of jam on one side and top with the other pancake to make a sandwich.

Continue to do the same with the remaining pancakes and serve.
Nutrition
Calories:
350
kcal
|
Carbohydrates:
55
g
|
Protein:
12
g
|
Fat:
10
g
|
Cholesterol:
5
mg
|
Sodium:
680
mg
|
Fiber:
2
g
|
Sugar:
19
g