This Apple Pie Panini is one of our families favorite fall recipes. Sweet, crisp and decadent, you'll feel like you're having dessert for lunch. And you won't be mad about it!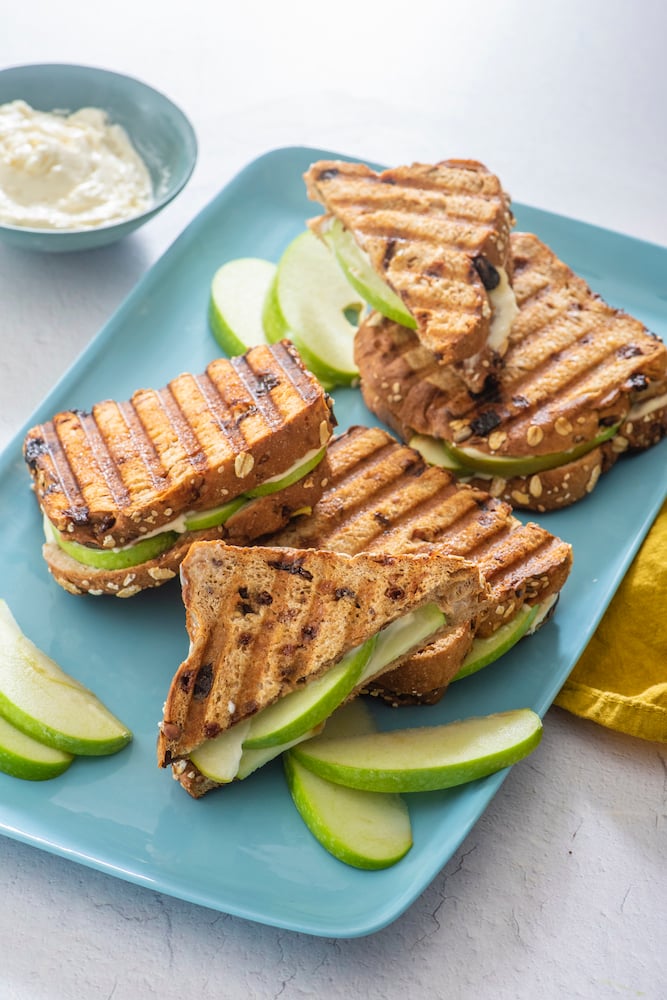 I'm a big believer in finding uses for cooking equipment that go beyond the specific purpose for which they are made. For example, you might think a rice cooker can only be used for making rice, but did you know it can also make some of the creamiest mac and cheese you've ever tried? Or how about a waffle maker, which we use in our house to produce The World's Greatest PB&J?
As Weelicious readers know, I have a great deal of affection for my panini maker. They can really just bring any sandwich and elevate it to a whole other level.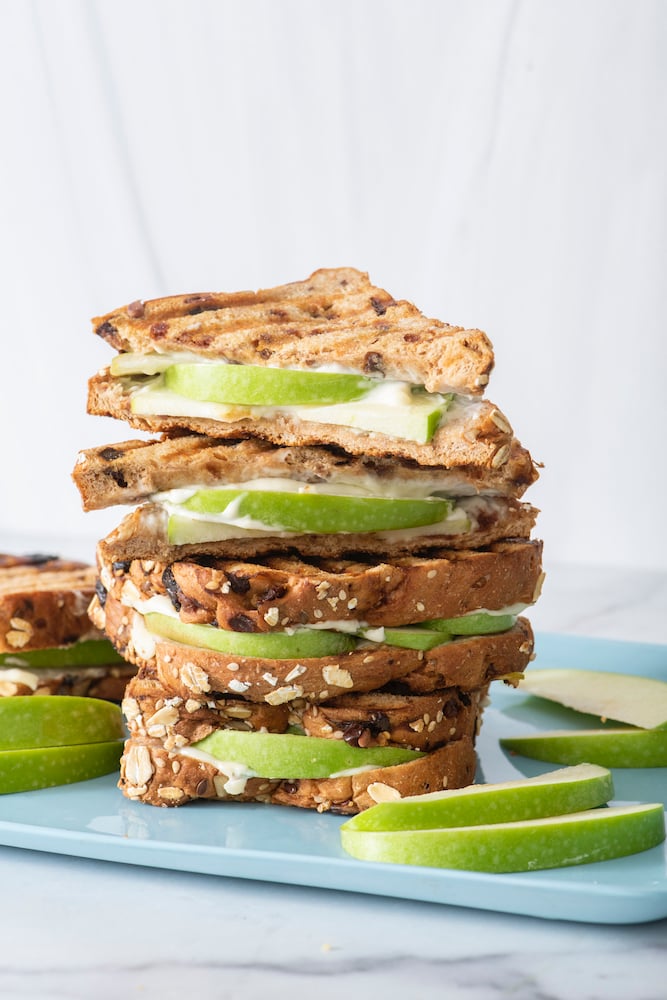 If you have never lightly buttered a slice of bread, sprinkled a touch of brown sugar on it, and then placed it in your panini maker, please run and do so right now. As I rarely make anything as decadent as these Apple Pie Paninis, all of my kids thought I had been swapped for another mom when they discovered these in their lunch box. Toasted cinnamon raisin bread layered with crisp apples and a sweet creamy filling, signaled for them that lunchtime was about to get even better.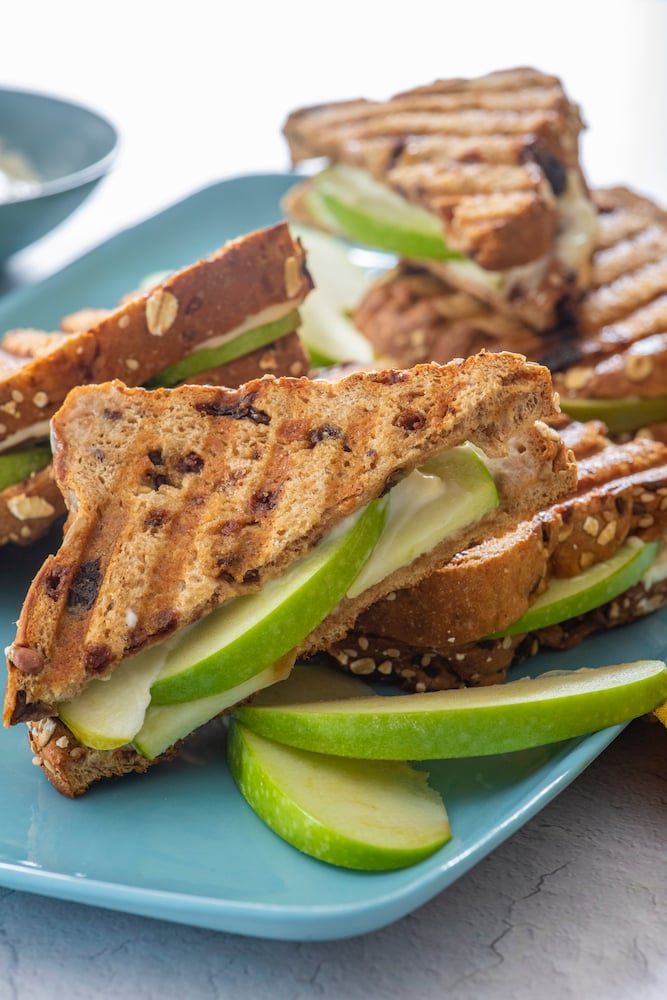 My favorite apples to use for this are Granny Apples. The sweetness mixed with slight tang, along with the crispness of these apples just make this sandwich absolutely addicting. If you can get your hands on some mascarpone as well, I'm not sure if you'll ever want a different sandwich from this again. Trust me when I say it is so SO good.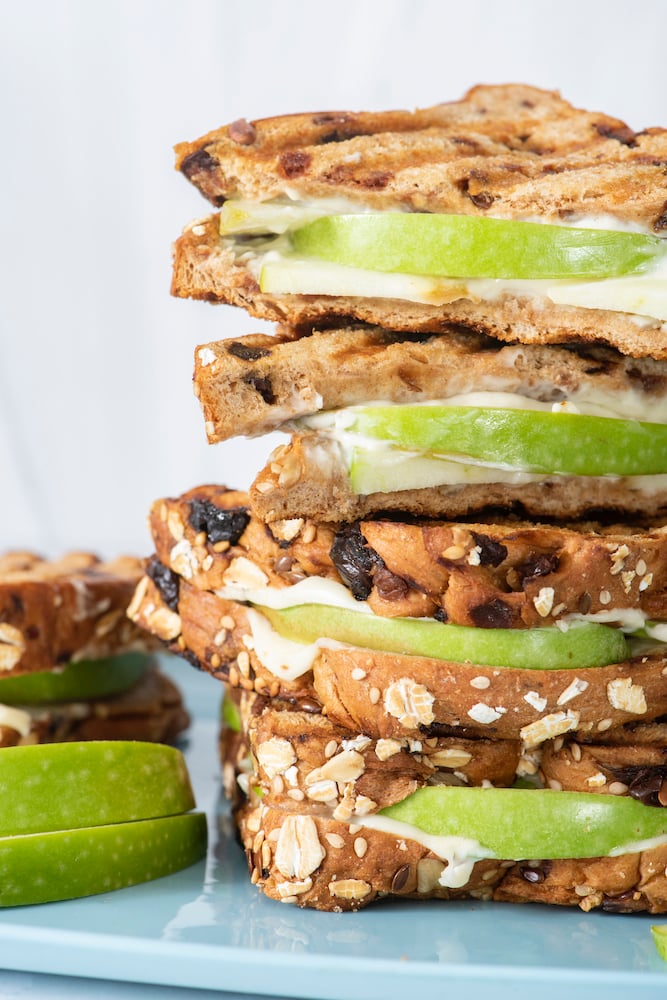 Let me know in the comments what your favorite fall recipes are. I can assure you once you've tried this Apple Pie Panini, it'll be added to the top of that list.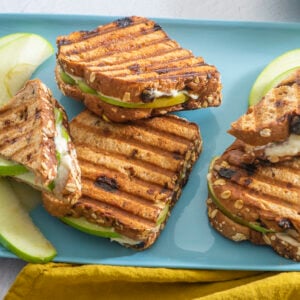 Apple Pie Panini
This sandwich is one of my absolute favorites during the fall. Crisp tart apples combined with warm flavors like cinnamon and honey is the best combination!
Ingredients
1/2

cup

mascarpone or cream cheese

2

teaspoons

honey

4

tablespoons

butter, room temperature

8

slices

cinnamon raisin bread, sliced from a dense bakery loaf

1

granny smith or other firm apple, cored and thinly sliced

2

tablespoons

light brown sugar
Instructions
In a small bowl with a whisk, or in a mini food processor, whip the mascarpone and honey together until well combined and fluffy.

Heat the panini press to medium-high heat.

For each sandwich: spread butter on two slices of bread, flip over and spread 1 tablespoon of the mascarpone mixture on each slice, top one slice of bread with apple slices, and close the sandwich with the other piece of bread, buttered side up.

Sprinkle brown sugar on top.

Grill two panini at a time, with the lid closed, until the filling is warm and the bread is toasted, with a sweet crust, about 3-5 minutes.