Valentine's Day is right around the corner so you can catch me in the kitchen making lots of treats! Keep scrolling for all of my favorite red, pink, heart-shaped, super cute (and delicious) Valentine's Day recipes! They're sure to put a smile on anyone's face that you love!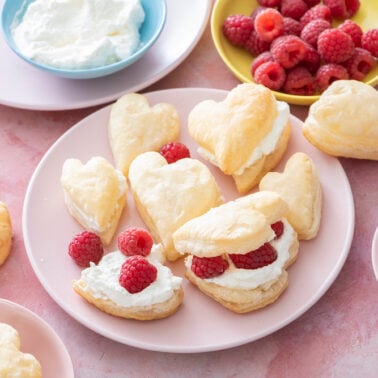 Puff Pastry Berry Hearts
Puff Pastry Berry Hearts are an incredibly simple Valentine's dessert that your kids will love to help you with!
Waffle Heart Sandwiches
Nothing says I love you quite like these Waffle Heart Sandwiches for Valentine's Day! Crunchy, creamy filled heart sandwiches full of deliciousness that kids and adults simply love.
Dried Cherry Scones
Dried Cherry Scones are an adorable Valentine's Day breakfast! These homemade scones are super easy to make and will have your entire family feeling the love.
Valentine's Day Puppy Chow
Add red and pink chocolate coated candies and freeze dried strawberries to this classic puppy chow recipe for a fun Valentine's Day snack!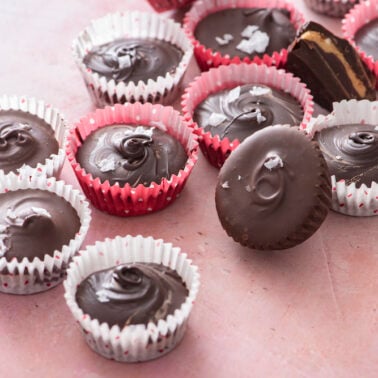 Chocolate Peanut Butter Cups with Sea Salt
Homemade chocolates are surprisingly simple to make and such a special treat for Valentine's Day! These Peanut Butter Sea Salt Chocolates are divine!
Blood Orange Granita
Granita is a type of Italian frozen dessert that's deliciously refreshing! This version made with blood oranges is bright red and perfect for Valentine's Day.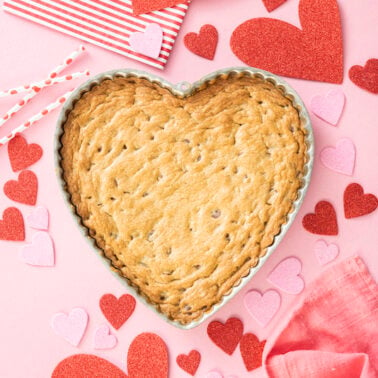 Chocolate Chip Cookie Cake
A cookie the size of your head is always a welcomed way to show your love for someone!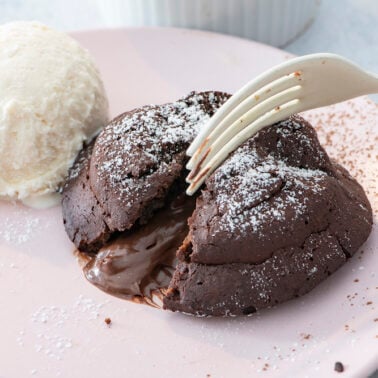 Chocolate Molten Lava Cakes
Whether you're looking for a special treat to celebrate a milestone or just want to indulge in something sweet and chocolatey, these Chocolate Molten Lava Cakes are a great choice.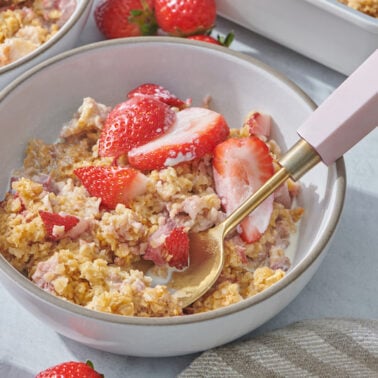 Strawberries and Cream Baked Oatmeal
Strawberries and Cream Baked Oatmeal is a delicious and easy breakfast treat (or even dessert!) that is perfect for any day of the week.
Red Beet Pancakes
Adding bright red beets to pancakes is a fun way to turn Valentine's Day breakfast into something special. Plus, you get an extra veggie in your day! A win-win!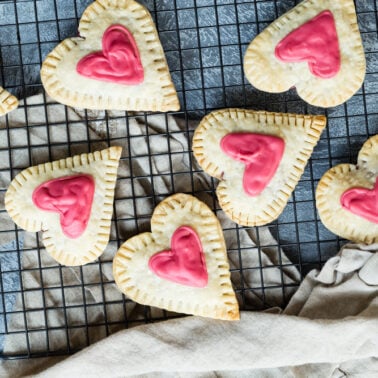 Raspberry Cream Cheese Heart Tarts
I make these Raspberry Cream Cheese Heart Tarts every year for the kids and their classmates. They're simple and so much fun to make!
Red Beet Cupcakes
These cupcakes are 100% naturally red (and 100% delicious) thanks to the beets! They don't taste like beets at all though. Just a yummy treat anyone would love to have.
Strawberry Pink Milk
No food dyes needed to make this naturally pink milk. It just takes three ingredients and is super good for you!
Pink Pound Cake
Anytime my mom made a pound cake growing up I was thrilled! Think pound cake with a pink raspberry swirl is delectable!
Dragon Berry Smoothie
Dragon Berry Smoothies are one of my go-to Valentine's Day breakfasts. It's BRIGHT pink and filled with ingredients to start your day off on a healthy foot!
Pink Cupcakes
The cutest dessert for Valentine's Day are these Pink Cupcakes. They're super fun to make and 100% delicious too!
Heart Shaped Pancakes
For a fun Valentine's Day breakfast or brunch, make these Heart Shaped Pancakes! They're a blast to make and a great way to get your kids involved in the kitchen.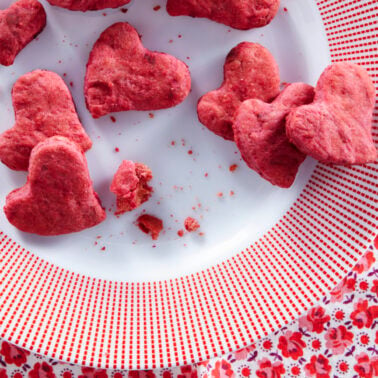 Sweet Beet Cookies
Not only are these cookies gorgeous, perfectly sweet and super crunchy, they're also packed with folate and vitamin C.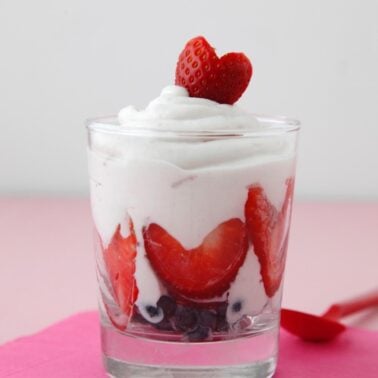 Berry Heart Parfaits
Berry Heart Parfaits are perfectly adorable and tasty. A great breakfast or snack for the ones your love!
Strawberry Yogurt Ice Pops
These Strawberry Yogurt Ice Pops are a super simple, healthy treat and the perfect way to beat the summertime heat!
Pink Yogurt
Pink Yogurt takes literally minutes to make! It's perfect for a quick but still special Valentine's Day breakfast or snack.
Raspberry Cream Chocolate Cookies
Crispy, thin chocolate cookies with raspberry whipped cream sandwiched between is an irresistible combo.
Heart Crispy Treats
Adding freeze dried strawberries or raspberries to your rice crispy treats makes them super special for Valentine's Day! Extra points for using your heart shaped cookie cutters!
Happy Valentine's Day! Let me know how you're spreading the love in the comments! Or tag me on social media if you make any of these recipes!