Red Beet Pancakes came to me courtesy of my husband.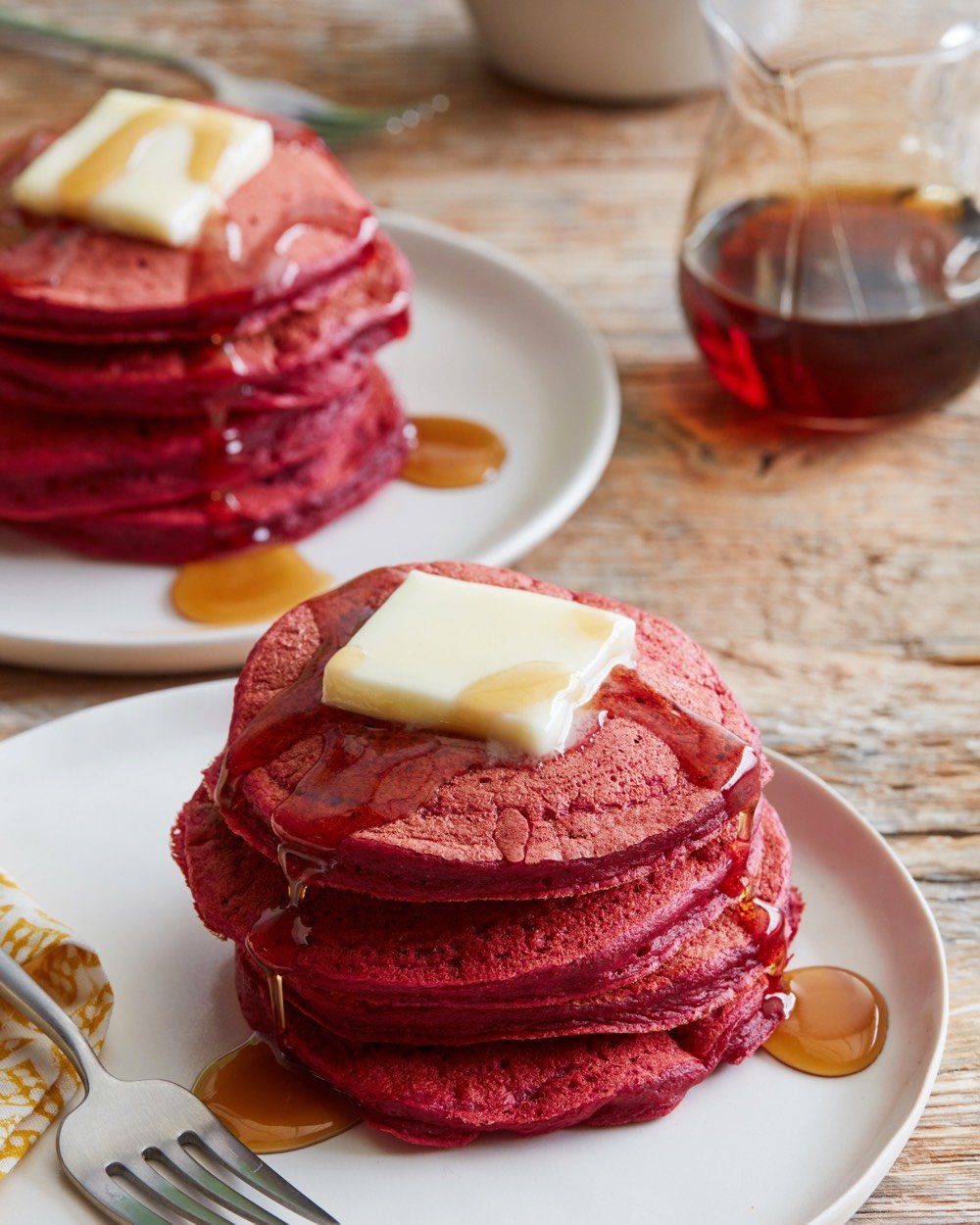 Pin
My better half has discovered a passion for cooking. For me, this newfound culinary obsession of his is both a blessing and a curse. While on one hand it's a huge relief because I don't have to cook, it can also be a total pain in my tush (and not just because of the potential mess I likely find afterwards) because while he is completely focused on his latest creation, I am left in charge of two cranky, hungry kids.
It's hard for me to get upset though. Hubby gets so excited about the whole process and the two hour mental voyages he takes while focussed on a new dish are kinda hilarious to watch. It's like witnessing a 4 year old trying to finish a 50 piece jigsaw puzzle for the first time. Plus, I love watching how jazzed the kids get seeing Daddy work in what they consider to be Mommy's turf.
One recent Saturday morning, Daddy decided to make a beet pancake recipe he had seen in Good to the Grain, a fabulously gorgeous book by Kim Boyce. As soon as Kenya heard the words "beet" and "pancakes" he said, "no way, that's gross". It didn't take long for Chloe to jump on the "yucky" bandwagon. It seemed like this experiment was going to leave two out of four of us with empty tummies, but as soon as the kids got into helping Daddy stir, mash and measure, they apparently forgot all about their initial aversion. By the time the beautiful ruby discs finally came off of the griddle and onto everyone's plates, the kids downed about five a piece.
My favorite part of this story though, came later on when my husband asked Kenya why he was so resistant at first to the beet pancakes. Kenya just looked at him and said, completely matter of fact, "who knew they were going to be that good!"
I've simplified Boyce's recipe here, adding some whole wheat flour, more pureed beets to further brighten the color and some Greek yogurt too, making these red beet pancakes a breakfast that will make everyone's eyes as big as their stomachs when you set them on the table.
He may make a bit of a mess and take a while finding his way around the kitchen, but I have to say it's unbelievably charming watching hubby take over what I usually think of as my kitchen….and make it more of ours!
If you make these Red Beet Pancakes I would love to see them! Take a picture, post it on Instagram and tag Weelicious. I can't wait to see your creation!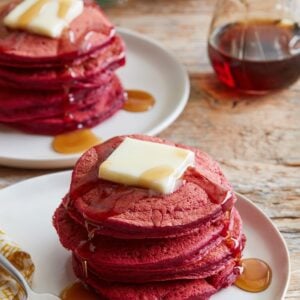 Red Beet Pancakes
Ingredients
1

Cup

all purpose flour

3/4

Cup

whole wheat flour

3

Tbsp

light brown sugar

1

Tbsp

baking powder

1/2

Tsp

kosher salt

2

medium beets, roasted and pureed (about 3/4 cup)

1

1/4 Cup

milk

1/3

Cup

plain greek yogurt

1

large egg

3

Tbsp

unsalted butter, melted

1

Tsp

vanilla extract
Instructions
Sift the first 5 ingredients into a bowl.

Place the rest of the wet ingredients in a separate bowl and whisk thoroughly to combine.

Add the dry ingredients into the wet and stir until just combined (you don't want to overstir the batter — some lumps are good).

Drop about 2 tbsp of the pancake mixture onto a greased griddle or pan over medium heat and cook for 3 minutes on each side.

Serve with desired accompaniments.

* To freeze: Place the pancakes in labeled zipper bags and freeze for up to 3 months
Nutrition
Calories:
260
kcal
|
Carbohydrates:
42
g
|
Protein:
7
g
|
Fat:
8
g
|
Cholesterol:
20
mg
|
Sodium:
510
mg
|
Fiber:
3
g
|
Sugar:
14
g