If you've never experienced the magic that is Spinach Pancakes, you and your family are in for a treat. Imagine the taste of pancakes, then add to that the powerful nutritional benefits and beautiful green color of spinach. Now, keep reading to make this perfect marriage for yourself.
I'm kinda worried that you're going to want to skip this recipe based on the name, but I beg you to give these pancakes a try. I originally made them as a St. Patrick's Day-themed recipe for my monthly "Snack Mom" column in the March issue of Parents magazine.
Now I make them any time I'm looking for a green-themed food to serve for breakfast or at a party. Isn't that bright green color just so striking?! They're great for Earth Day, St. Patrick's Day, Easter, or any kind of animal-themed birthday party.
Serve them with whipped cream and an array of fresh fruits for a rainbow-themed menu. You can serve up a batch of spinach pancakes alongside a batch of red beet pancakes for a super festive red and green Christmas breakfast!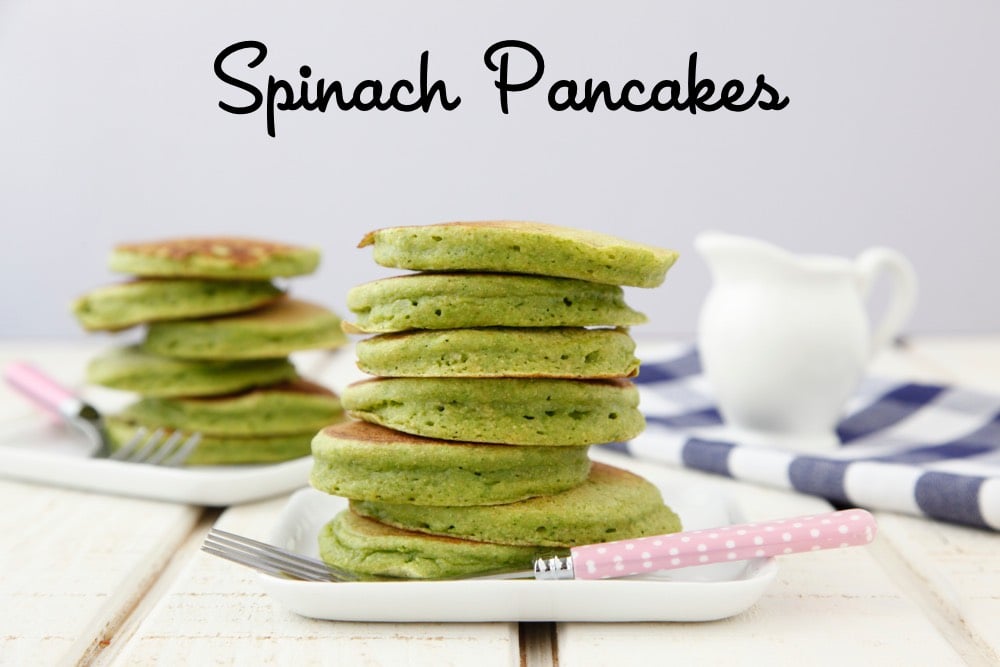 These spinach pancakes are completely dye-free, and get their natural color from fresh baby spinach. They taste just like regular pancakes because fresh spinach has such a mild flavor. Once you blend it in with the milk, you get that gorgeous bright green color, and you don't even know there's a vegetable inside.
Spinach is full of iron and adding it into recipes like these pancakes, smoothies, or even mac and cheese is a great way to get in a few extra servings of greens! Once your kids taste these pancakes they'll be begging to eat their greens first thing in the morning, so be prepared to make this recipe often.
Get the kids in on the cooking action, too. They love to toss ingredients into the blender and watch it whizz up before their eyes. Whisking together the dry ingredients is the perfect job for little hands, and then you can work together to mix the wet ingredients in with the dry.
Have a dairy or egg allergy? Try this similar version of Green Vegan Pancakes that are perfect for breakfast or a snack.
I would love to see your kids enjoying this recipe! Tag me @weelicious on social media so I can join in the fun with your family.
Spinach Pancakes
These pancakes taste just like buttermilk pancakes but with the added benefit of a handful of spinach! A win-win!
Instructions
In a blender, combine the spinach, buttermilk, egg, and oil and blend until smooth.

In a separate bowl, whisk together the remaining ingredients.

Whisk the wet ingredients into the dry ingredients until just combined.

Heat a large pan or griddle over medium heat and grease with butter or oil.

Pour about 1 tablespoon of the pancake mixture onto the griddle, making as many pancakes as will fit and cook for 2 minutes.

Flip the pancakes and cook for one minute longer and serve.

*Mixture can also be used in a waffle iron following manufacturers directions.
Nutrition
Calories:
190
kcal
|
Carbohydrates:
28
g
|
Protein:
8
g
|
Fat:
6
g
|
Cholesterol:
50
mg
|
Sodium:
660
mg
|
Fiber:
3
g
|
Sugar:
6
g