A big stack of Green Vegan Pancakes is perfect for a super fun St. Patrick's Day breakfast. They're naturally green, festive and oh so delicious!
In honor of St. Patrick's Day last year, Kenya's class asked the parents to volunteer to cook something in the classroom with the kids that was simple, fun and green. Kenya's teacher suggested "green pancakes", a brilliant idea, but without using food dye, how could it be done?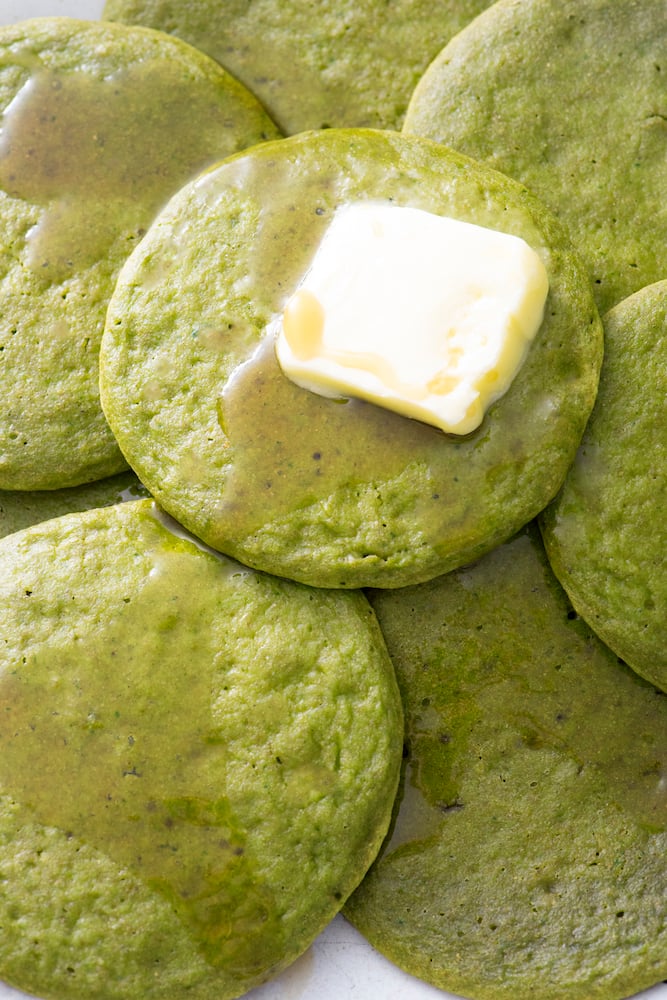 I decided to marry emerald green spinach with my everyday Whole Wheat Pancake and Waffle Mix and let the kids put all the recipe ingredients in the blender to create an intriguing green batter. It was so much fun to watch 20 or so kids measure, blend, ladle, and work together at every turn to create these Green Vegan Pancakes. They even ate the extra spinach leaves along the way as they cooked their little hearts out!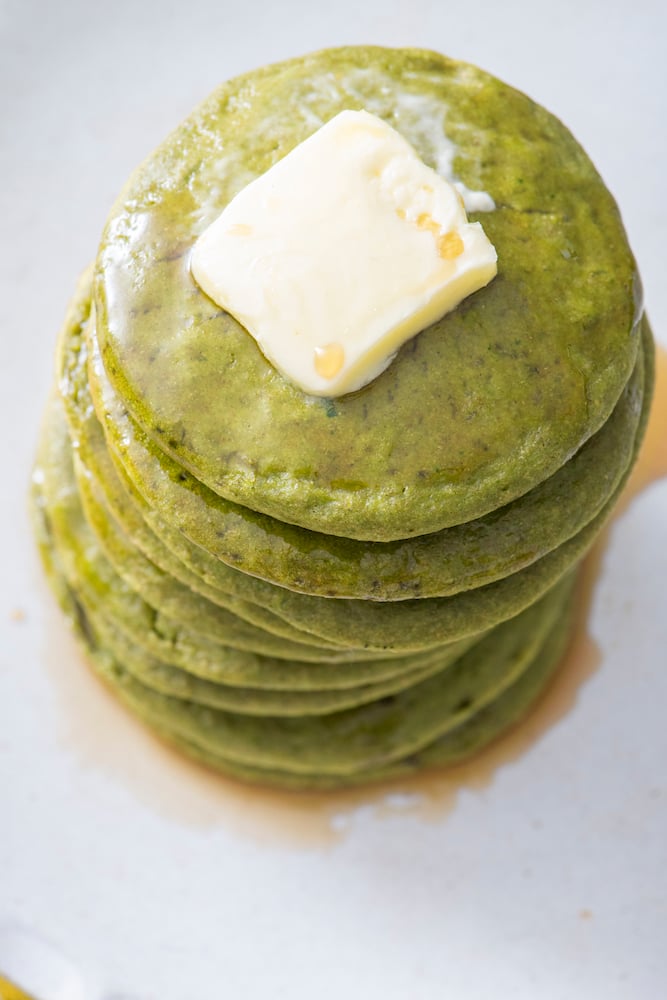 I must admit that I never found time to actually test the recipe idea before attempting it that day with the kids, and I knew I was going to be in big trouble if the pancakes got botched. However…phew! Somewhat to my surprise, not only did the pancakes turn out gorgeous and green, but the kids loved eating them. In fact, Kenya's friend Alex's mother emailed me later to say that her son usually shunned green foods but now he wanted her to make the recipe for him!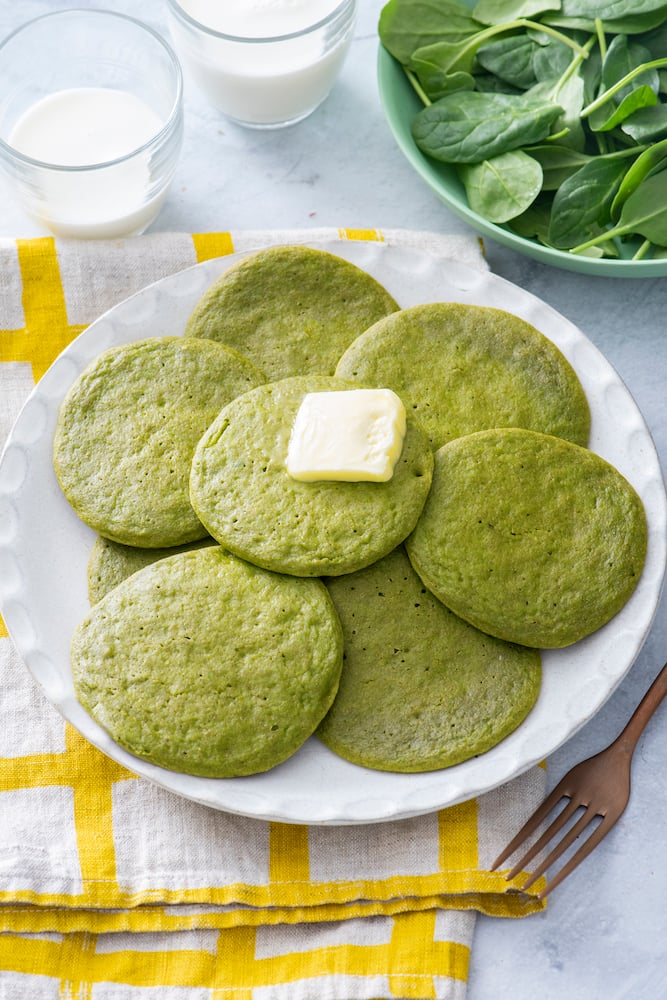 I don't want kids with food allergies to miss out on the fun, so I made these pancakes vegan. They are just as light and fluffy as your favorite pancake recipe, but they're made without eggs or cow's milk. They feature a big dose of tender spinach in each bite and fruit from the banana or apple — you can use either one in the recipe and get sweet and tender results. I expected that the kids in Kenya's class would have adorned their green stacks with maple syrup, but many of them gobbled up these naturally sweet green vegan pancakes as is, without any enhancements.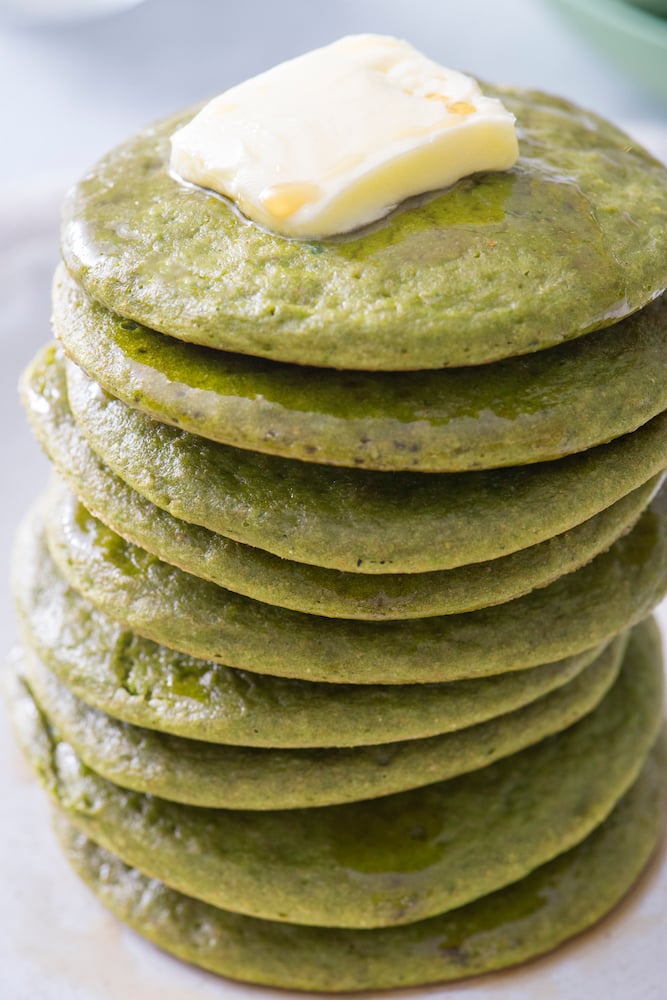 Surprise your kidlins with an extra cool surprise this St Patty's Day with these green circular gems! And if you're looking for more naturally green recipes for the occasion check out 17 Dye-Free St. Patrick's Day Recipes!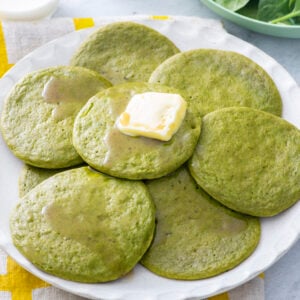 Green Vegan Pancakes
A big stack of Green Vegan Pancakes is perfect for a super fun St. Patrick's Day breakfast. They're naturally green, festive and oh so delicious!
Instructions
In a bowl, whisk together the flour, baking powder, baking soda, cinnamon, and salt.

Place the remaining ingredients in a blender and blend until smooth.

Add the wet ingredients to the dry ingredients and mix until just combined.

Heat a large pan or griddle over medium heat and grease with oil.

Pour about 2 tablespoon of the pancake mixture onto the griddle, cook 2 minutes or until bubbles start forming on the surface and the bottom is golden brown.

Flip the pancakes and cook for 2 minutes longer.

To Freeze: Allow to cool, place in a ziploc bag, label and freeze for up to 4 months. When ready, place in toaster oven or oven at 300 and heat for 10 minutes or until heated through.

To Keep Warm: Place the pancakes in a 200F oven to keep warm until ready to serve.