I know, I know – someone who lives in southern California talking about the "winter chill." I can basically hear the eyes rolling. BUT – whether the weather is just a tad mild or bone-chillingly cold, a cozy bowl of soup can warm you up from the inside out. Read on for my favorite 20 Cozy Soups and Stews for Chilly Days ahead!
Why Soups and Stews Are The BEST
Warmth and Comfort: There's nothing more cozy and satisfying than a hot bowl of soup on a cold day.
Versatility: There are endless flavor possibilities when it comes to soups. You can cater them to tons of taste and dietary preferences.
Nutritional Benefits: It's SO easy to pack soups and stews with healthy ingredients like vegetables, legumes and proteins, which is great when you're working on getting some nutrient-rich food in your kids' bodies!
Convenient Prep: They're time-saving (one-pot and slow cooker for the win!) and freezer friendly, perfect for busy schedules and effortless homemade meals.
Leftovers For The Win: Making a double batch of soup is my favorite because the leftovers are just as delicious. They're a practical and budget-friendly choice for meal planning.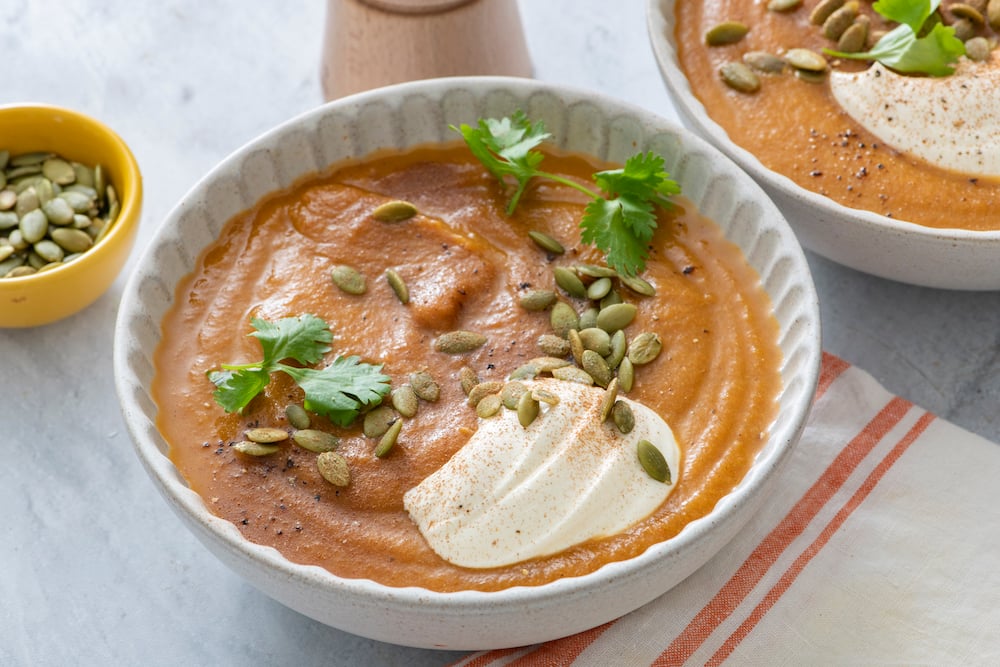 My Favorite Soup and Stew Recipes
Chicken Soup & Rice
Chicken Soup and Rice is a classic staple when it comes to making soup. It's hearty and delicious and the perfect thing to eat when you're feeling under the weather or just want something comforting to eat!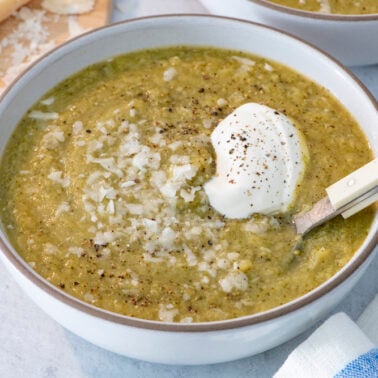 Broccoli Soup
This yummy Broccoli Soup has fresh broccoli, starchy potatoes and vegetable broth to create a scrumptious and smooth soup that will easily have you wanting seconds (and thirds)!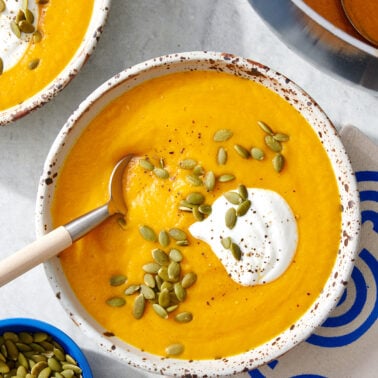 Carrot Ginger Soup
This soup is the perfect combination of sweet yet hearty and super healthy too! Plus, you only need a few ingredients to make it.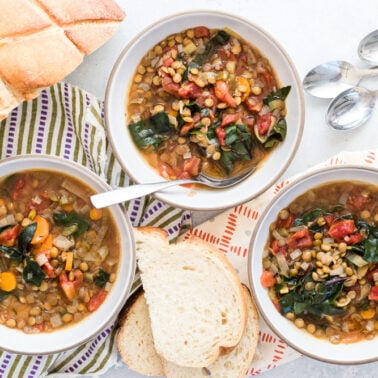 Crock Pot Lentil Veggie Stew
This Lentil Veggie Stew basically makes itself in the crock pot and is full of flavor and textures that will have your mouth singing!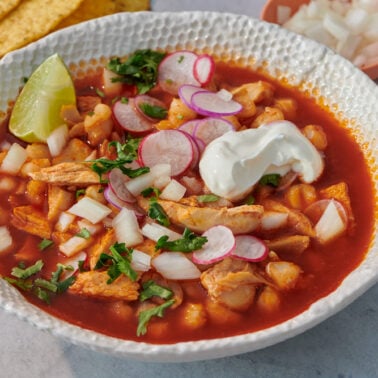 Chicken Pozole
This comforting, hearty Mexican style soup is full of flavor and will warm you up from the inside out.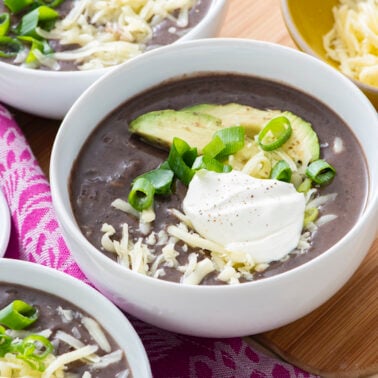 Crock Pot Black Bean Soup
This Black Bean Soup recipe is a super easy, cost effective vegetarian meal that's packed with protein and dietary fiber.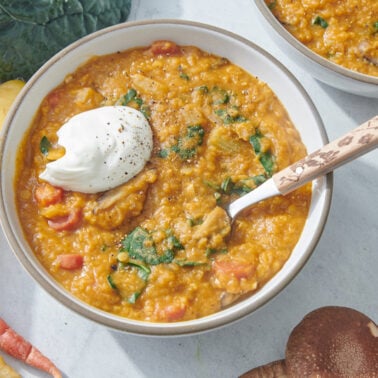 Smoky Red Lentil Stew
Smoky Red Lentil Stew is the perfect weeknight meal. Not only is it easy to make, but it's also packed with protein with a smoky kick from smoked paprika.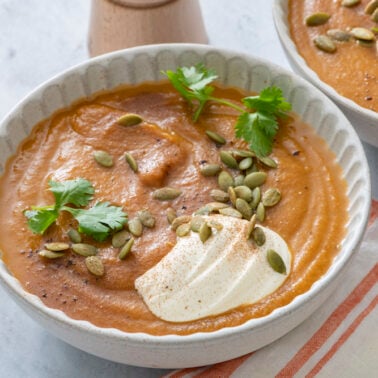 Spiced Carrot Cauliflower Soup
This Spiced Carrot Cauliflower Soup is so good, your winter evenings will never be the same!
Asian Chicken Soup
Asian Chicken Soup is healthy and exactly what you want to eat when you're feeling under the weather.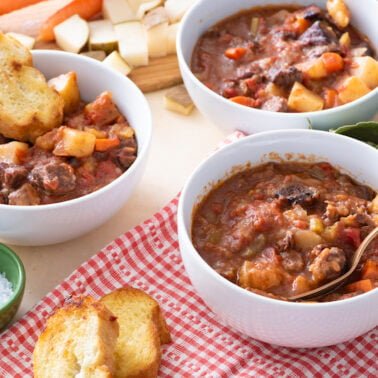 Beef Stew in the Crock Pot
Beef stew was one of my favorite meals growing up, so I loved creating this recipe. Warm and full of flavor, you'll savor every bite of this Beef Stew in the Crock Pot!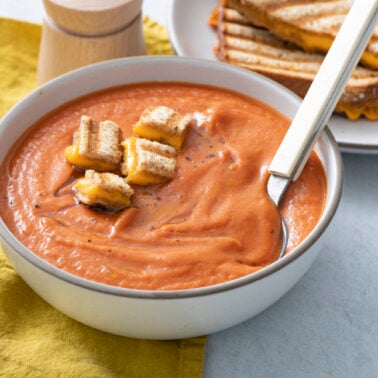 Roasted Tomato Soup
Roasted Tomato Soup is the ultimate comfort food, especially during the cold months. Paired with a delicious grilled cheese, there's no better combination!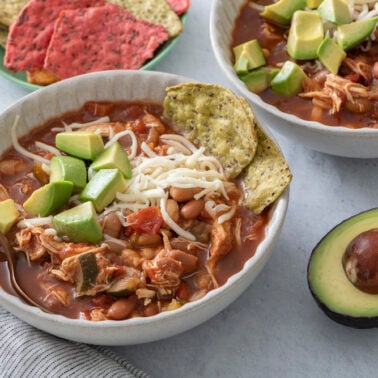 Slow Cooker Chicken Chili
There's nothing better than a big bowl of chili that basically cooks itself. This Slow Cooker Chicken Chili has an extra veggie in it too!
Celery Root Soup
I've been cooking celery root for years in salads, soups, just plain roasted and in purees. It's one of my favorite foods and this Celery Root Soup is really healthy, while also being naturally creamy and hearty.
Broccoli Cheese Soup
Cheese makes everything better! Serve this Broccoli Cheese Soup in a bread bowl for ultimate parent points!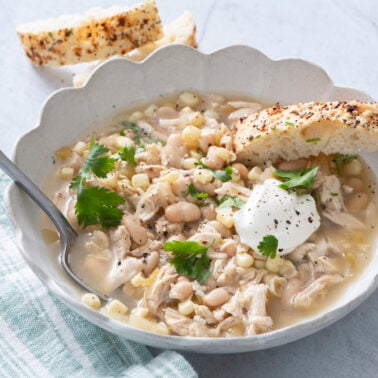 White Chicken Chili
This White Chicken Chili is super flavorful with filling white beans and tender chicken in a delicious broth.
Alphabet Soup
Alphabet Soup might be the most kid-friendly and fun recipe that exists! Make a batch of this tasty soup for your get and they'll spell "YUM!" in their bowl. 
Dumpling Soup
Dumpling Soup is your new go-to! It's delicious and filled with good-for-you ingredients. Not to mention super simple to make!
Ooey-Gooey French Onion Soup
This French Onion Soup is hearty, comforting and full of flavor. It's prepared with beef broth and caramelized onions and topped with crispy bread and ooey gooey Swiss cheese. What's not to love?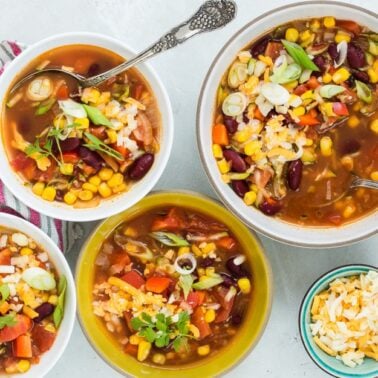 Crock Pot Mexican Corn and Bean Soup
This Crock Pot Mexican Corn and Bean Soup takes less than 15 minutes to put this hearty dish together in the crock pot and features a rainbow of nutritious veggies your kids are sure to love.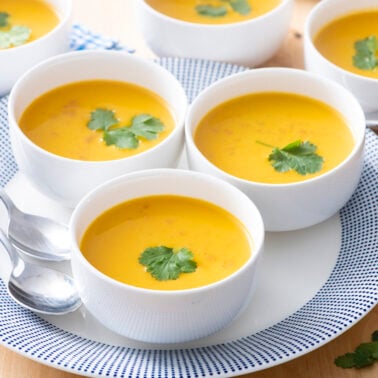 Roast Vegetable Soup
Roast Vegetable Soup is filled with all your favorite vegetables and is so easy to make. The roasted vegetables give it a warm caramelized flavor to keep your family toasty all winter long! 
Recipes to Serve with Soups and Stews
Let me know what you think of these recipes in the comments and feel free to leave your questions. As always, tag me on social media if you make any of these recipes so I can see them! Happy soup season!