These One-Pan Dinner Recipes are sure to please your crowd and make you extra happy that there's little clean up after a satisfying meal.
I've called myself this before and really mean it. I'm a lazy cook. Not necessarily when it comes to prepping and cooking food, but the part where you have to clean up. There's nothing I detest more than a big pile of dishes from using 2 large pots, a sheet pan, a sauce pan, 2 cutting boards, etc.. Is any of this sounding familiar?
The best part about these one pan dinner recipes is that you can use the basic cooking methods in the recipes and switch up the proteins and vegetable ingredients. Take for instance the Salmon Sheet Pan Dinner. You could also use chicken in this recipe, add any seasonal vegetables you have on hand including cubed baby potatoes, sweet potatoes, eggplant, butternut squash, carrots and more, and turn it into your own one pan meal with practically no clean up.
The same goes for the fish in parchment. I love this meal beyond words as the only clean up is your knife and cutting board. You can use chicken, scallops, shrimp or tofu and then add your own twist using of the spiced you love to create any flavor combination to steam in the packets and then toss the paper when you're all done. It's all about keeping things simple, fast and delicious. Read on for 15 One Pan Dinners!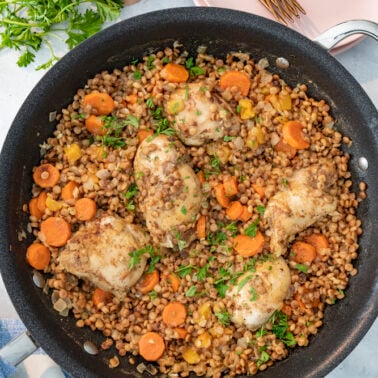 One Pot Spiced Chicken with Toasted Couscous
Aromatic spices layered with tender chicken, carrots, apricots and toasted couscous is an incredible combination.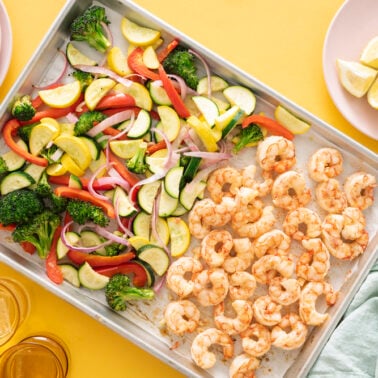 One Sheet Pan Shrimp and Vegetable Dinner
One Sheet Pan Shrimp and Vegetable Dinner is any easy, inexpensive weeknight dinner the whole family will love.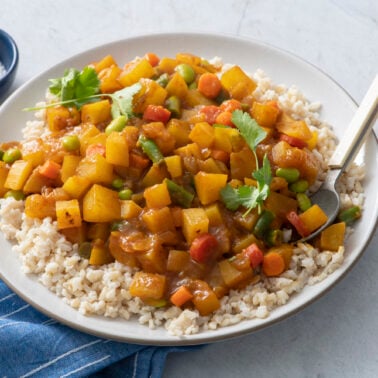 Japanese Vegetable Curry
Japanese Vegetable Curry is a flavorful and simple recipe that gets tons of vegetables packed into one meal.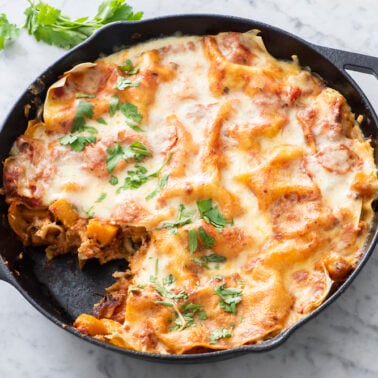 Vegetarian Skillet Lasagna
This Vegetarian Skillet Lasagna is a simplified version of classic lasagna and is one of my family's favorites. It's packed with veggies and cooks all in one skillet! A win-win!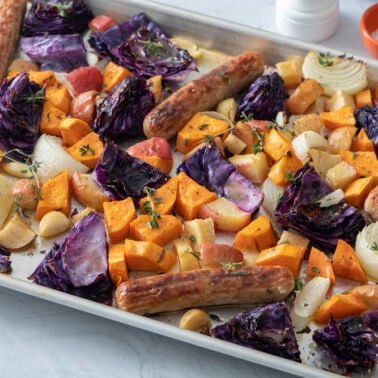 Sheet Pan Sausage with Cabbage and Apples
Want a quick, easy weeknight meal with minimal clean up? Sheet Pan Sausage with Cabbage and Apples is the way to go!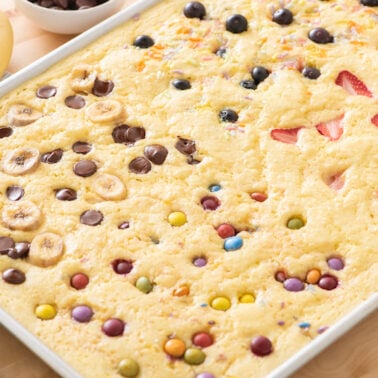 Sheet Pan Pancake
Try a fun breakfast for dinner with this simple Sheet Pan Pancake. Everybody gets the pancake toppings they want!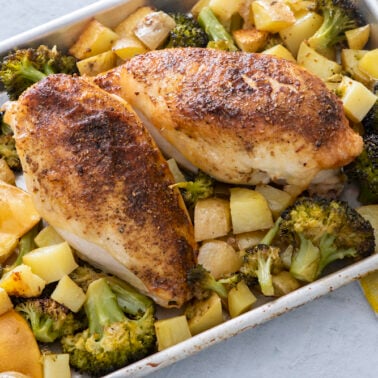 Middle Eastern Sheet Pan Chicken Dinner
Everything in this dish bakes on one sheet pan to get crispy vegetables and juicy tender chicken. Delicious!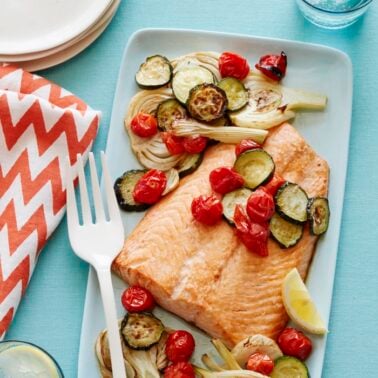 Salmon Sheet Pan Dinner
In this recipe, salmon becomes crispy and golden with the vegetables just starting to caramelize in no time flat. Plus, clean up is a breeze!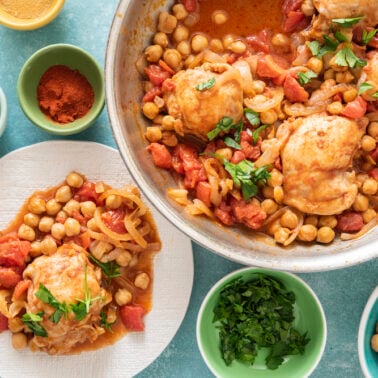 Moroccan Chicken
I love this recipe. It's hearty, comforting and absolutely delicious. A win-win!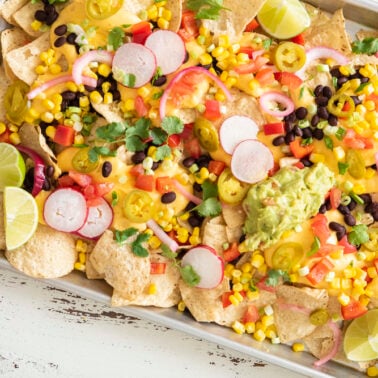 Vegetarian Sheet Pan Nachos
Go toppings crazy with this one! Vegetarian Sheet Pan Nachos are kid friendly and delicious!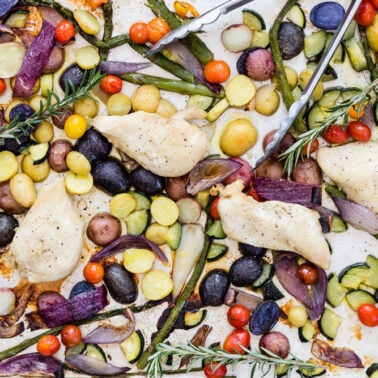 Summer Chicken Sheet Pan Dinner
Use whatever vegetables you have on hand and sprinkle on your favorite spices to change up this recipe whenever you want!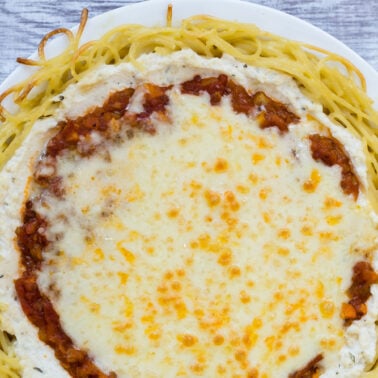 Vegetarian Spaghetti Pie
Vegetarian Spaghetti Pie has everything you need rolled into one simple dish! Make it with meat too if you prefer.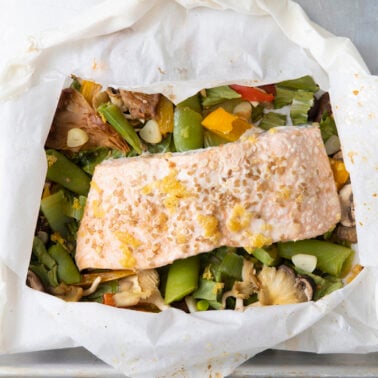 Fish in Parchment Paper
Tender flakey fish with tons of veggies is my ideal meal. You can make this recipe with tofu if you want too!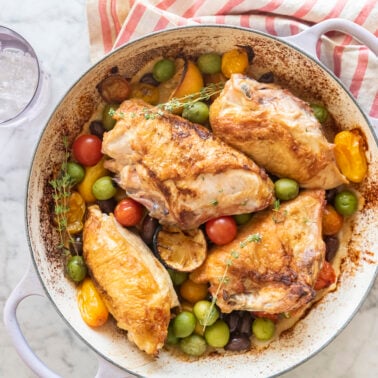 Roast Chicken with Caramelized Lemons, Cherry Tomatoes and Olives
This roast chicken recipe has quickly become one of my tried and true dinner entrees. It's only 5 ingredients, one pan and incredibly delicious.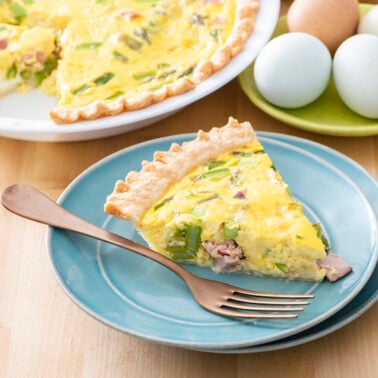 Ham and Asparagus Quiche
I've always loved a quiche not only because they're so delicious, but they're super simple too!
Make one of these One-Pan Dinner Recipes and I guarantee you'll be happy at the end of the meal when the food is gone and you're out of the kitchen in no time!