Spiced Chicken with Olives and Lemon is super healthy and a quick weeknight meal full of flavor that everyone will love.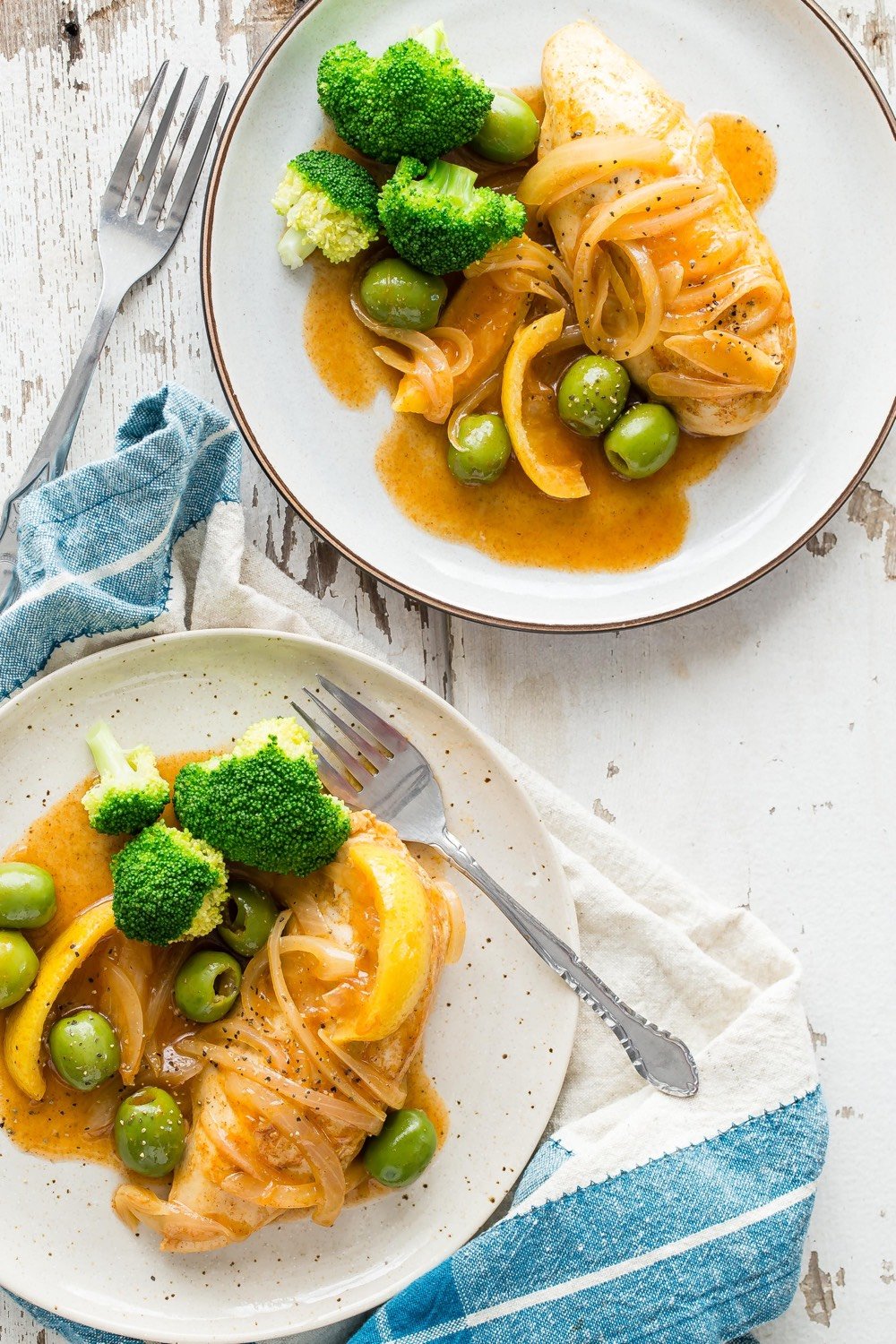 Weeknights can get crazy hectic in our house, and sometimes it's a struggle to get dinner on the table. These are the times I love having one-pan dinners that can be whipped up in no time. Spiced Chicken with Olives and Lemons is exactly what I'm looking for on a busy weeknight. The bonus? Little to no clean up which is my kind of recipe.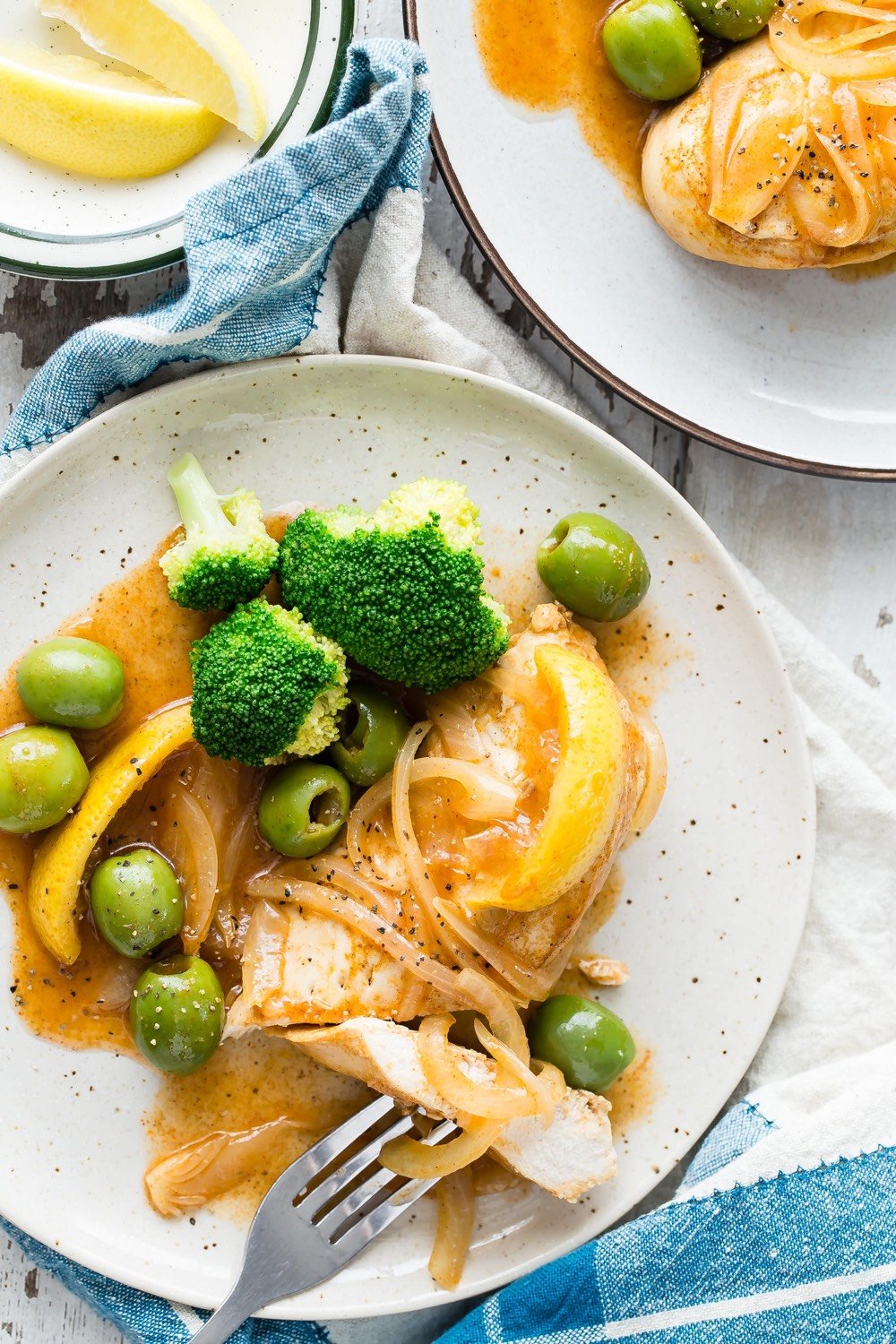 It all comes together in one pan. It's sweet from the caramelized onions, tangy from the lemon juice, and it gets a briney punch from the olives. Chloe and Gemma could and would eat an entire jar of olives in one sitting, so for my girls, I've included an entire jar in this recipe. (I just have to make sure I have extra on hand for her to munch on!) As soon as my kids see them they beg to open the container to line their fingers up with olives to munch on as I cook.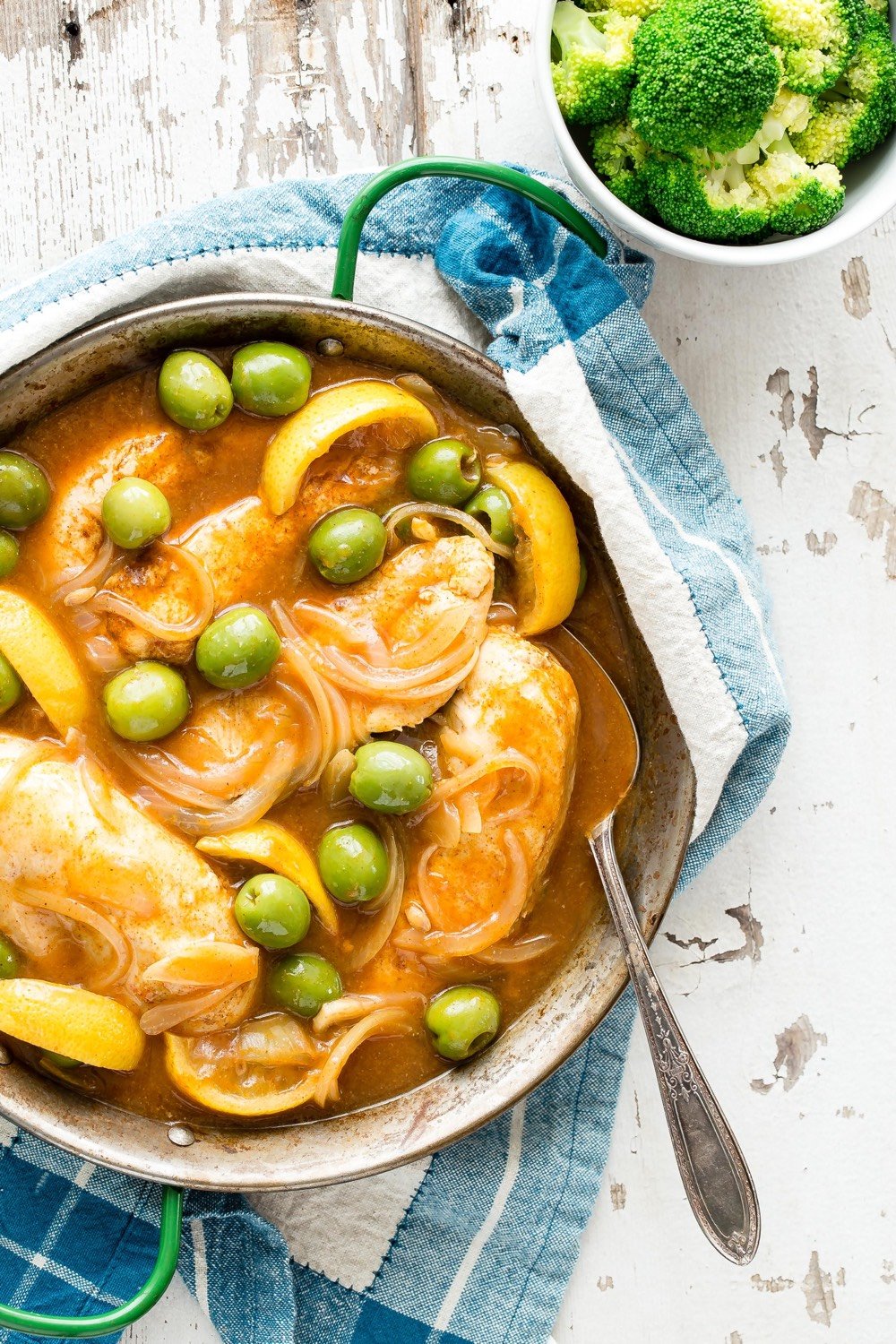 If you haven't yet tasted castelvetrano olives, this is the perfect time to try them. They're gorgeous bright green and taste like the best parts of a green olive and a black olive mixed together. This dish is perfect on its own, but also goes great with some crusty bread, perfect brown rice, or pasta. If you like a different type of olive don't be shy. You can mix and match a variety of olives that you love or stick with our family favorite which are super meaty and add a ton of flavor in every single bite.
If you make this recipe, I'd love to see it! Tag @weelicious on social media. And tell me what you think of the olives if this is your first time trying them!
Photos by Gerry Speirs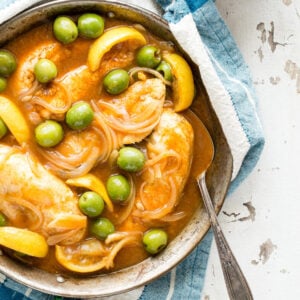 Spiced Chicken with Olives and Lemon
Spiced Chicken with Olives and Lemon is super healthy and a quick weeknight meal full of flavor that everyone will love. 
Ingredients
2

tablespoons

olive oil

1

large onion, halved, thinly sliced

2

cloves garlic, minced

1

teaspoon

salt, divided

2

lemons, 1 cut into 8 wedges quartered and deseeded and one juiced

1

tablespoon

paprika

2

teaspoons

ground cumin

1

teaspoon

ground cinnamon

1

teaspoon

ground ginger

1

15 ounce can

low-sodium chicken broth

4

chicken breasts, boneless and skinless

1

10 ounce jar

Castelvetrano Olives, pitted and reserving all the juice
Instructions
Heat oil in large skillet over medium heat, add onion and garlic, sprinkle with 1/2 tsp salt and saute until golden, about 4-5 minutes.

2. Add the juice of one lemon and next 5 ingredients; stir 1 minute. Add broth and reserved olive juice and bring to boil.

Sprinkle chicken with remaining 1/2 tsp salt add to skillet. Add the remaining 8 lemon wedges and olives. Cover, reduce heat to low, and simmer 25-35 minutes or until chicken is cooked through, turning occasionally. Transfer chicken to platter and serve.