Sometimes the most simple sounding recipes can be the most challenging ones to pull off. Brown rice is a perfect example. You might think, two ingredients? Water and rice? Simple, right? Not really. Use the incorrect amount of water, an ill-fitting lid, or the wrong amount of time or heat, and your rice can turn out mushy or even all dried out.
Since I've been making an enormous batch of brown rice once a week for years, I've gotten pretty good at it and want to show you some of tips I've picked up along the way for making the perfect brown rice. Fluffy, with each grain perfectly separated, well-cooked brown rice can be used as the base for Easy Chicken Curry, Pressure Cooker Pinto Beans, Mexican Fried Rice, or even one of my favorites, Leftover Brown Rice Pudding.
Watch this video and see how easy perfect can be!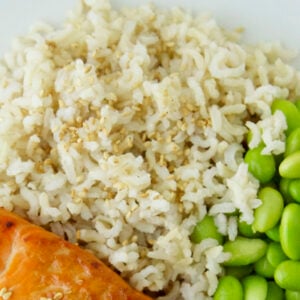 Perfect Brown Rice
Ingredients
2

cups

water

1

cup

brown basmati rice (long grain), rinsed
Instructions
Place the water in a small saucepan and bring to a boil. Add the rice, and allow the water to come back up to a full boil.

Stir the rice, cover the pot with a lid, and reduce the heat to a simmer.

Cook for 40 minutes, or until all the water has absorbed. Fluff with a fork and serve.