Pressure Cooker Pinto Beans are a fast, easy, inexpensive and delicious recipe for beans that you can serve up on their own with some brown rice or as the perfect side dish.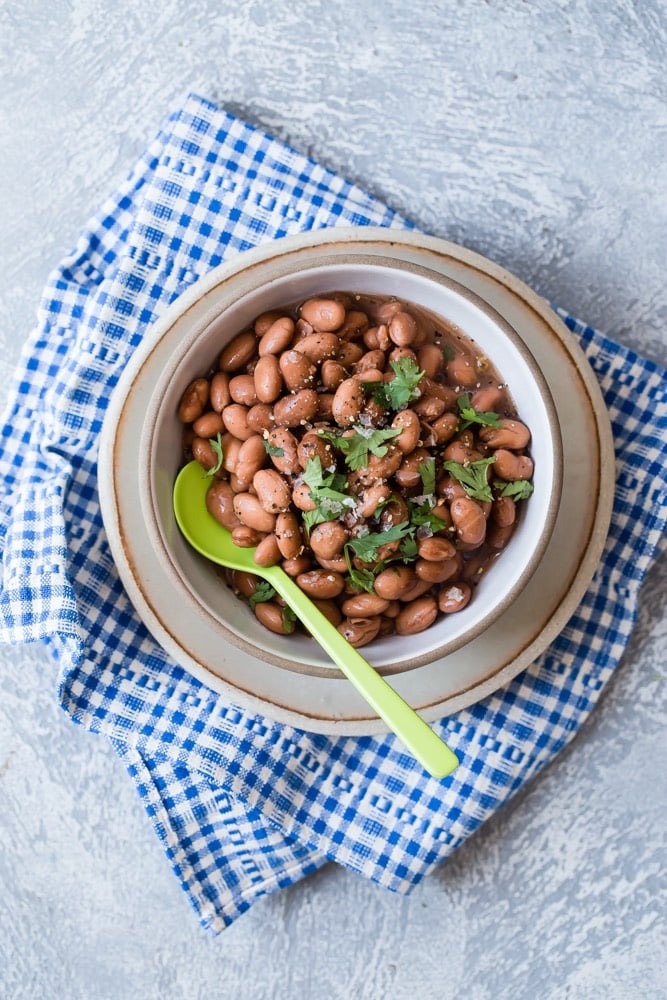 Pressure cookers are one of those appliances you either have and use all the time or really have no clue about. I, for one, was a long time, card-carrying member the latter category. I had actually been gifted one a long time ago, and although I had always heard previously just how indispensable a pressure cooker can be — especially when it came to cooking foods like meats and beans quickly with tender, succulent results — I always managed to come up with a seemingly endless amount of excuses to avoid figuring out how to use mine. For some inexplicable reason, I found my pressure cooker so totally intimidating , that it sat untouched in my closet for years before I finally decided to take the plunge. Once I did, I couldn't stop using it.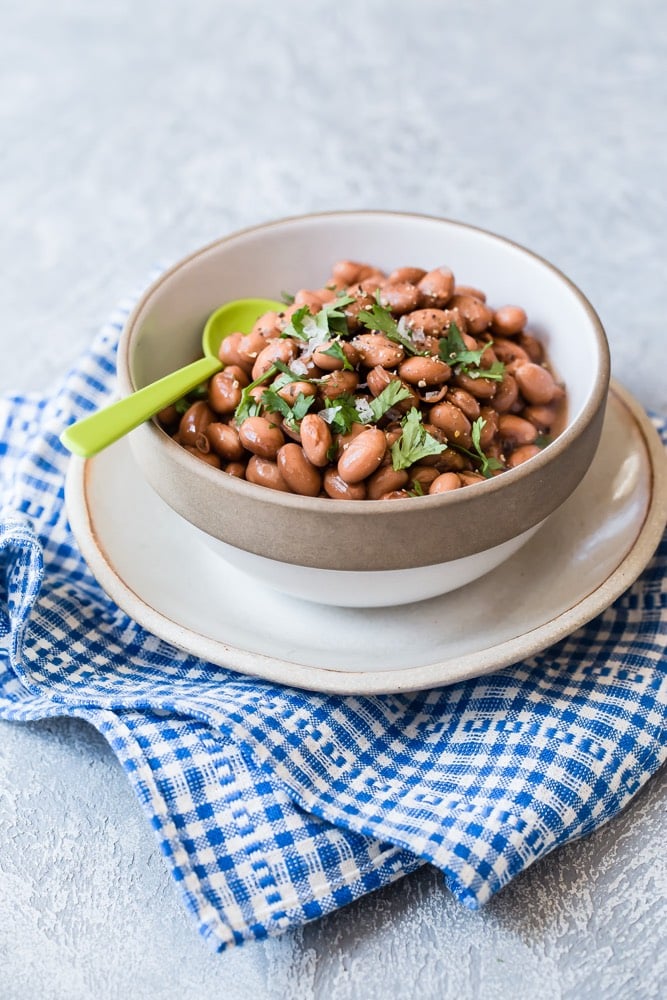 Chloe is an obsessive bean eater, but with the requisite eight-plus hours of soaking and simmering to make most beans fresh, cooking them always presented a real challenge for me. The pressure cooker did away with all that. My friend Nilva grew up using a pressure cooker daily, and so she gave me a crash course in how to use one to make beans fresh in a fraction of the time. Much to my surprise, it couldn't have been easier. All it required was dumping in all of my ingredients and locking the lid. 40 minutes later, alerted by a whistle as loud as a freight train and a beautiful geyser of steam bursting from the spout, my beans were done and indeed they tasted as superior as the best ones I had ever had.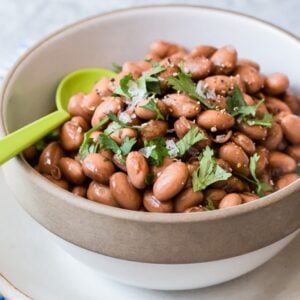 Pressure Cooker Pinto Beans
Ingredients
1

pound

dry pinto beans

1

small onion, finely chopped

1

garlic clove, minced

1

bunch

cilantro stems, tied together with butcher\'s twine

7

cups

water

1

1/2 teaspoons

kosher salt

1

teaspoon

ground cumin
Instructions
Combine all the ingredients in a pressure cooker and, following the manufacturer's directions, cover and lock the lid and cook on high pressure for 40 minutes.

Allow the steam to release completely (again, following manufacturer's directions) before opening the pressure cooker lid.
Nutrition
Calories:
140
kcal
|
Carbohydrates:
25
g
|
Protein:
8
g
|
Sodium:
310
mg
|
Fiber:
6
g
|
Sugar:
1
g