My husband doesn't venture into the kitchen too often, but when he does it's kind of an event for several seasons_
a. the kitchen looks like it's just been hit by a storm of pots, pans and various random ingredients
b. he resembles a cartoon character when his frustration with the dish he's trying to make reaches its limit
c. somehow the food he makes turns out good. And I mean really good!
We like to make fajitas or shrimp tacos for dinner on the weekends and hubby is always in charge of making his now famous pressure cooker black beans. I think it's the only dish he makes which doesn't result in the kitchen looking like the refrigerator exploded. However one weekend last month, he wasn't home early enough to prepare the beans and making them was left to me. Not knowing hubby's recipe, I did my best to recreate a similar version.
When he got home I offered him a taste of my attempt, anxiously waiting his reaction. Hubby dramatically smelled the pot of beans, took a spoonful, blew to cool them off, took a bite and after a long pause, finally gave me a thumbs up. It would seem that everyone in our family approved since at dinner that night I looked up to see that Chloe was sporting an enormous bean goatee!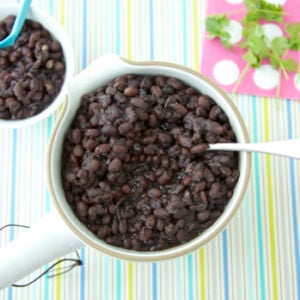 Pressure Cooker Black Beans
Ingredients
1

pound

dry black beans

1

small onion, finely chopped

1

bunch

cilantro stems and/or leaves, tied together with butcher's twine

7

cups

water

1

1/2 teaspoon

kosher salt

1

tablespoon

olive oil

2

tablespoons

balsamic vinegar
Instructions
Combine the first 6 ingredients in a pressure cooker and, following the manufacturer's directions, cover and lock the lid and cook on high pressure for 40 minutes.

Allow the steam to release completely (again, following manufacturer's directions) before opening the pressure cooker lid.

Stir in the balsamic vinegar and serve.
Nutrition
Calories:
110
kcal
|
Carbohydrates:
19
g
|
Protein:
6
g
|
Fat:
1
g
|
Sodium:
5
mg
|
Fiber:
4
g
|
Sugar:
1
g