Dig into your spice cabinet and make this unreal Sweet and Spiced Chicken. It's the perfect marriage of heat with a little bit of sweet that you'll be making all the time.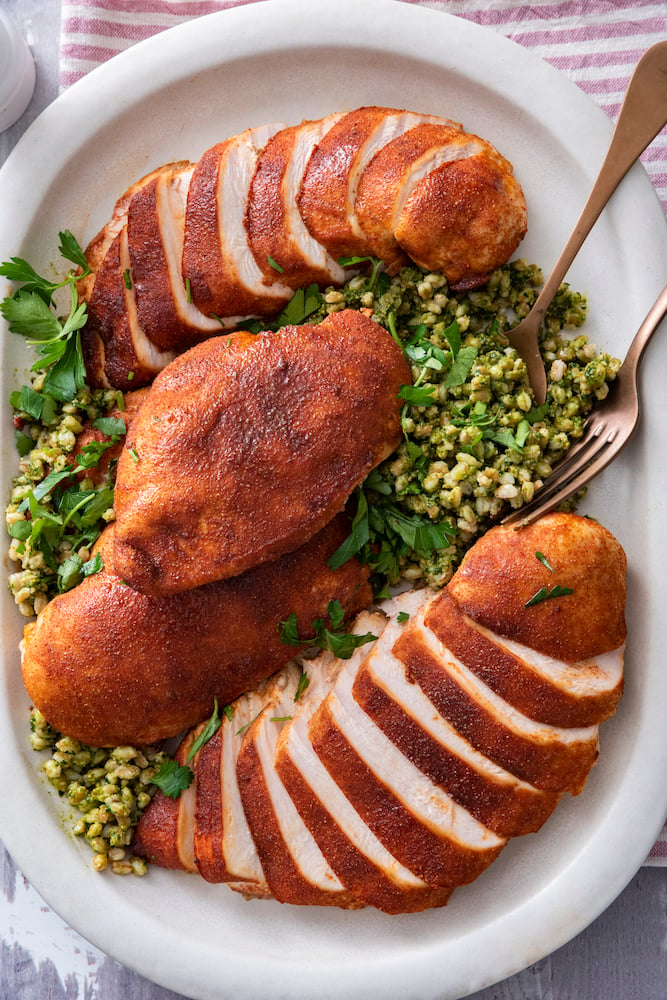 Among her countless wonderful qualities, Kenya's first grade teacher, Sallie, also happened to be a passionate cook. Not long after we found out about her culinary talents, Sallie made us a cookbook-sized binder filled with photocopies of all her recipes, collected over years of cooking for her family. As you may know, I am a total cookbook junkie and this one completely captivated me. I spent several days pouring over Sallie's creative recipe ideas and the fun names and stories that accompanied each one.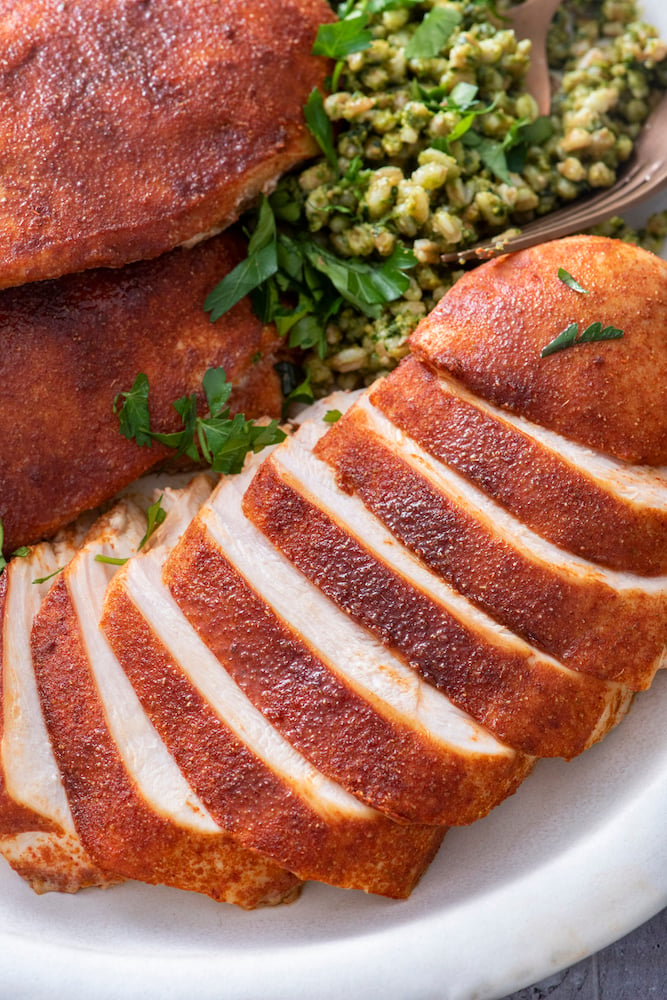 They were all mouthwatering and I wasn't sure which one to try my hand at first, but I finally settled on the Sweet and Spicy Chicken, which sounded darn tasty and easy to make. I made it for our family with three of us loving it, but one saying it was too spicy. I made it few more times before I finally got to this version, which had the perfect balance of sweet and spicy for our whole family. I love this recipe.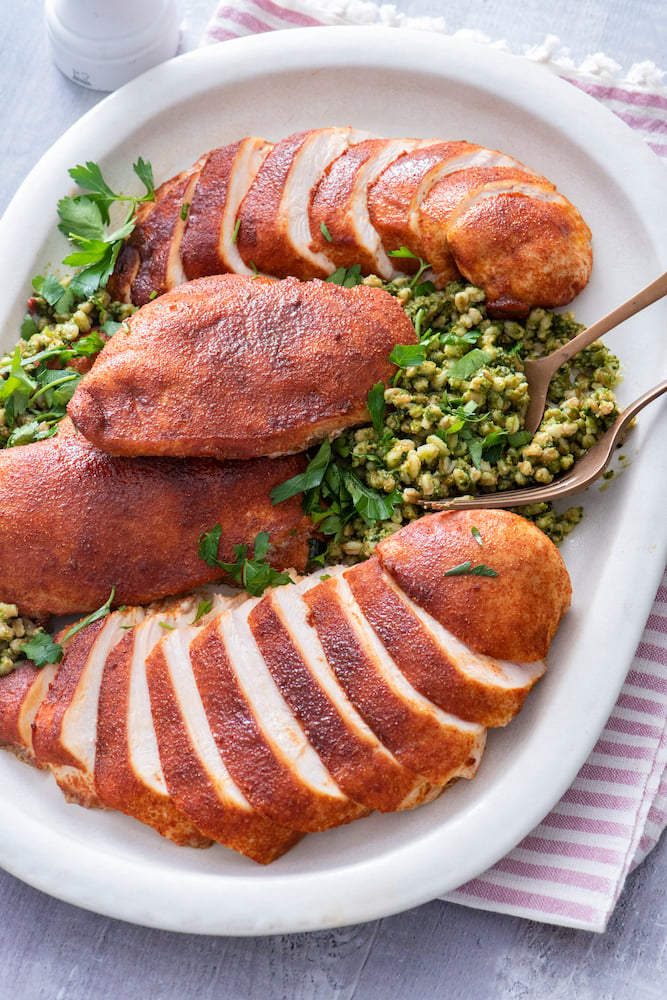 This Sweet and Spiced Chicken recipe is one you'll be making all the time once you try it. The way the brown sugar caramelizes with all of the spices including paprika, cumin, garlic powder and onion powder will make my mouth water just thinking about it. Pair this dish with some cauliflower rice and and some roasted or air fried veggies and you have a perfect meal that can be ready faster than you might think!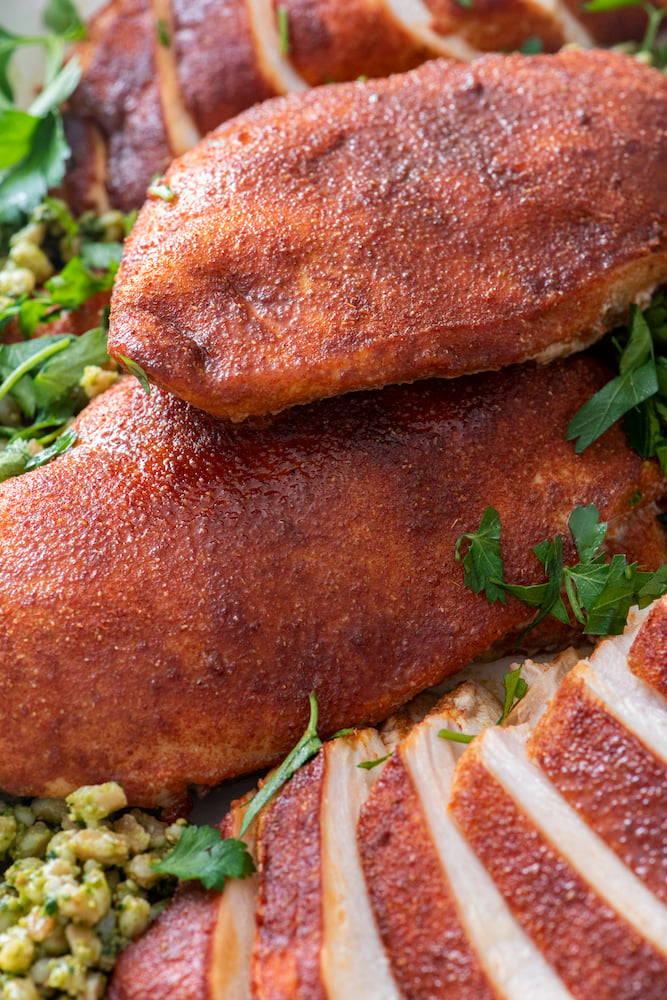 Looking for more simple chicken dishes that the whole family will love? Try out my Moroccan Chicken, Balsamic Chicken or Lazy BBQ Chicken recipes. They're all super flavorful but simple to make! And as always, let me know what you think of this Sweet and Spiced Chicken by tagging me on social media!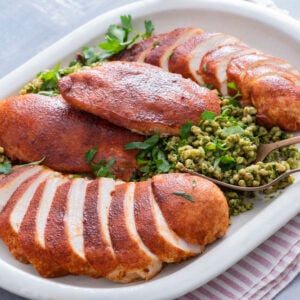 Sweet and Spiced Chicken
Ingredients
2

tablespoons

brown sugar

1

tablespoon

paprika

1

teaspoon

ground cumin

1/2

teaspoon

garlic powder

1/4

teaspoon

onion powder

1

teaspoon

kosher salt

1

tablespoon

olive oil

6

bone-in

chicken thighs

chicken breasts
Instructions
Preheat oven to 350 degrees.

Mix together all the ingredients except the chicken.

Pat the chicken dry if there is any moisture. Rub the spice mixture all over the chicken, patting it down so that it sticks.

Arrange the chicken pieces evenly in a greased sheet pan of 9 x 13 inch baking dish.

Bake the chicken thighs for 35 minutes, and chicken breasts for 30-35 minutes, until the chicken is cooked through. You can test the doneness by cutting into the thickest part of the chicken and making sure that the juices run clear.
Nutrition
Calories:
340
kcal
|
Carbohydrates:
6
g
|
Protein:
32
g
|
Fat:
20
g
|
Cholesterol:
115
mg
|
Sodium:
110
mg
|
Fiber:
2
g
|
Sugar:
3
g