Air Fryer Veggies is the easiest recipe you can make in your air fryer. Get delicious crispy yet tender vegetables in a flash without even having to turn on your oven!
Fall is upon us, the holidays are approaching, and in this house that means TONS of roast veggies! I just love how caramelized and flavorful roast veggies turn out. Even better, I can now make Air Fryer Veggies so I don't even need to turn on the oven. Do you think I could make our entire Thanksgiving menu in the Air Fryer?! I might be crazy enough to try it…
Serve these Air Fryer Veggies with that juicy whole chicken and french fries, and you're well on your way to an entire meal made in everyone's new favorite countertop appliance. Now if only the air fryer could clean the dishes, too…
You can use a mixture of your favorite veggies for roasting. I love to use carrots, a variety of squash, cauliflower, and sometimes a beet or two. Have you gotten an Air Fryer yet? What are you cooking in it?!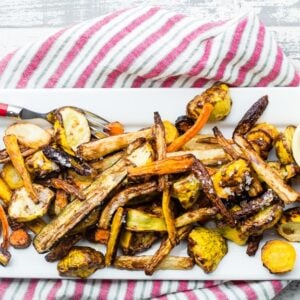 Air Fryer Veggies
Ingredients
3

cups

mixed vegetables, cut into 1-inch pieces (cauliflower, broccoli, squash, carrots, beets, etc)

1

tablespoon

olive oil or olive oil spray

1/2

teaspoon

kosher salt
Additional optional seasonings:
cajun seasoning

Italian herbs seasoning

herb de Provence
Instructions
Place the vegetables in a bowl and toss to coat with the oil and salt.


Place the vegetables in the air fryer basket and cook on 400F degrees for 15-20 minutes or until golden and fork tender.