Lazy BBQ Chicken lives up to its name! It doesn't get more simple that this recipe. It's the best BBQ chicken you'll ever make!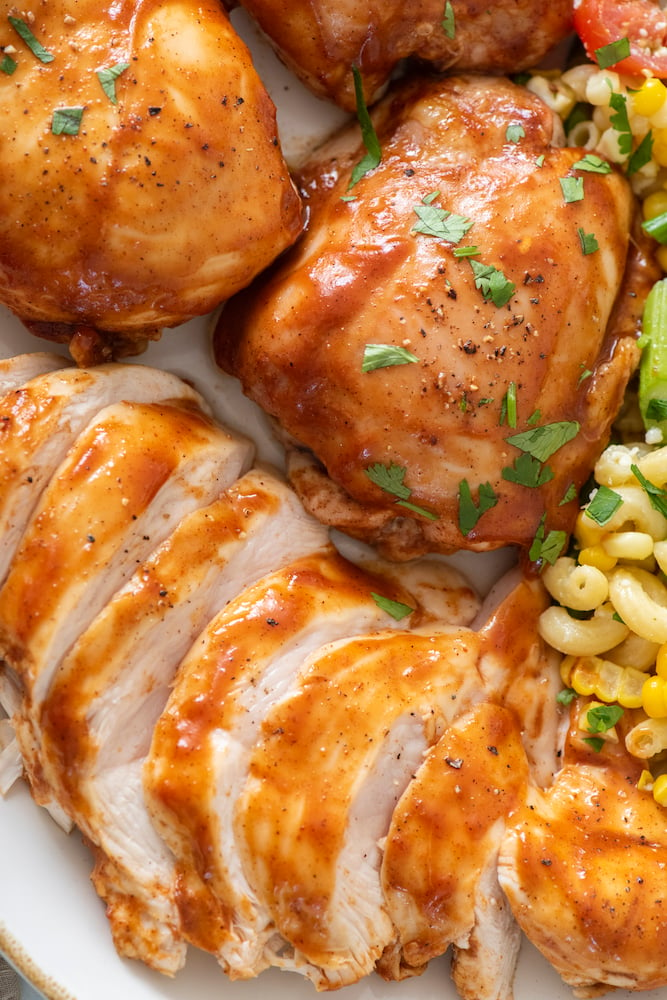 Have you ever cooked food in parchment paper? I praise the day the technique was invented. I've been using it for years to cook fish, vegetables, tofu, and more. It's a life saving approach to cooking for lazy cooks like myself, especially on those weekday nights when you need a meal you can easily get on the table in 30 minutes or less and which requires ZERO clean up.
I'm not talking about recipes only an experienced chef could make in 30 minutes, but will actually take the home cook an hour and a half. I mean a true 30 minutes flat for even the most novice of cooks. You can quote me on that. This is the easiest chicken recipe you will ever make!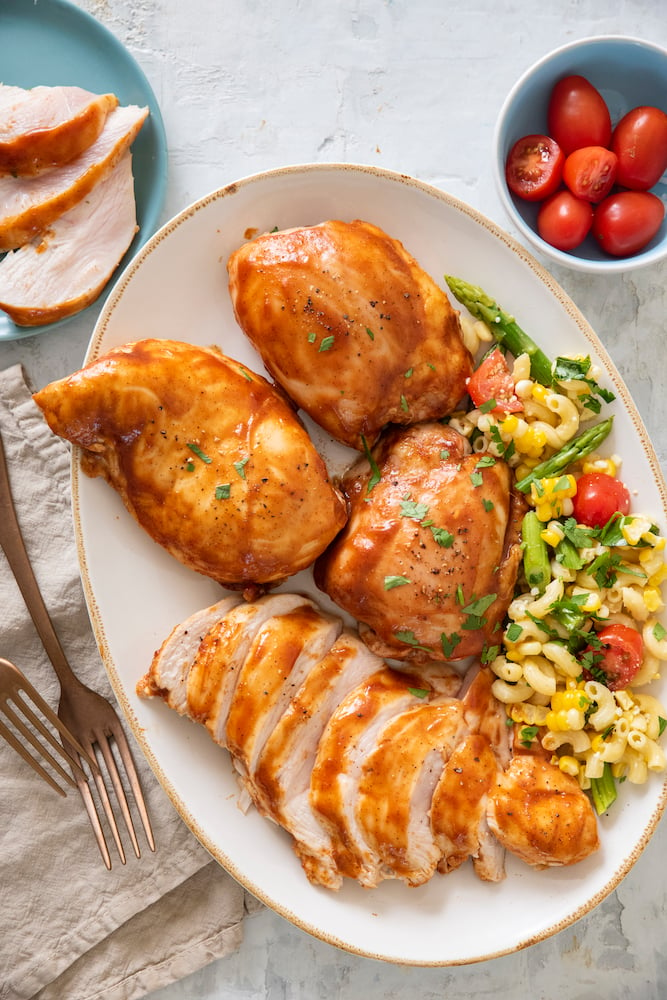 I make this low fat, high protein BBQ chicken parchment paper recipe every week. It's so simple, it's a stretch to even call it a recipe. There are only 2 ingredients and what you're left with is incredibly moist and juicy chicken smothered in your favorite BBQ sauce. It's the perfect recipe to make for a big family or get together with friends because it's super easy. Just put it in the oven and while it's cooking get the rest of dinner ready to go!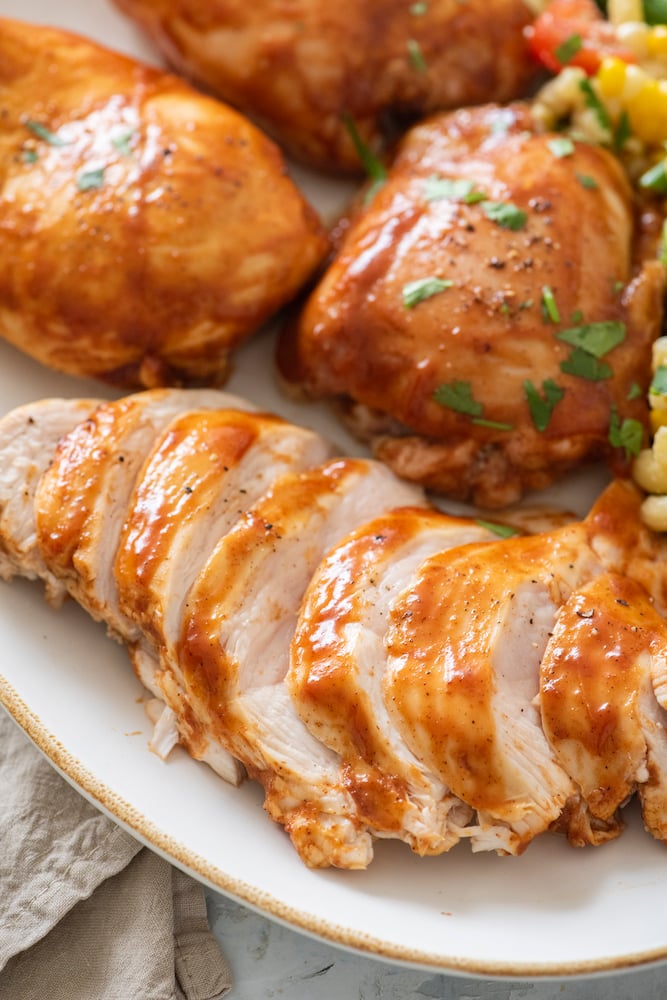 After you make this one, you'll see why you can almost always find this chicken in my fridge, ready to be served for lunch, dinner or even a high-protein afternoon snack. All of the meat eaters in my family love it, so I know anytime I make this recipe it'll be a hit!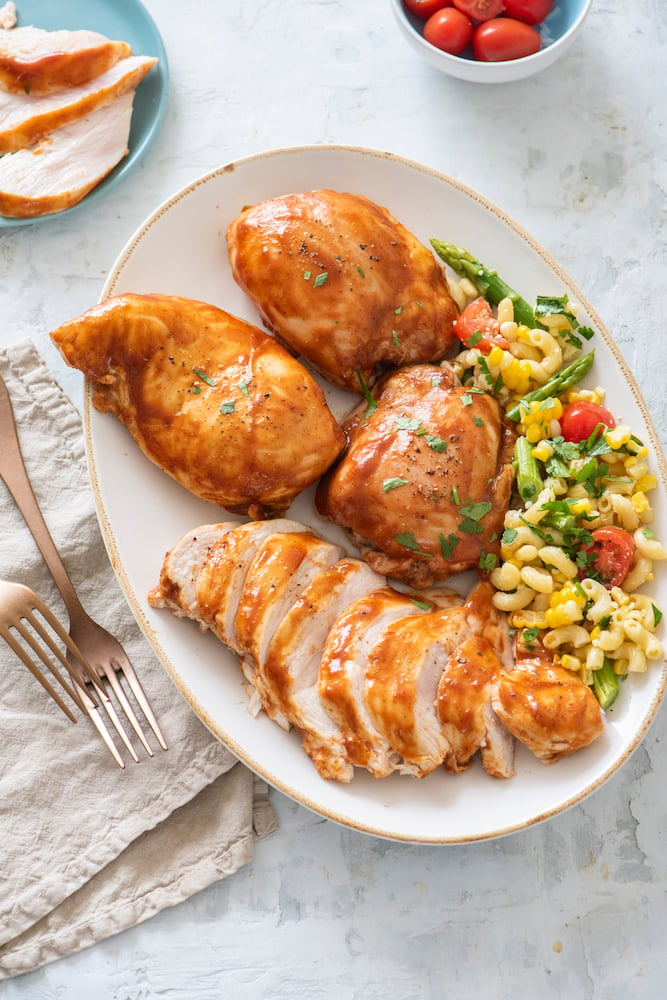 Let me know what you think of this recipe. Tag me on social media if you make it!
Lazy BBQ Chicken
Ingredients
4

boneless and skinless chicken breasts

favorite bbq sauce

parchment paper
Instructions
Place a long piece of parchment paper in front of you and fold it in half like a book.

Unfold and pour about 1/4 to 1/2 cup of BBQ sauce onto the parchment paper. Place the chicken breasts on top and coat them in the sauce.

Fold the parchment paper over, and starting at one end of the parchment, fold the edges of the paper over several times continuing to make creases all around the chicken until it's completely enclosed and no air can escape.

Place the parchment packet on a baking sheet and bake for 30 minutes.
Video