Japanese Vegetable Curry is a flavorful and simple recipe that gets tons of vegetables packed into one meal.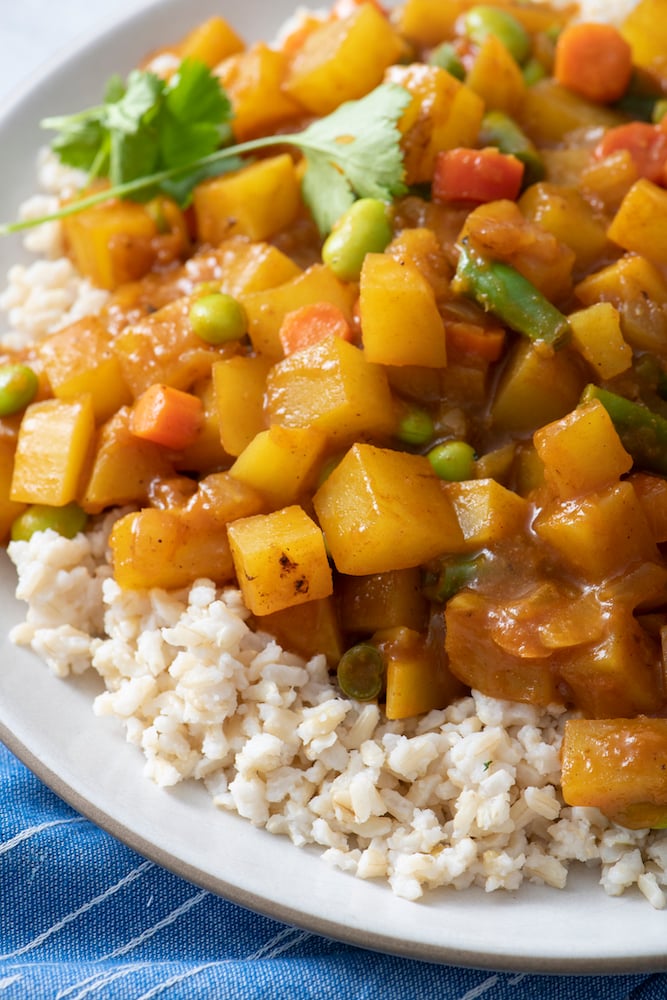 I feel like I always have a surplus of carrots, green beans and a butternut squash on my counter waiting to be turned into a nutritious dish like Japanese Vegetable Curry. It doesn't take much more effort than chopping up the vegetables and adding them to this thick sauce that's totally addictive bite after bite. This is a great recipe to use your frozen vegetables in as well!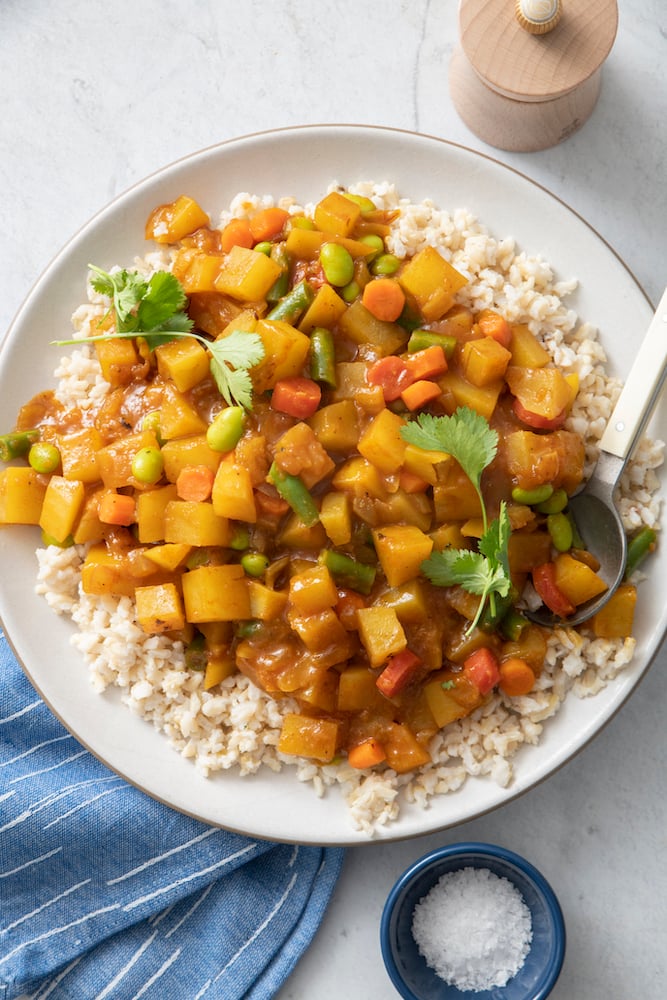 You can put it on top of brown rice like I do here or stir it into leftover quinoa or couscous. Don't feel shy about adding chicken, shrimp or tofu for a non-vegetarian version either. I feel like this is most simple version of this Japanese Vegetable Curry possible that I leave it to you to add whatever vegetables, grains or herbs you want to add.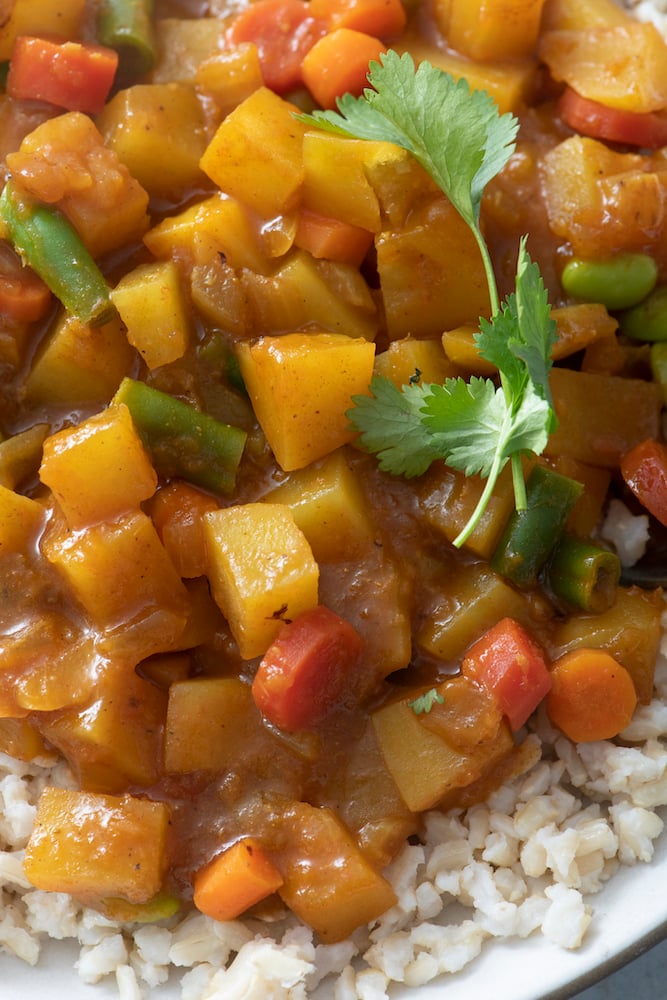 There's nothing I enjoy more than a big bowl of cooked vegetables over quinoa or rice like in this dish. I'm not particular about what vegetables are included or even how they're prepared either. The veggies can be Sautéed Baby Bok Choy, Grilled Lemon Asparagus, a mix cooked into a Moroccan dish like tagine or roasted with maple syrup to naturally sweeten them up! There's so many ways to prepare veggies that makes eating them delicious and exciting.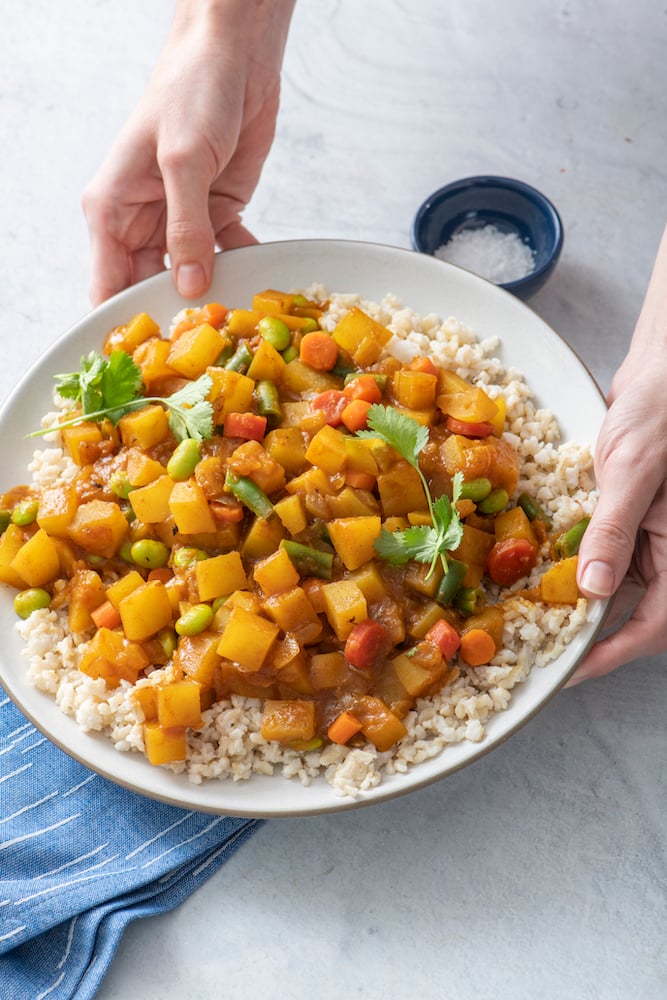 If you have tiny eaters you're wanting to turn onto a myriad of vibrant flavors, this curry is a great place to start. You'll see after the very first bite it becomes incredibly addictive! Whether you're a vegetarian or not, this Japanese Vegetable Curry will hit the spot. I guarantee it!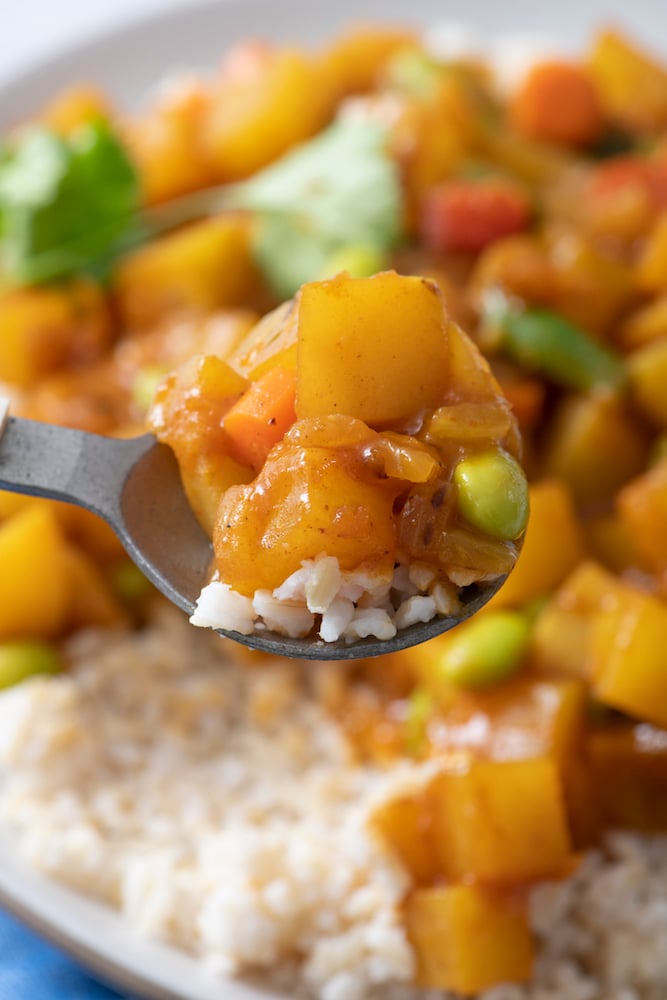 Let me know what you think of this recipe when you make it by tagging me on social media!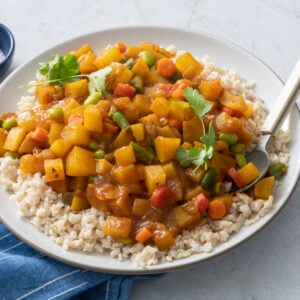 Japanese Vegetable Curry
Japanese Vegetable Curry is a flavorful and simple recipe that gets tons of vegetables packed into one meal.
Ingredients
1

tablespoon

vegetable oil

1

large onion, diced

2

garlic cloves, peeled and grated

1 1/2

inches

ginger, peeled and grated

1

tablespoon

curry powder

3

cups

low-sodium vegetable broth

2

small yukon gold potatoes, peeled and diced

3

large carrots, sliced into 1/2 inch coins

1

small apple, peeled and grated

2

tablespoons

tomato paste

1

tablespoon

worcestershire sauce

1

teaspoon

kosher salt

1

tablespoon

cornstarch

1

cup

shelled edamame

1/2

cup

chopped green beans
Instructions
Heat the oil in a large pot over medium heat. Add the onions and saute for 10 minutes, until the onions are starting to brown.

Add the ginger and garlic and saute another 2-3 minutes, until they are soft and starting to brown. Stir in the curry powder and cook 1 minute, until fragrant.

Add the broth, carrots, potatoes, apple, tomato paste, worcestershire sauce, and salt, and stir to combine well. Bring to a boil, then reduce the heat to a simmer, cover, and cook for 10-15 minutes, until the potatoes and carrots are fork tender.

Place the cornstarch in a small bowl, and ladle about 2 tablespoons of the curry sauce into the bowl. Whisk to combine well, then stir into the vegetable curry.

Add the edamame and green beans. Bring the mixture up to a boil and cook 5 minutes, until the curry is thick and the green beans are tender.