Vegetarian Sheet Pan Nachos is the easiest vegetarian dinner and full of flavor! This recipe is super family-friendly. Everyone will love it!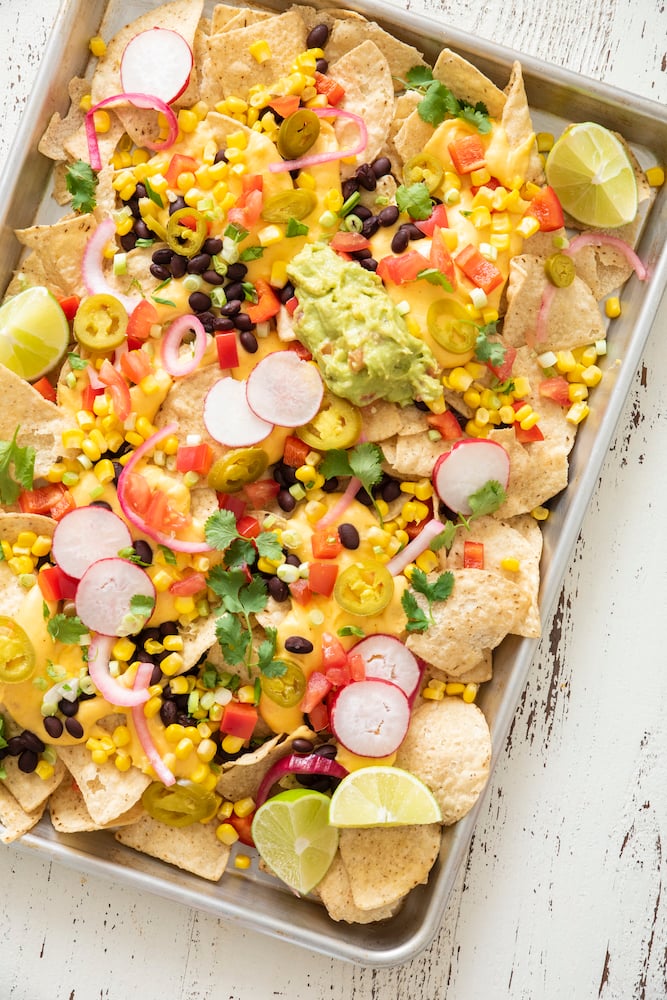 These Vegetarian Sheet Pan Nachos are the BEST nachos because they're so easy to make and everyone loves them! Each chip is loaded with the creamy cheese sauce and all of the toppings. You'll find it hard to stop eating them. My family loves when we make these because everyone gets to choose what toppings we put on them. It's a fun way to get everyone involved in dinnertime.
These nachos aren't just for family meal night either. They're the ultimate snack for group gatherings whether you're having a movie night with some friends or possibly taking them to a tailgate – they're a huge crowd pleaser! Since they're topped with loads of veggies you can feel better about eating the whole pan!
Mexican inspired recipes are one of our favorites to make, especially because a lot of them are vegetarian (or easily can be vegetarian) and are always packed with flavor! We love making Vegetarian Baked Taquitos, Vegetarian Chimichangas, Mexican Tortilla Pizza or this Taco Salad Pizza that's made with plant based protein! And they're so customizable, everyone can get exactly what they want.
Now let's talk about pans and clean up. This recipe requires one skillet and one baking sheet. The clean up process couldn't be easier, which I love! A lot of people ask me what pans I love using so I've linked all of my favorites in my amazon store, which you should definitely check out. Lots of good stuff in there that I use every day.
You're going to love this recipe. The ooey gooey cheese sauce, crunchy tortilla chips and loads of toppings are the perfect family-friendly meal for your week. Let me know in the comments what you think, and don't forget to tag me on social media if you make this or any other weelicious recipe!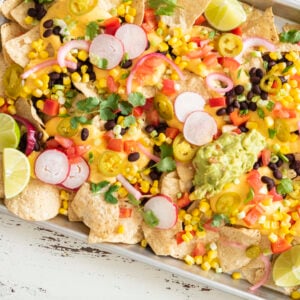 Vegetarian Sheet Pan Nachos
Ingredients
4

tablespoons

butter

4

tablespoons

flour

1

1/2 cups

milk

2

cups

Mexican cheese or a mix of Monterrey jack, mozzarella and cheddar

1

teaspoon

nacho, taco or fajita seasoning

1

16 ounce bag tortilla chips

1

can

black beans, rinsed and drained

1

bell pepper, diced

1

cup

frozen corn, defrosted

1

tomato, seeded and diced

1/2

cup

sour cream

1

cup

guacamole, or 1 ripe avocado, cut into chunks

1

lime, cut into wedges

pickled onions (recipe linked below)
Optional Toppings:
radish, sliced

salsa

hot sauce

scallions, diced

cilantro

pickled jalapeños
Instructions
Melt the butter in a medium sauce pan on low to medium heat.


Sprinkle in the flour and whisk until it thickens creating a roux, about 1-2 minutes.

Add about 1/2 cup milk whisking continuously until milk is absorbed and then add remaining milk. Continue cooking and stirring until bubbles start to appear.

Add cheese and taco seasoning to the roux and stir until mixture is melted and combined.

Place the chips on a 1/2 sheet pan.

Top chips with the nacho cheese mixture followed by beans, bell pepper, corn, tomatoes and guacamole, pickled onions and lime. You can also top with optional ingredients.