Vegetarian Chimichangas are one of our favorite meatless Monday dinners to make! They're delicious any day of the week though.
Am I the only person who thinks the word "Chimichanga" is incredibly fun to say? When I say it out loud I can't help but grin. When I was a kid we went to a restaurant called "Chi Chi's" (another giggly word I just like saying) and I always had two dishes there_ Vegetarian or chicken chimichangas and fried ice cream. I still need to work on a healthy-ish spin on Fried Ice Cream, but I've been working on this Vegetarian Chimichangas recipe here. I've been making them at home with delicious results (says my family), so we added them to my organic family friendly meal delivery company, One Potato.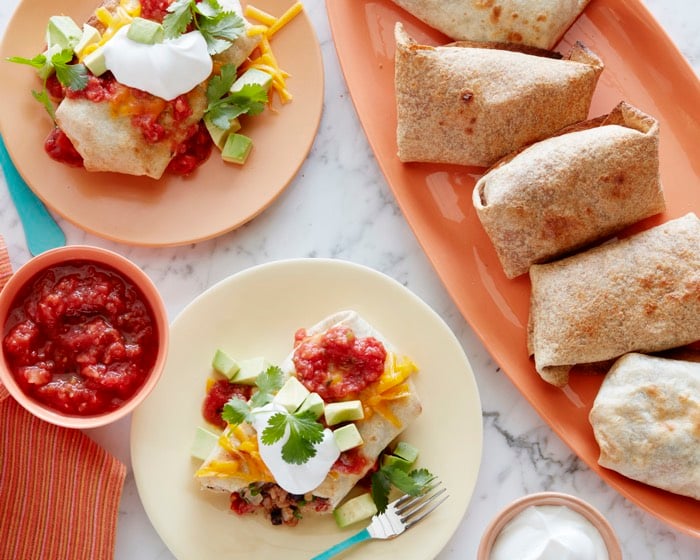 Back to these Vegetarian Chimichangas which are better than anything you would find at a Southwestern or Mexican restaurant. They're generally made with a flour tortilla, stuffed with anything from beans to rice to an array of vegetables and fried before topping with anything from sliced avocado or guacamole to salsa, cheese and sour cream. Here I soften the tortillas to make them more flexible if desired, brush them with oil or coat with cooking spray and then bake before serving. I love using using a mix of whole wheat and corn or spelt tortillas, but you can use any variety you enjoy. You want to make sure you buy the burrito sized tortillas here so they're easy to fill and fold.
For meatless Monday I'm giving you these Vegetarian Chimichangas to inspire you to get more vegetables in your life and hopefully have a lot of fun saying the recipe too!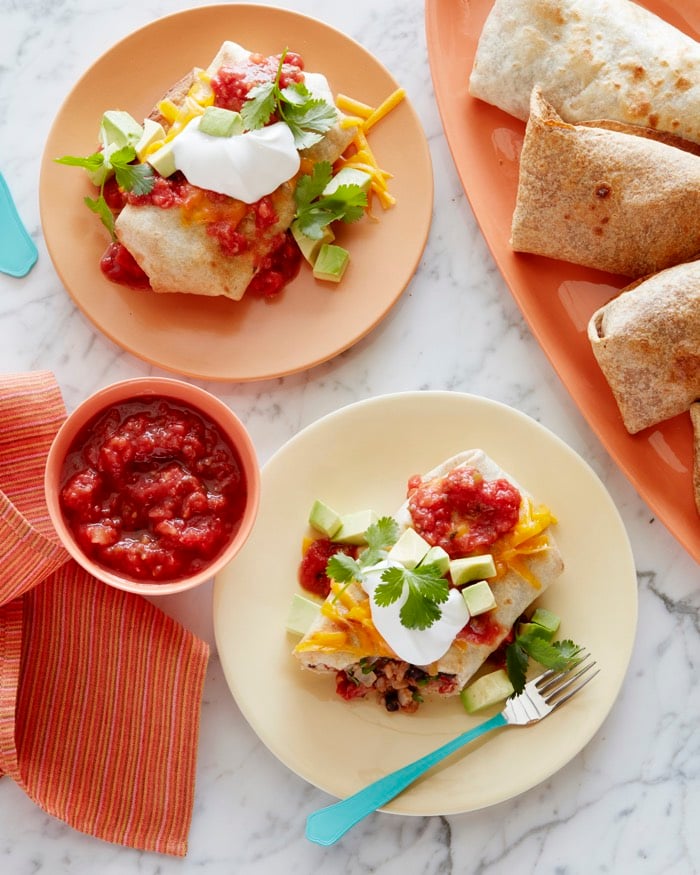 Photos by Matt Armendariz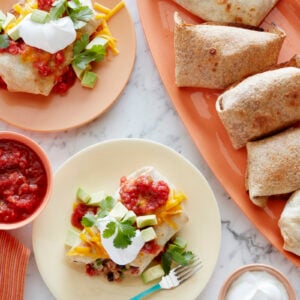 Vegetarian Chimichangas
Vegetarian Chimichangas are crispy crunchy and filled with an array of beans and vegetables to make a perfect vegetarian meal for the whole family to enjoy!
Ingredients
1

onion, chopped

4

garlic cloves, minced

2

teaspoons

olive oil, plus more for brushing the tortillas

2

teaspoons

ground cumin

1

cup

sliced button mushrooms

1

teaspoon

kosher salt

1

7-ounce can

diced green chilies

1

15-ounce can

vegetarian refried beans

1

15-ounce can

black beans

1

15-ounce can

diced tomatoes, drained

1/2

cup

chopped cilantro

2

cups

cooked brown rice

1

cup

salsa

1

cup

grated cheddar cheese

1

ripe avocado, sliced

8

burrito-size tortillas
Instructions
Heat the oil in a saute pan and saute the onions and garlic 3 minutes, until soft.

Add the cumin, mushrooms, green chiles, and salt. Cook an additional 3-4 minutes, until the mushrooms are soft.

Place the mushroom mixture in a large mixing bowl and add the beans, tomatoes, cilantro, brown rice, salsa, and cheese. Stir to combine.

Place 3/4 to 1 cup of the filling in the center of a tortilla, fold the sides in, then fold the bottom up to cover the filling, and fold the top down.

Place the chimichangas, folded side down, on a greased baking sheet, and brush or spray them lightly with oil.

Bake 15 minutes, until the tortillas are golden brown. Serve with sliced avocado, sour cream, extra salsa and cilantro.

Note: If the tortillas are too stiff to fold, place them in the microwave for 30 seconds between 2 damp paper towels to soften.