Sweet Potato Black Bean Enchiladas are a quick, easy vegetarian meal that the whole family will love!
I may not condone sneaking vegetables into my kids' food, but I have occasionally found myself at peace with resorting to bribery when trying to get them to eat a food they profess to detest. If this type of mealtime tactic is not your style you may want to skip reading the rest of the post and proceed directly to the bottom to get the recipe for these unbelievably easy and tasty vegetarian Sweet Potato Black Bean Enchiladas. However, if you can forgive my transgressions and are interested in hearing about one of my less admirable mealtime techniques, read on. I'll give you a second to decide.
Still here?
OK, here goes… Kenya doesn't like beans anymore. This development isn't the easiest on me when it comes to cooking for my family since I love using beans and Chloe absolutely lives for them. In fact, she's been know to eat up to three bowls of Pressure Cooker Beans in one sitting. On the other hand, Kenya, you can't even mention beans to him, let alone offer him some.
The first time I made these Sweet Potato Black Bean Enchiladas they were a hit in my house. Well, sort of. Kenya had come home famished from an after school activity and so at dinner he voraciously dove right into his enchiladas since he pretty much loves anything wrapped in a tortilla. Three bites in though he paused for a beat before shrieking, you know I hate beans! He had been so hungry he didn't notice the black beans until he had actually taken a second to look at what he was eating.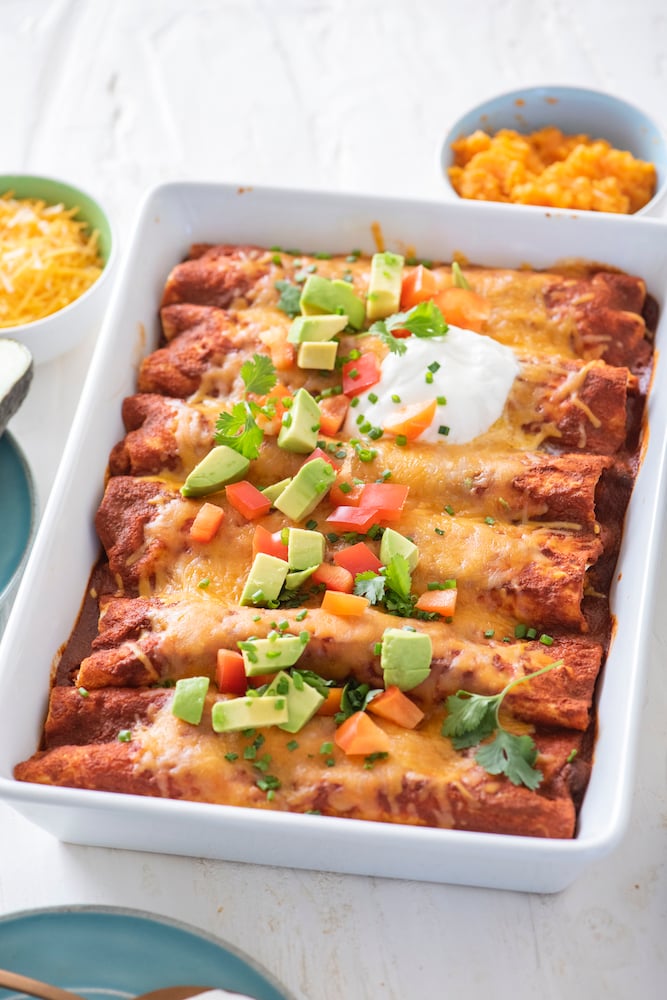 After a bit of protesting, Kenya's hunger got the better of him and he resumed eating the enchilada, although he did so selectively, pushing the beans aside to form a little mountain at the edge of his plate. Watching this kinda bummed me out as I was excited about how my new vegetarian recipe turned out. However, he obviously still liked the enchiladas enough (minus the beans, of course) to polish off two of them, so I wasn't ready to give up on getting him to eat the beans, too.
One of the major challenges with kids and food is when their aversion to a certain food is more psychological rather than on account of the taste. Kenya used to love beans when he was younger, but at some point something altered his opinion of them. Once Kenya makes his mind up about something it can be almost impossible to turn him around, but I made it my mission to convince him they were worth eating.
This is where the bribery comes in… ice cream. I promised Kenya that if he ate the entire heap of discarded beans that I would let him eat as much ice cream as he wanted. He looked at me quizzically and asked if I was serious. When it was clear to him that I was, he proceeded to eat all the beans within minutes flat.
The best part was that once he knew he could have as much ice cream as he wanted, he barely had any. One scoop later he was all done. And so were all of the beans 🙂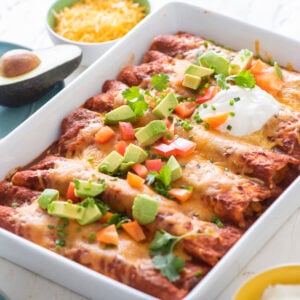 Sweet Potato Black Bean Enchiladas
Sweet Potato Black Bean Enchiladas are a quick, easy vegetarian meal that the whole family will love!
Ingredients
2

large

baked sweet potatoes, cooked and mashed

1/2

teaspoon

garlic powder

1

teaspoon

onion powder

1/2

teaspoon

ground cumin

1/2

teaspoon

kosher salt

1

15-ounce can

black beans, drained and rinsed

1

1/2 cups

shredded mexican blend cheese

1

12-ounce can

enchilada sauce

6

large

flour tortillas, or 12 corn tortillas
Instructions
Preheat the oven to 400F.

Poke the sweet potatoes all over with a fork and place on a foil lined baking sheet in the oven until fork tender, about 1 hour. Turn the oven down to 350F.

Remove from the oven, allow to cool slightly, then slice down the middle and scoop out all the pulp into a bowl.

To the sweet potato pulp, add the garlic powder, onion powder, cumin, salt, black beans, and 1 cup of cheese. Stir to thoroughly combine.

Pour half of the enchilada sauce into a 9×11 baking dish.

Place about 1/2 cup mixture into the middle of each tortilla and roll up.

Place the enchiladas, seam side down, into the baking dish. Pour the remaining enchilada sauce on top.

Cover with foil and bake for 15 minutes.

Remove foil and sprinkle with cheese and bake uncovered for an additional 15 minutes until cheese is melted and browned slightly

Note: The sweet potatoes can be baked up to 2 days ahead of time and the pulp removed and stored in the fridge.
Nutrition
Calories:
390
kcal
|
Carbohydrates:
54
g
|
Protein:
18
g
|
Fat:
12
g
|
Cholesterol:
30
mg
|
Sodium:
790
mg
|
Fiber:
12
g
|
Sugar:
5
g