First, before you say anything, I know "healthy" and "refried" are a contradiction in terms.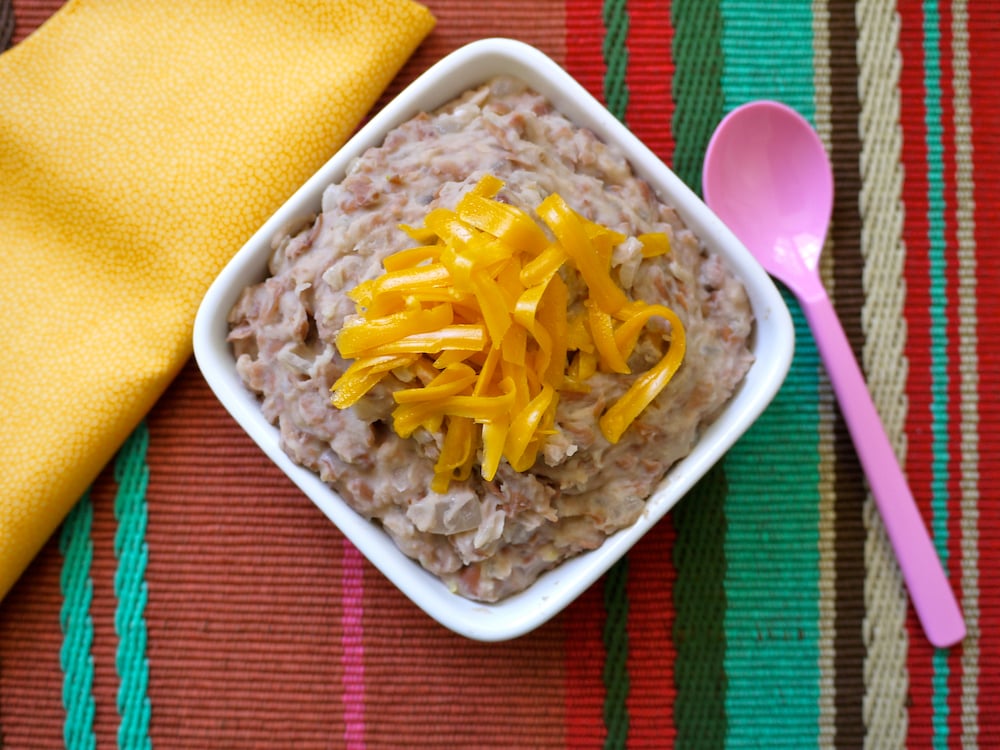 When I was growing up we rarely went out to dinner, but when we did it was to either Chi Chi's or Tumbleweeds, two Mexican restaurants in Louisville, KY that both served delicious refried beans (at least to my 10 year-old palette they were delicious). Refried beans are one of those particularly yummy Mexican inventions that are great on their own, in a burrito, served with rice and the list goes on. Yet they are anything but healthy.
Most refried bean recipes consist of a smooth puree of pinto beans mixed with tons of lard to made them creamy. Just the thought of lard makes me want to gag, but I do love the taste of those creamy beans. I came up with this healthier version so Kenya and Chloe don't have to miss out entirely on my great food memory. This twist on refried beans retain the soft and creamy texture of the original and are also a perfect puree for babies. And toddlers, big kids, Mommy and Daddy, too!
Healthy "Refried" Beans
Instructions
Heat olive oil in a small heavy bottomed pot.

Saute the onions for 5 minutes or until translucent. Add the garlic and cook another minute.

Add the pinto beans and salt to the onions and mash with a potato masher or fork.

Add water, stir and cook until heat through.

Serve.

*Allow to cool, place in appropriate tupperware or ziploc bag and freeze up to 4 months. When ready, defrost in a pot up under low-medium heat until heated through or defrost in fridge for 24 hours.