This Vegetarian Crunchwrap Supreme is my son Kenya's creation, and it's super delicious! It's way better (and healthier) than anything you'll get at a fast food chain.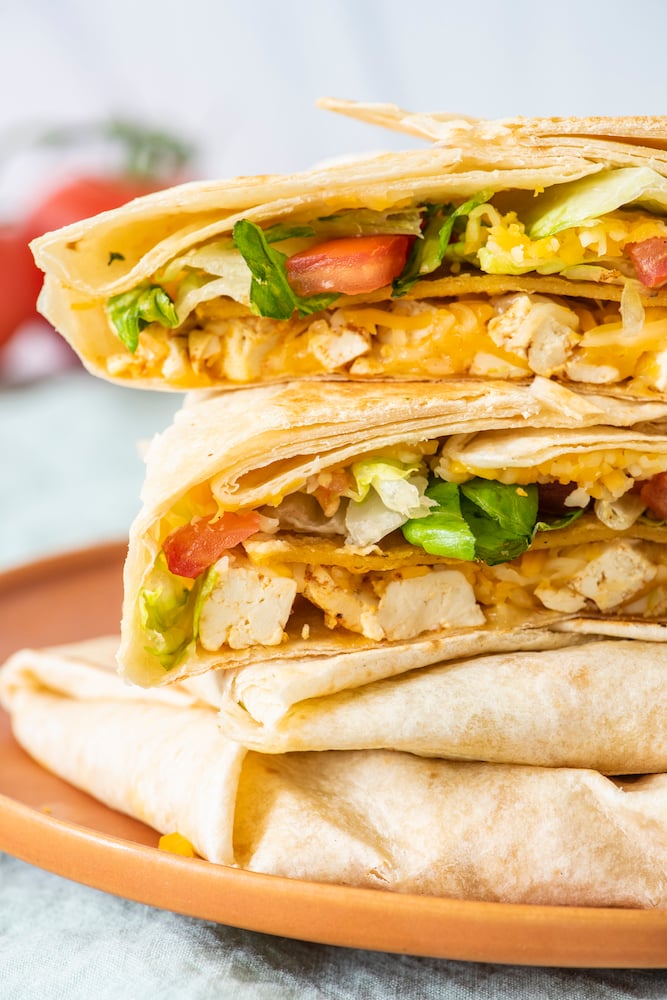 When I think of healthy meals for my family, fast food is very low down on the list, but this homemade Vegetarian Crunchwrap Supreme that Kenya came up with is a great, healthy version of a fast food favorite. It's filled with veggies and tofu, wrapped up and pressed together to make a crispy, flavorful Mexican-inspired entree. Can you believe my kids are developing recipes of their own now? It blows my mind!
This recipe is great for kids because it's fun and easy to eat since it's hand held! Mine all love to assemble their own personal Crunchwrap so they can have their favorite veggies wrapped inside. Getting them involved is a great way for them to have a sense of ownership over the food they eat. They're more likely to try new things!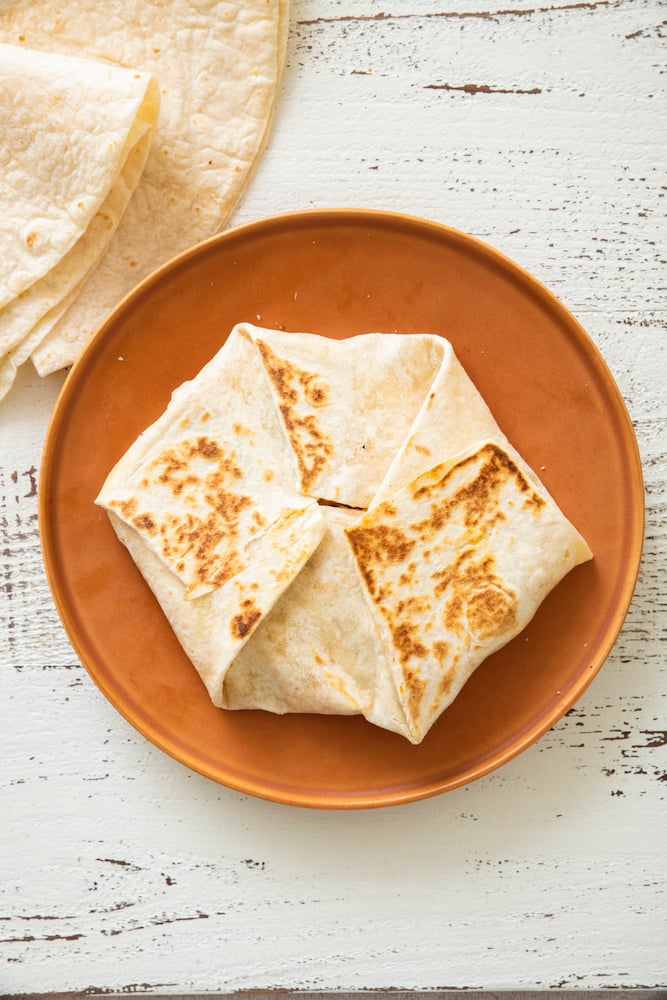 Crunchwrap Supremes are the perfect mixture of a crunchy taco, soft taco and burrito wrapped into one. Plus they're so versatile! If you're not in the mood for tofu, you can substitute refried beans or even a plant-based taco meat would work. The Crunchwrap is really a blank canvas for you to fill to your taste and customize with whatever vegetables or protein you have in your kitchen.
We try to eat a vegetarian diet as much as possible in our house, so I'm always coming up with new ways to lead a vegetarian lifestyle without sacrificing flavor. If we're not making Crunchwrap Supremes, we're doing Vegetarian Baked Taquitos, Vegetarian Chimichangas or Vegetarian Sheet Pan Nachos and they're all a hit every time with the whole family.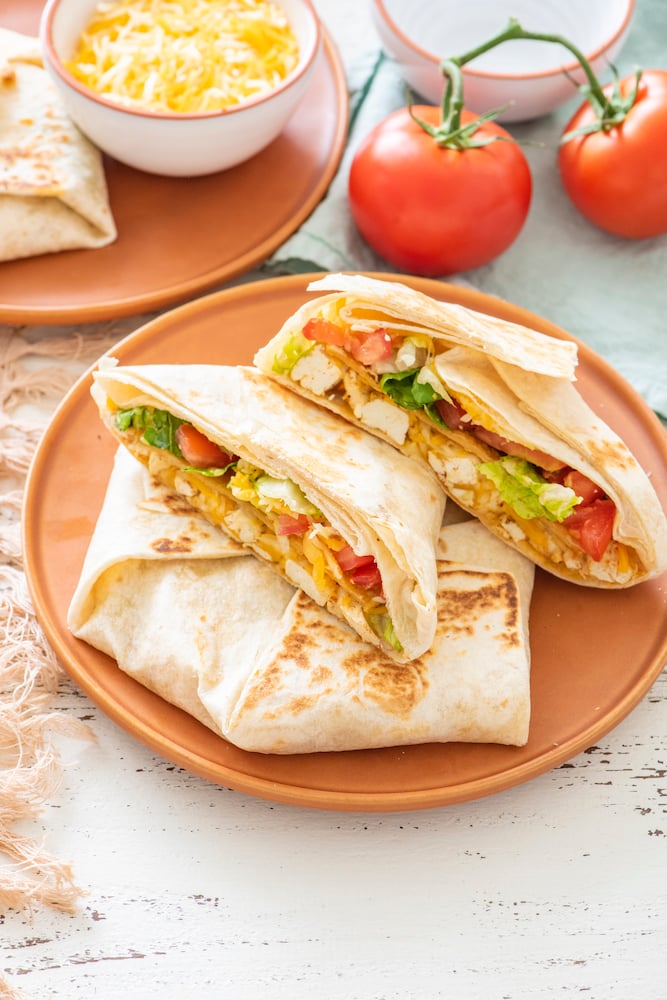 If you're looking for a new #meatlessmonday meal to add to your repertoire, Vegetarian Crunchwrap Supremes should surely make the list. Tag me on social media with your creations! I love seeing Weelicious in the wild.
Vegetarian Crunchwrap Supreme
This Vegetarian Crunchwrap Supreme is my son Kenya's creation, and it's super delicious! It's way tastier (and healthier) than anything you'll get at a fast food chain. 
Ingredients
4

ounces

extra firm tofu, make sure to drain all the water off and squeeze to remove

5

tablespoons

olive oil

2

teaspoons

taco seasoning

1/2

teaspoon

kosher salt

1

small corn or flour tortilla

1

large flour tortilla

3/4

cup

Mexican shredded cheese or mix of Monterrey Jack, mozzarella and cheddar or favorite vegan cheese (if you want to make the recipe vegan)

1/2

cup

shredded lettuce

1

small tomato, seeded and diced
Dipping Sauce:
1/4

cup

sour cream (or dairy free sour cream for vegan option)

1

tablespoon

mayonnaise (or vegan mayonnaise)

1

tablespoon

hot sauce (optional)

1

teaspoon

garlic powder

1

teaspoon

Spanish sweet paprika

juice from 1/2 lemon

1/4

teaspoon

salt
Instructions
Cut the tofu into 1/2 inch cubes.


Heat 2 tbsp oil in a small sauté pan over medium/high heat add the tofu and sprinkle with salt and taco seasoning. Cook for 6 minutes stirring occasionally or until golden.

Heat 3 tbsp oil in a large sauté pan over medium/high heat and cook the small tortilla for 6 minutes, flipping halfway through or until crispy and golden. Drain on a paper towel to remove excess oil.

Place the large tortilla on a work surface. Top with tofu, 1/2 the sauce, 1/2 the cheese and the crispy tortilla. Top with lettuce, tomato, remaining cheese and tomato.

Fold the large tortilla up and around the crispy tortilla and filling folding in a clockwise manner until you have 5-6 folds and flip over fold side down.

Heat the large sauté pan over medium/high heat and place the tortilla in the pan folds side down. Cook the crunch wrap for 3 minutes on each side or until golden.
To make the sauce:
 Place sauce ingredients in a bowl and whisk to combine.