Vegetarian Baked Taquitos are one of the most fun recipes you'll ever make! I mean, what's not to like about them? Corn tortillas filled with a ton of vegetarian ingredients like beans and cheese to create a secret filling inside a crispy outer shell, make for the PERFECT week night dinner.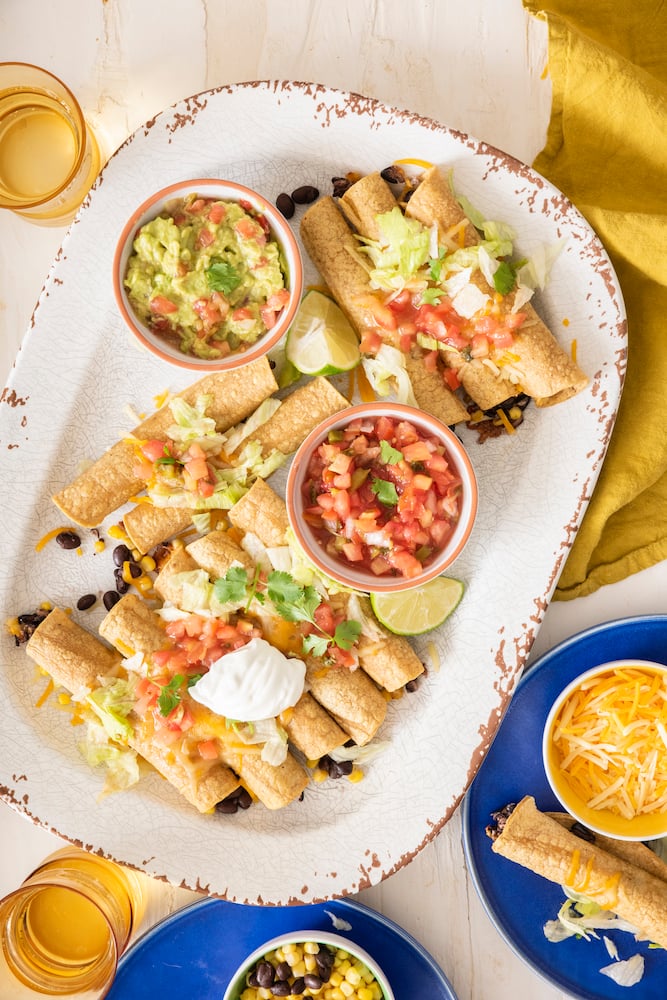 I first heard of taquitos as a kid. The word was seemingly repeated endlessly in Taco Bell commercials and since my brother and I spent a good deal of our time with our eyes glued to the television, taquitos became ingrained in my brain. And although I may have loved saying the word (mimicking the announcer in the commercial), I honestly had no idea what taquitos actually were until years later.
Traditionally, taquitos are tortillas rolled up around a filling of beef, chicken and/or cheese and then deep-fried until crispy. You can get them at Mexican restaurants or in the freezer section of the supermarket, but making them yourself is incredibly easy (and relatively inexpensive).
My version, Vegetarian Baked Taquitos, are kid-friendly and much healthier then their deep-fried cousins. By baking the taquitos instead of frying them, the tortillas still turn out incredibly toasty and crunchy and the black bean/corn/mixed cheese filling still gets melty and gooey, but you lose all the grease. You can freeze the taquitos before you bake them so you always have some on hand for a quick lunch or dinner, and you can easily quadruple the recipe if you are cooking for a crowd.
They have been so popular on the site that I even started adding the recipe for families subscribing to One Potato, my organic family friendly meal kid delivery kit company. The feedback has been that they're a huge hit with the kids and adults! We serve them with salsa and guacamole, so you can have fun using your hands to dip and munch them up.
If you've never made them before, watch this Vegetarian Baked Taquitos video to take in a few quick tricks to perfecting the recipe. I guarantee you'll make them time and time again!
Vegetarian Baked Taquitos
Ingredients
1/2

cup

cooked black beans

1/2

cup

frozen corn kernels, defrosted

1

cup

shredded mexican blend cheese

1

teaspoon

ground cumin

1/4

teaspoon

garlic powder

1/2

teaspoon

kosher salt

12

corn tortillas
Instructions
Place the beans, corn, cheese, cumin, garlic powder, and salt in a bowl and stir to combine.

Place two corn tortillas at a time in between two sheets of damp paper towel and microwave for 20-30 seconds to loosen (this will prevent the tortillas from cracking when they are rolled).

With one tortilla in front of you place 2 tablespoons of the mixture on the side closest to you and roll it up.*

Place the taquitos seam-side down on a foil-lined cookie sheet, spray the tops lightly with cooking oil and bake for 25 minutes.

* If needed, use a toothpick to hold TAQUITO secure and remove it after baking.
Nutrition
Calories:
290
kcal
|
Carbohydrates:
37
g
|
Protein:
13
g
|
Fat:
11
g
|
Cholesterol:
30
mg
|
Sodium:
550
mg
|
Fiber:
6
g
|
Sugar:
1
g