Whether you're a vegetarian or not, this Mapo Tofu recipe is so incredibly delicious, your entire family will be sure to love it.
I've been working on lots of new vegetarian recipes for not only my non meat eating son and now husband as well, but also for all the vegetarian families at One Potato too! While we enjoy plenty of chicken, fish and beef dishes at home, I'm constantly trying to offer a variety of vegetarian meals that provide plenty of protein and diversity.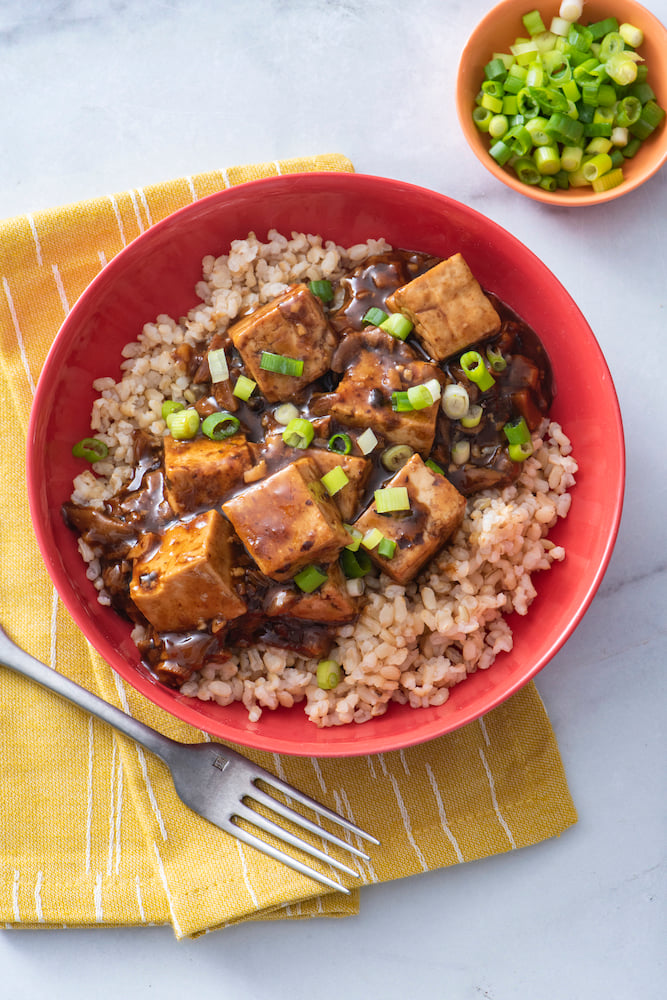 Thus I introduce you to a dish you may have never tried, but must give a shot. Mapo Tofu! I'm not sure if it's more fun to eat or say, but this easy to prepare tofu dish is crazy tasty and a great choice for kids and adults alike.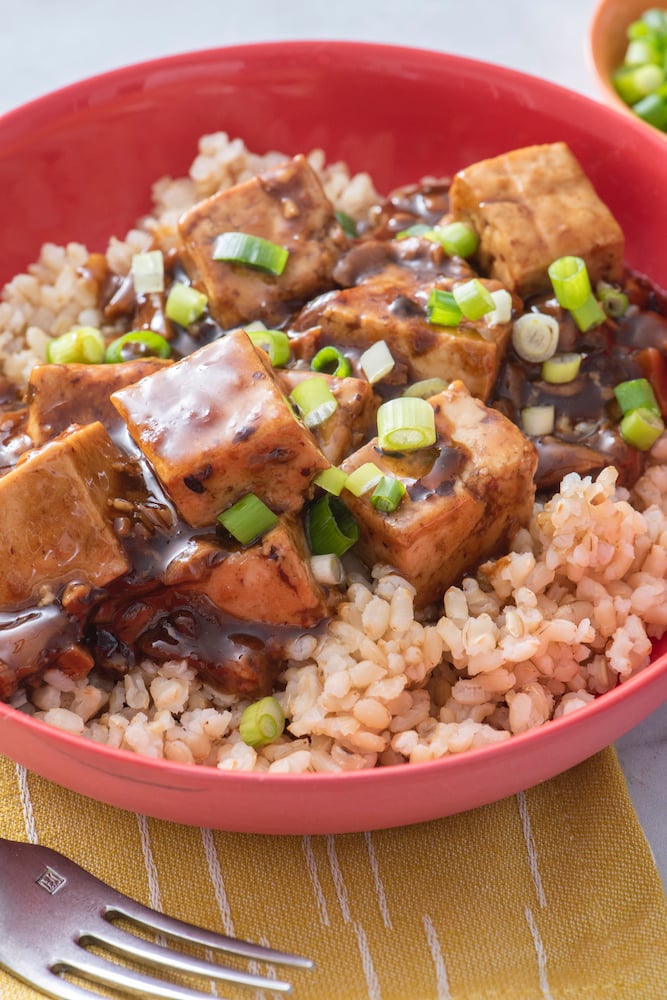 The sauce itself is bursting with flavor made from honey, sesame oil, fresh ginger and black bean sauce. If you've never tried black bean sauce found at most groceries, you have to give it a try. It has a rich umami flavor that adds a depth of flavor to the entire dish. I keep this Chinese inspired Mapo Tofu recipe pretty straightforward, but feel free to make a nutritious side like Sautéed Baby Bok Choy or steamed brown rice to brighten it up and round it out.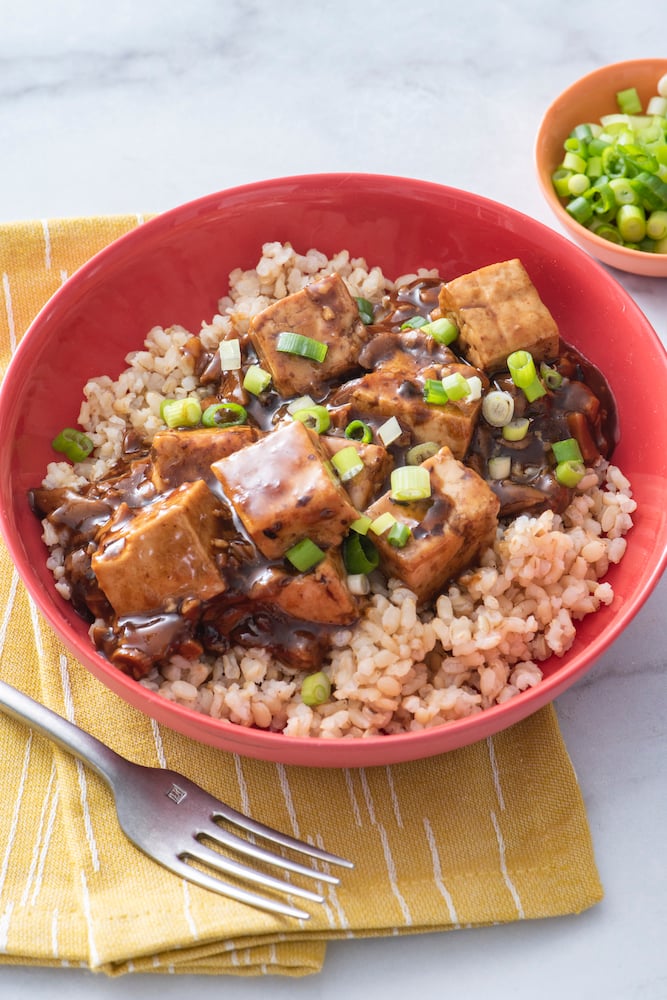 When Kenya tried this dish for the first time, he said it was his favorite thing I've ever made. I'm not sure about you, but that was music to this momma's ears! And I think the hubs may have asked for it every week since. Needless to say, it's become a family favorite around here.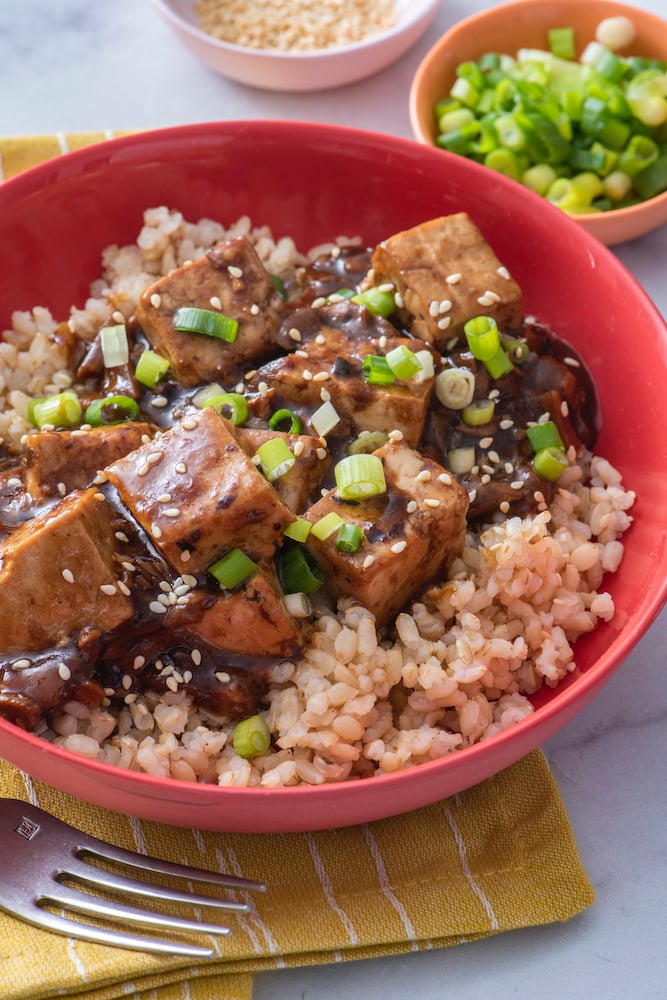 What's your favorite vegetarian dish to make? I know once you make this dish, it'll be one of your favorites as well. Trust me, vegetarian food never tasted to good!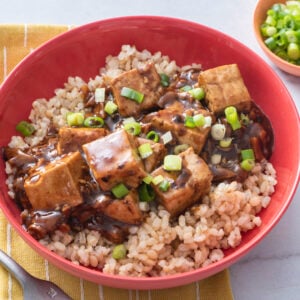 Mapo Tofu
Whether you're a vegetarian or not, this Mapo Tofu recipe is so incredibly delicious, your entire family will be sure to love it. 
Ingredients
1/2

cup

(about 10) dried shiitake mushrooms

1

cup

warm water

2

tablespoons

low sodium soy sauce

1

tablespoon

sesame oil

1

tablespoon

mirin

1

tablespoon

honey

1/4

teaspoon

kosher salt

1

tablespoon

peanut or vegetable oil

1 1/2

tablespoons

black bean sauce

1

pound

medium or firm tofu, drained and cut into 1 inch cubes

2

cloves

garlic, minced

1

teaspoon

grated ginger

1

tablespoon

cornstarch

3

scallions, chopped
Instructions
Place the dried shiitake mushrooms in a bowl, cover with the 1 cup warm water, and soak for 15-20 minutes, until the mushrooms are soft. Drain the mushrooms, squeeze out excess water, and reserve the liquid. Discard any tough mushroom stems and finely chop the caps.

In a small bowl, stir together the mushroom soaking liquid, mirin, soy sauce, sesame oil, and honey.

Heat a wok or large skillet over medium-high heat. Add the oil to coat the bottom of the wok. Add the mushrooms and black bean sauce to the wok and stir fry until the mushrooms are crisp.

Reduce the heat to medium, add garlic and ginger and stir fry for 1 minute. Pour the sauce into the wok, and reduce to simmer.

Gently add the cubed tofu to the wok and simmer for 3 minutes to allow the tofu to absorb some of the sauce.

Create a well in the center, stir together the cornstarch with 2 tablespoons of water. Stir the cornstarch mixture into the sauce and cook for 1 minute, until thick. Top with the scallions and serve.