This Lightened Up Spaghetti Carbonara recipe packs all the flavor of its original counterpart but is much healthier.
I feel like for most of us the words "healthy" and "light" really mean "boring" or "tasteless". Whenever I eat diet foods that are supposed to taste like their fully loaded counterparts, they usually tend to be more reminiscent of cardboard than lighter versions of the original.
I told my husband I was going to work on a recipe for a healthy carbonara, and he understandably snickered. After all, if you're going to eat something called carbonara, it better well taste like three darn good things – parmesan, bacon and pasta – and "light" is not an adjective I'd use to describe any of those foods! So instead of substituting ingredients, I simply use less of the offending ones (except cream, that one doesn't make the cut here). I also like to use a combination of eggs and pasta water to help retain the lusciousness and creaminess of a classic carbonara.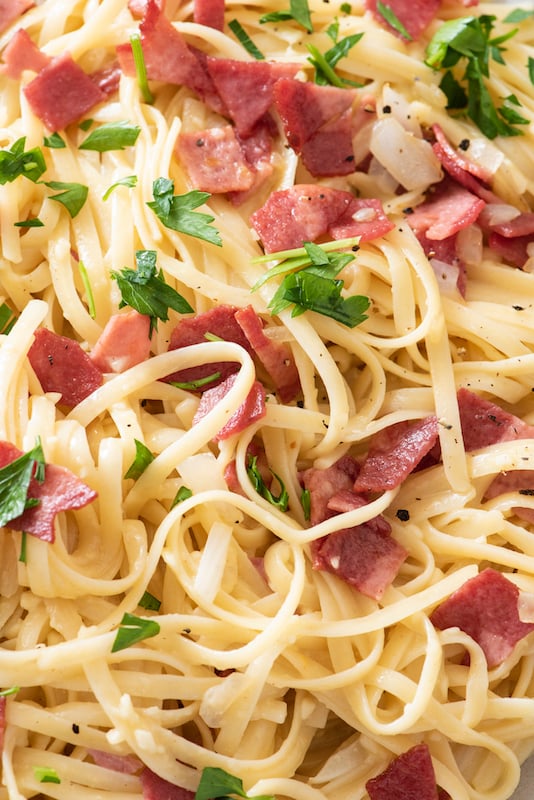 On the day I was making this, my hubby came charging into the kitchen, having caught a whiff of the cooking bacon wafting through the house. However, as soon as he realized that this was my "carbonara light" experiment, he retreated, thinking it would taste terrible. After a bit of arm twisting, I succeeded in getting him to try it. Three bowls later, hubby asked that I please remove him from the kitchen before he ate the whole pot.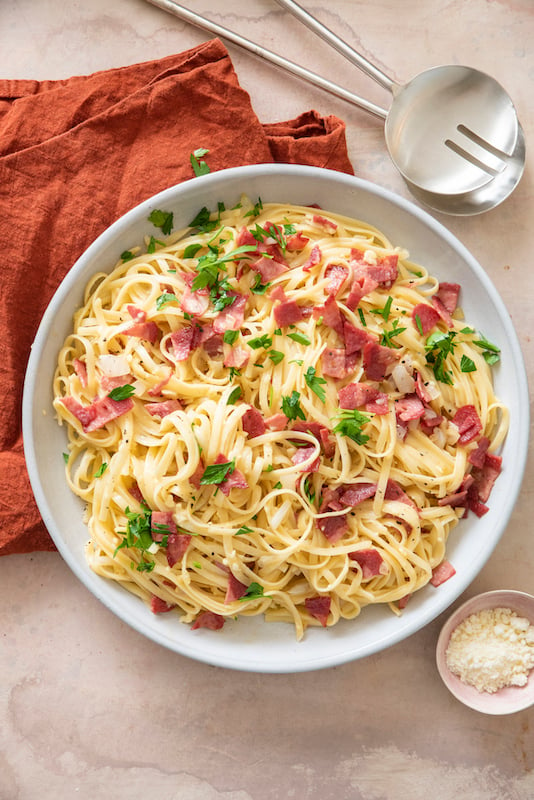 Which reminds me, this dish serves six, but if you eat it all on your own, it's definitely no longer qualifies as light! It's definitely hard to resist though! If you're looking for other light pasta try my Wild Mushroom Pasta, Lemon Spaghetti with Toasted Walnuts or Pasta Primavera recipes!
Let me know if you try any of my recipes by tagging me on social media, @weelicious!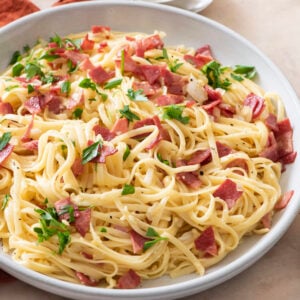 Lightened Up Spaghetti Carbonara
Ingredients
1

pound

spaghetti

1

tablespoon

olive oil

1/2

pound

turkey bacon, chopped

1

small

onion, diced

2

garlic

cloves, minced

2

large

eggs

3/4

cup

grated parmesan cheese

1

cup reserved

pasta water*
Instructions
Bring a large pot of salted water to a boil. Add the spaghetti and cook according to the package directions. Drain, reserving 1 cup of the pasta cooking water. Return the pasta to the pot.

While the pasta is cooking, heat the oil in a large skillet over medium heat. Add the bacon and cook, stirring occasionally so it cooks evenly, about 5 minutes. Add the onions and garlic and cook, stirring occasionally, until the onions are soft, about 3 minutes.

Whisk together the eggs and cheese in a small bowl. Add it to the pasta and immediately (so it doesn't curdle) stir and toss together. Add the bacon, onions and 1/2 cup of the reserved pasta water (see Cook's Note).

Toss to coat well and serve immediately (see Cook's Note).

Cook's Note: The pasta will absorb some of the liquid as it sits, so if not serving right away, toss with the remaining 1/2 cup warm pasta water just before serving.
Nutrition
Calories:
510
kcal
|
Carbohydrates:
60
g
|
Protein:
27
g
|
Fat:
18
g
|
Cholesterol:
50
mg
|
Sodium:
1080
mg
|
Fiber:
3
g
|
Sugar:
3
g