Adding a ton of summer's most fresh produce into a big salad is my favorite thing to do! This Summer Garden Salad has fresh corn straight off the cob, crisp cucumbers, roasted beets and more layered over a bed of lettuce and topped with a zippy dressing. Doesn't get much better than that!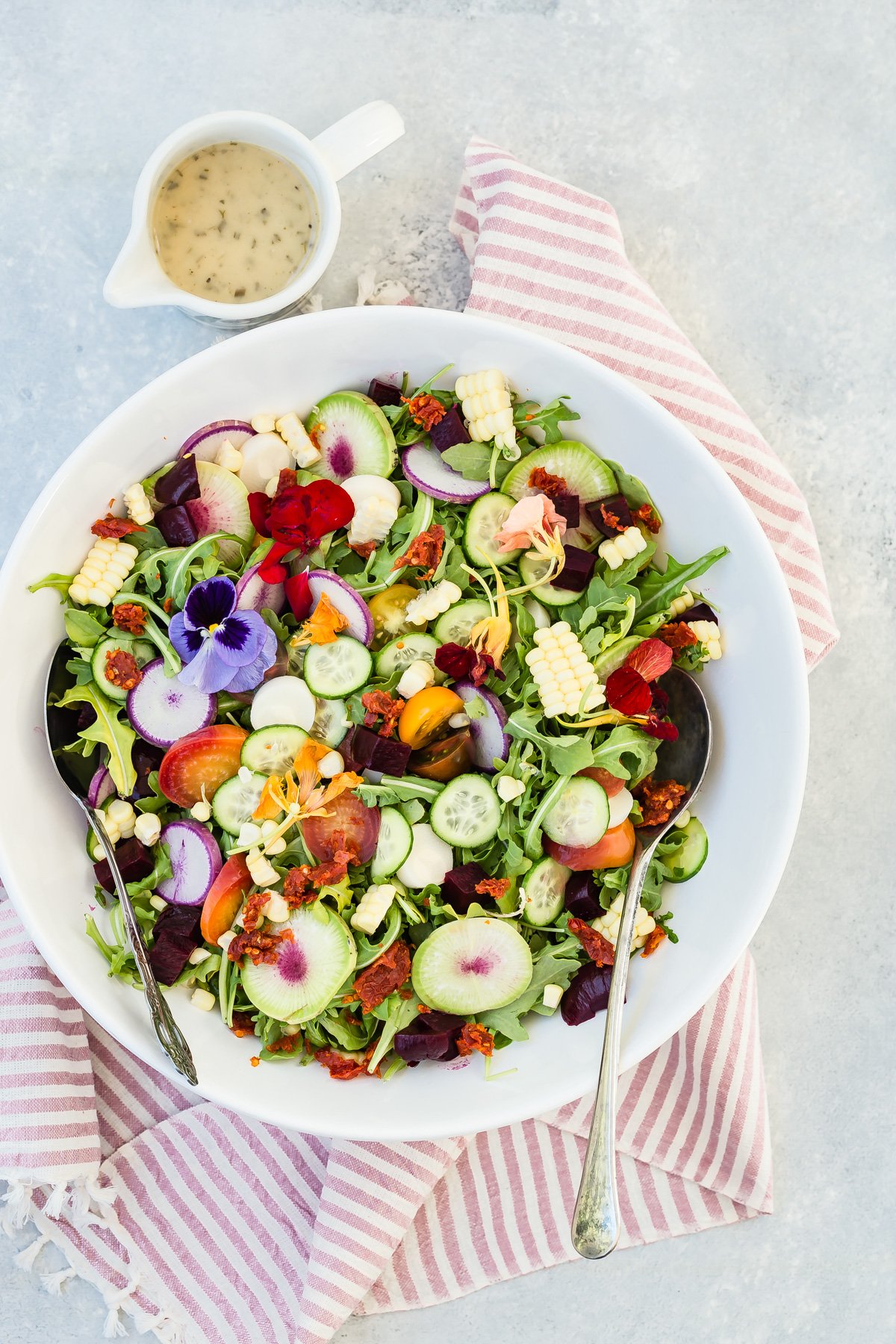 Come into my kitchen any day of the week during lunch and you'll more than likely see me enjoying a nice big salad. I love to rummage through my fridge and throw all kinds of seasonal fruits and veggies on top of salad greens to make a hearty, healthy, and tasty meal for myself or my family.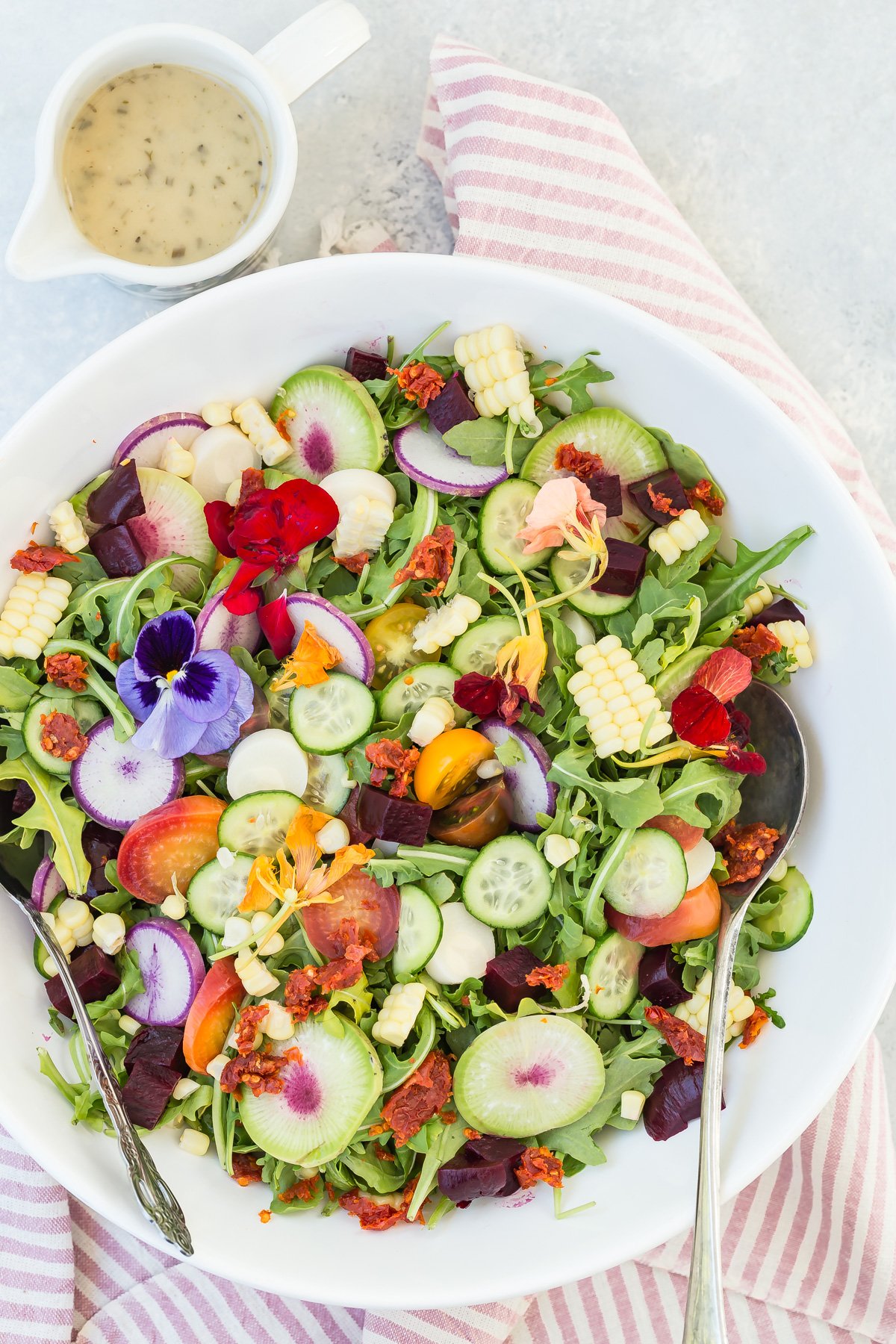 Summer produce has all the perfect flavors to add into this gorgeous Summer Garden Salad. Fresh corn, radishes, and cucumbers give that refreshing crunch. While roasted beets are soft and earthy, and the sun dried tomatoes add a nice tangy sweetness to round it all out.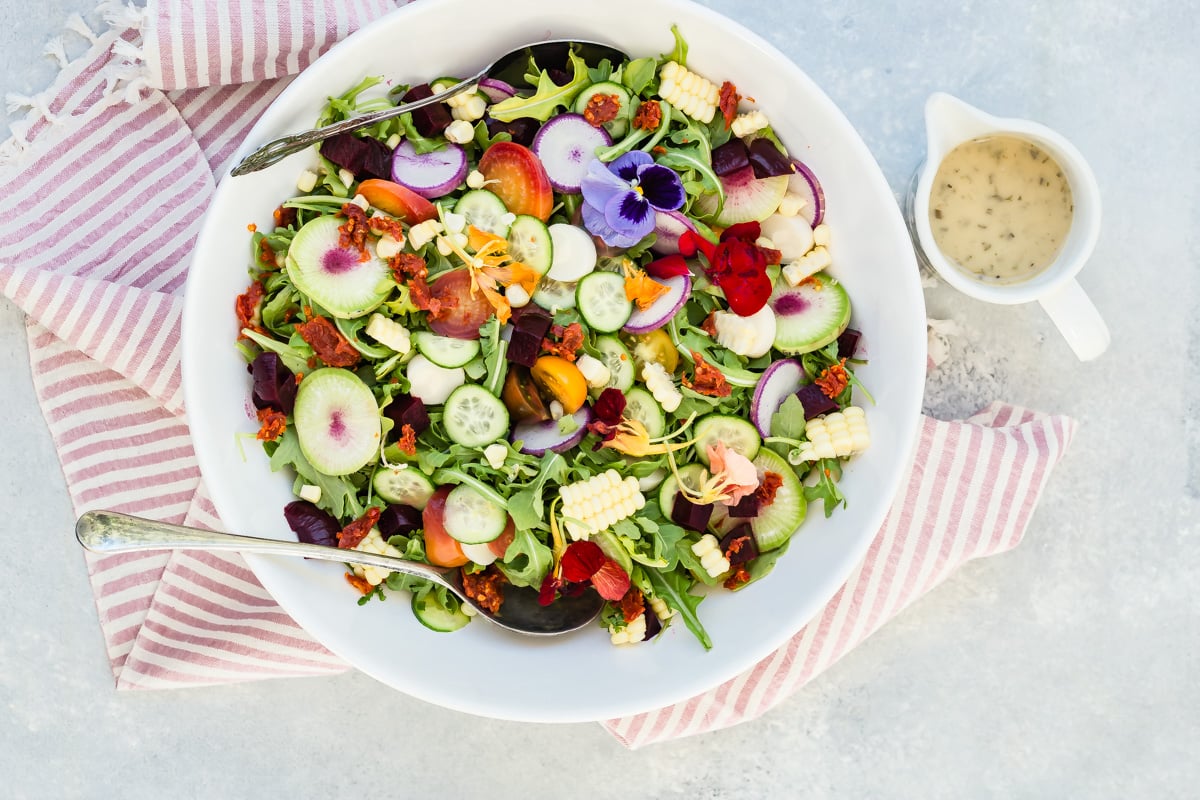 Look for edible flowers at your local farmers market to turn this salad into something really special. They're just so pretty, aren't they?! I like to top it all off with a homemade zippy Italian dressing. Let me know in the comments below: what is your favorite summer vegetable?
Summer Garden Salad
Ingredients
6

cups

spring greens salad mix

1

cup

corn kernels

1

persian cucumber, thinly sliced

1

beet, roasted

1/2

cup

chopped sun dried tomatoes

4

watermelon or breakfast radishes, thinly sliced

2

hearts of palm, cut into thin circles

edible flowers, optional
Instructions
For the salad:
In a large bowl, mix together the salad greens and vegetables. Toss with the dressing to combine well. Garnish with edible flowers, if desired.
For the dressing:
Place all of the ingredients in a mason jar and shake vigorously (this is a fun job for kids) or whisk in a bowl.
Notes
Dressing can be stored in the refrigerator for up to 9 days.