If you've been looking to add some zest to your pasta life, look no further than this Lemon Spaghetti with Toasted Walnuts.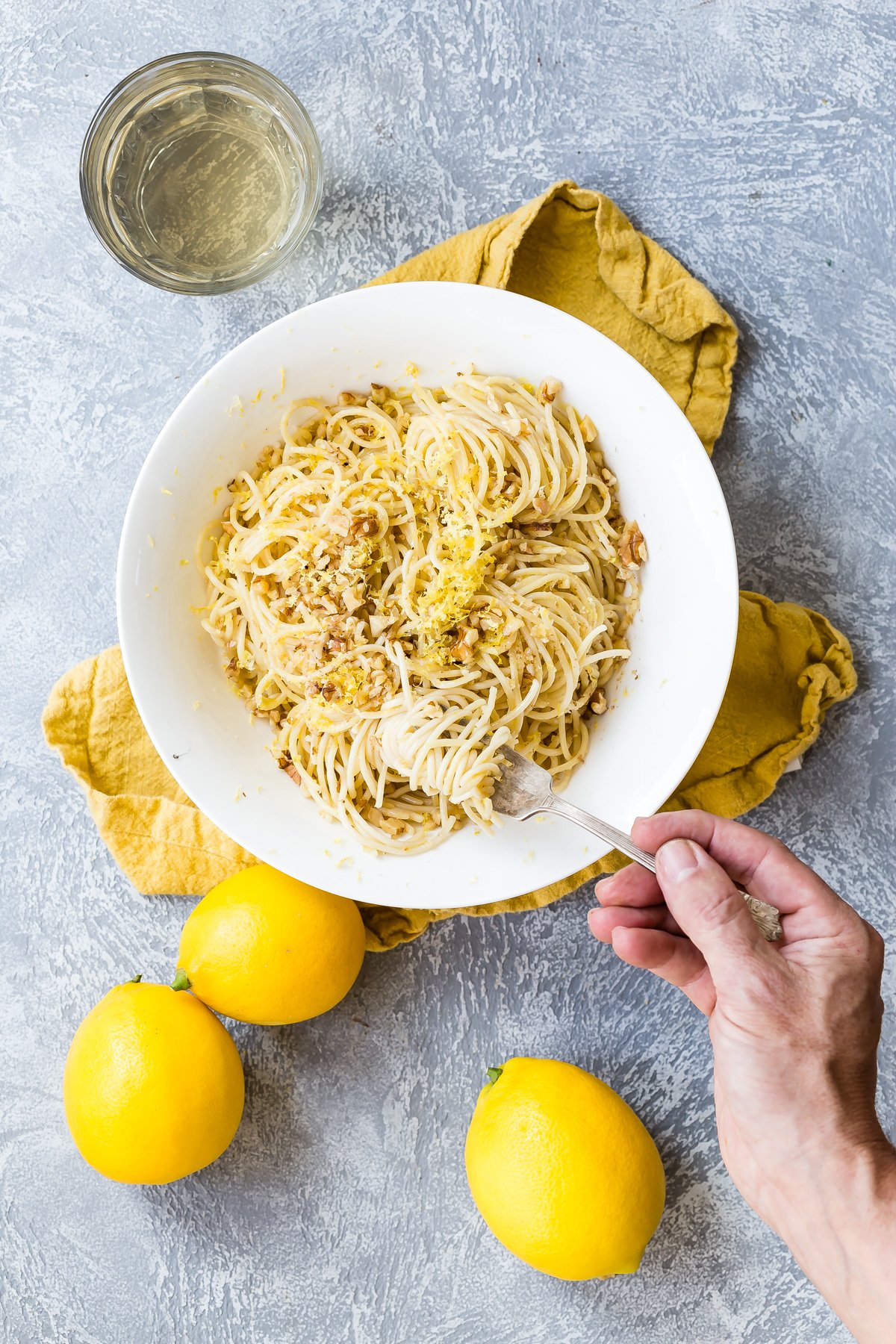 When it comes to mealtime, I know plenty of kids who frequently ask for (and generally get) plain pasta with butter. My kids — especially after hearing their friends request it — are no exception, but I try hard to avoid falling into the plain pasta trap.
This Lemon Spaghetti with Toasted Walnuts is one of my ways around that pasta pitfall. The dish retains the simple appearance of pasta and butter that kids find so appealing, but it is by no means plain. Simply adding the lemon and walnuts gives dull pasta and butter added protein, tons of flavor and Omega-3's. It's a good step forward for a lot of so-called picky eaters and my kids and hubby LOVE it.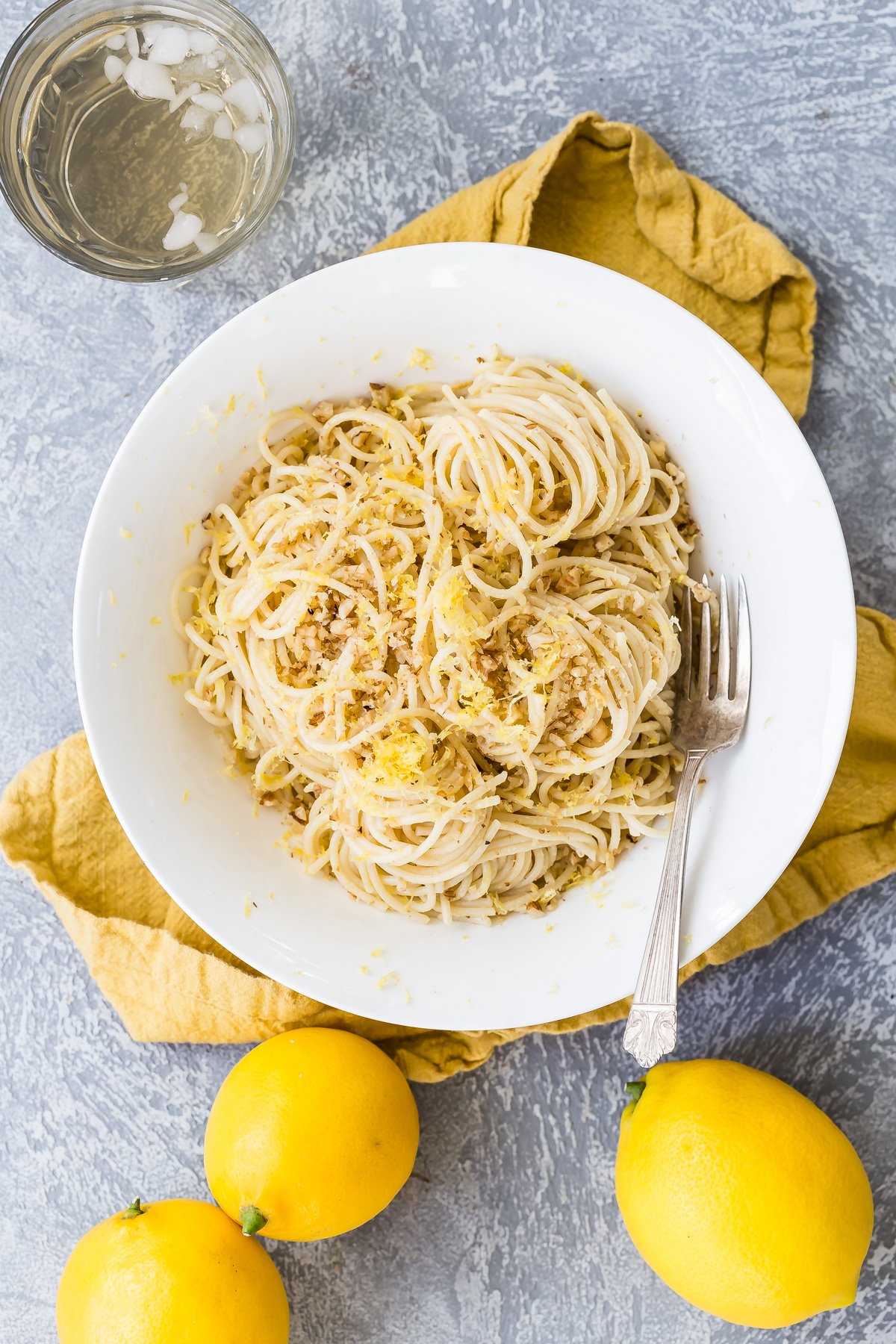 This is one of those weeknight recipes that couldn't be easier to prepare and has the added bonus of making your kitchen smell amazing in the process. The first night I made it my kids quickly clued into the fact there were nuts toasting away on the stove.
After I cooked and drained the spaghetti I took a heaping spoonful of rich butter and stirred it into the piping hot pasta.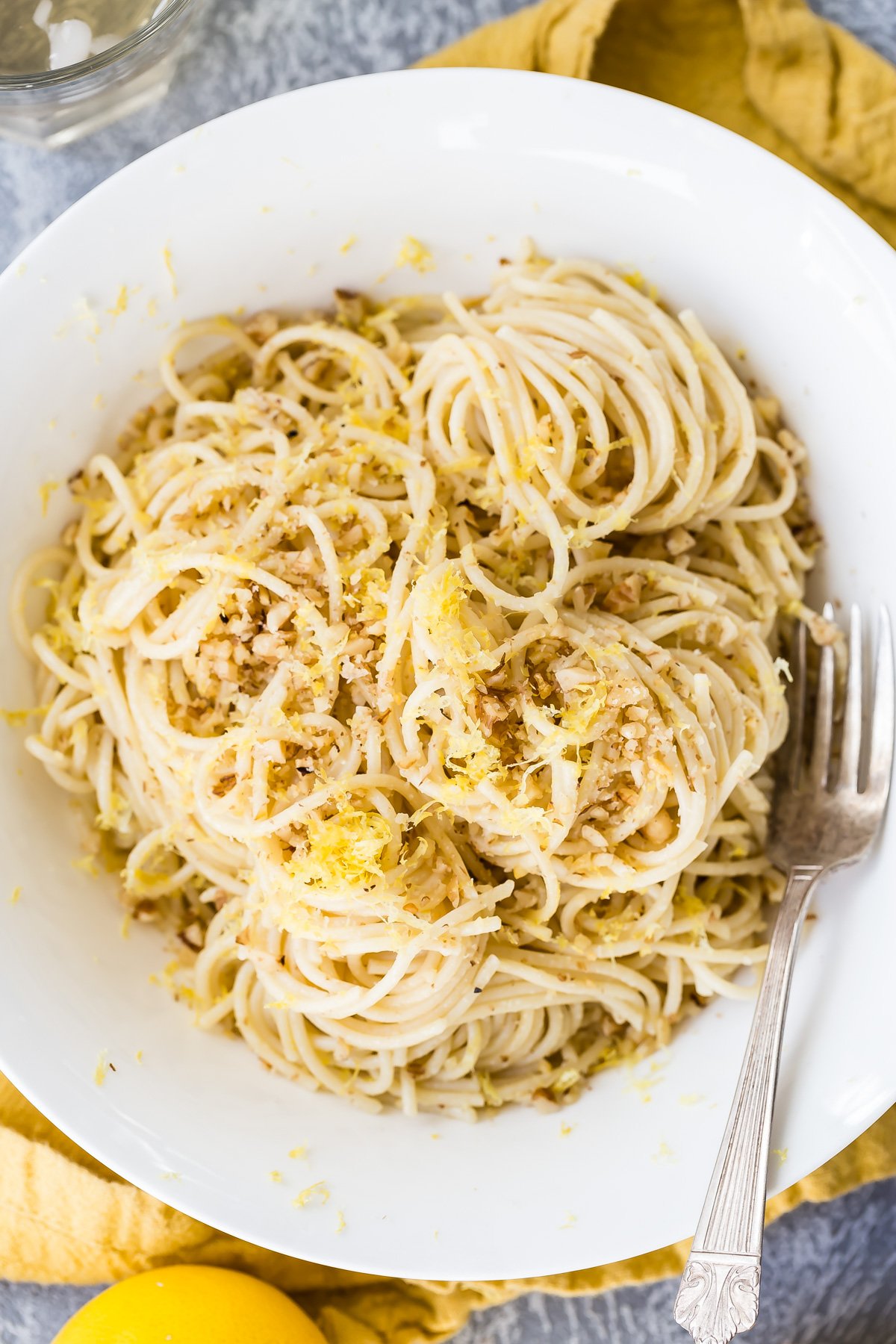 To finish the dish I used the microplane and started grating lemon. The fragrant oils released in the air made the kitchen smell even more heavenly and everyone was excited to eat the moment I set their plates down in front of them.
If you want to boost the nutritional value of this recipe you can substitute whole wheat pasta, which looks beautiful as well.
Don't fall victim to the pasta and butter problem anymore. Instead, dress it up with just a few simple ingredients and serve your family this elegant entree that also happens to be insanely easy to make!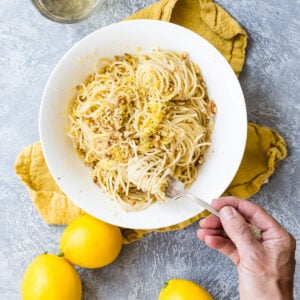 Lemon Spaghetti with Toasted Walnuts
Ingredients
1

cup roughly chopped

walnuts

1

pound

dried spaghetti

3

tbsp

butter

2

tablespoons

olive oil

1/2

teaspoon

kosher salt

from 2 small lemons
Instructions
Cook pasta according to package directions.

Toast walnuts in a small sauté pan over medium high heat for 5 minutes until toasted and fragrant. Remove from heat.

Drain pasta and reserve about 1/2 cup of the cooking water.

Put pasta back into the pot and stir in butter, oil, salt, walnuts, lemon juice and zest. Toss to coat.

If needed, add in the reserved pasta water a little at a time to thin out sauce.