Asian Chicken Soup is healthy and exactly what you want to eat when you're feeling under the weather.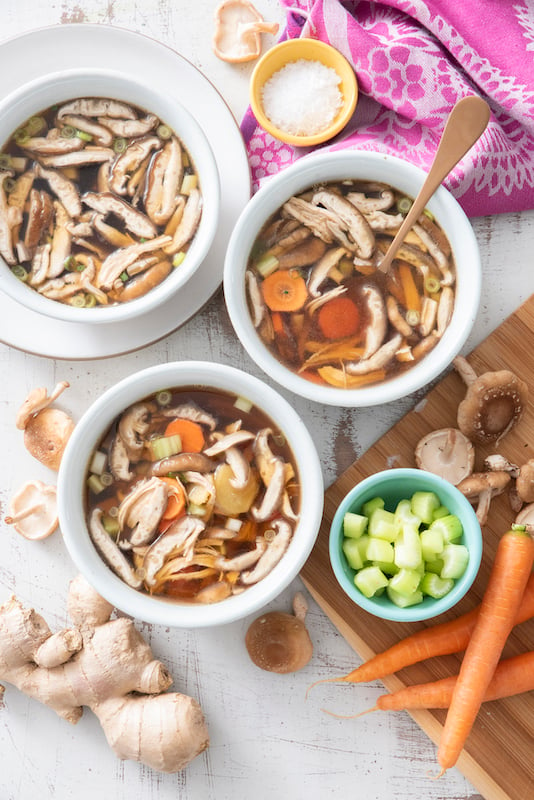 This time of year is when it seems like everyone is under the weather. Sick. Colds, fevers, sore throats and all the other general winter ills are everywhere.
A few weeks ago my hubby got really sick and didn't want to eat much of anything. He was run down and working late hours, and by the time he got home every night he was a shadow of himself (you can pull out the tiny violins for him right about now). Chicken soup is always a go-to for my family when anyone is feeling a bit of sickness coming on, so I whipped up this Asian inspired chicken soup recipe and it did the trick!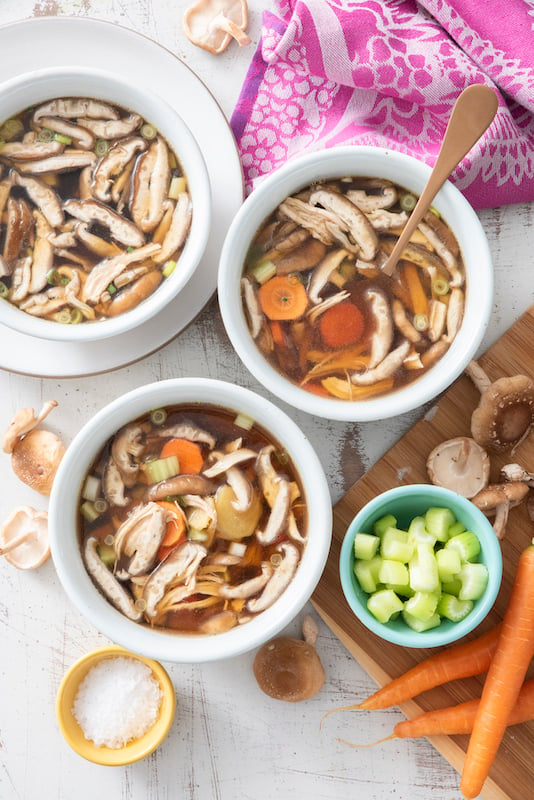 Chicken soup is known for its healing properties and I've always believed it's good for the soul too. Wanting to make my weary husband something packed with nutrition and power from restorative veggies like ginger and mushrooms, I threw together this simple Asian Chicken soup. It's really clean and as hubby will testify (since it is the only thing he would eat that week) it just makes you feel good. The kids couldn't get enough of it either and especially liked sucking on the coins of ginger which soften from steeping in the warm broth.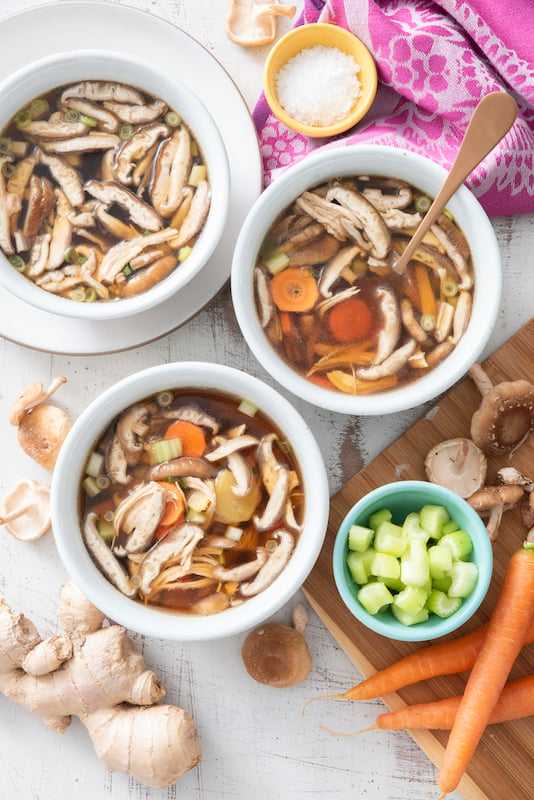 So in the unfortunate event that you or one of your loved ones succumb to a cold or some other bug, instead of immediately reaching for a bottle of syrupy cough medicine or a pack of cold pills, try making a cup of ginger lemon tea, sip on a mug full of this soup, hit the hay, and let nature deliciously heal all.
What are you other go to cold or sickness remedies? Let me know in the comments!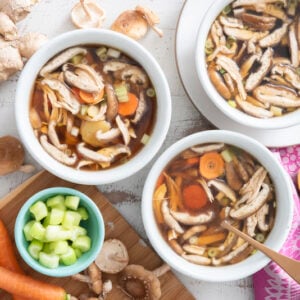 Asian Chicken Soup
Ingredients
2

32-ounce boxes

low sodium chicken stock

2

boneless and skinless

chicken breasts (about 1 pound)

2

inches

fresh ginger, peeled and cut into coins

2

large

carrots, peeled and sliced into coins

2

stalks

celery, diced

8

shiitake mushrooms, stemmed and thinly sliced

3

scallions, thinly sliced

1/4

cup low sodium

soy sauce

1

teaspoon

kosher salt
Instructions
In a large sauce pot, cover the chicken breasts and the ginger with the chicken stock, bring to a boil, and reduce heat to a simmer. Cook for 20 minutes, until the chicken is cooked through.

Remove the chicken and ginger from the pot, and place on a plate to cool. If desired, keep the ginger and add back to the soup, or you can discard it if you don't want to bite into chunks of ginger.

Add the remaining ingredients to the pot, stir to combine and cook for 10 minutes or until fork tender.

Shred the chicken, add it back to the pot, and serve soup hot.
Video
Nutrition
Calories:
180
kcal
|
Carbohydrates:
14
g
|
Protein:
21
g
|
Fat:
4
g
|
Cholesterol:
45
mg
|
Sodium:
1170
mg
|
Fiber:
1
g
|
Sugar:
6
g