Beef stew was one of my favorite meals growing up, so I loved creating this recipe. Warm and full of flavor, you'll savor every bite of this Beef Stew in the Crock Pot!
When it comes to eating, I'm embarrassed to admit the number of different diets I have adhered to over the years. For a long time I was a strict vegetarian (the concept of being a vegan always appealed to me, but I knew I'd never last a week). After a while, I missed dairy and eggs so much that I morphed into a lacto-ovotarian. Then one day I decided I had to starting eating fish again and became a pescetarian.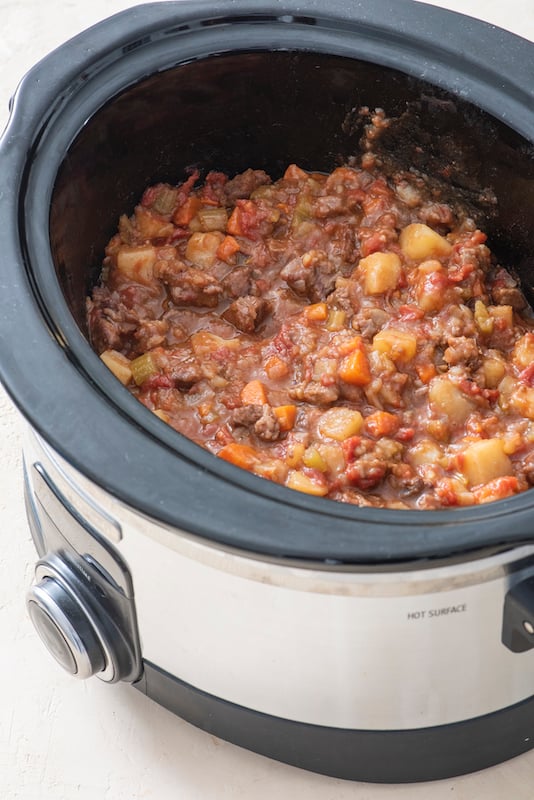 I should note that I didn't refer to myself with these names. It was more that people would notice I was abstaining from eating meat or fish and they would ask me, "what kind of ______arian are you?" Well, after years of living under these relatively pretentious labels, I'm back to being a foodatarian (I think I totally made that word up but it sounds less highfalutin than saying I'm an educated omnivore, consuming pretty much everything under the sun, but making informed decisions about what I eat and how it is produced.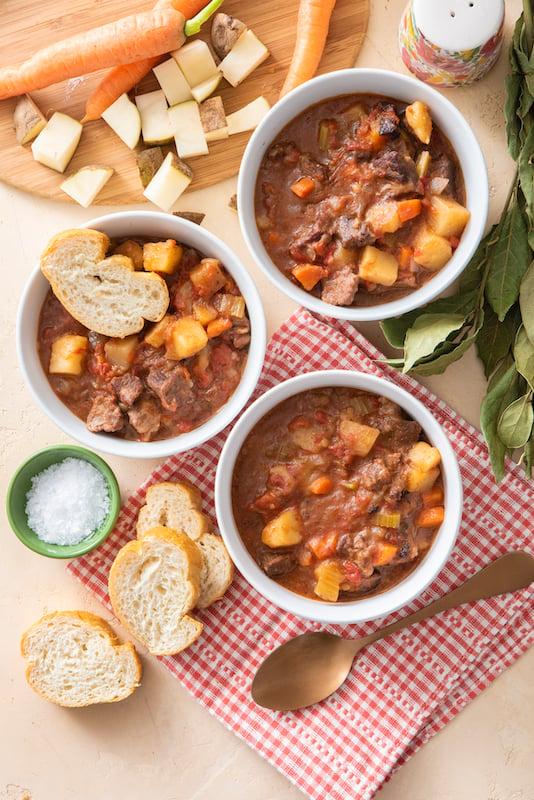 After years of depriving myself of foods I actually craved, I realized that the thing I missed most was beef. I eat red meat very infrequently now, but when I do, I savor every bite. One dish I adored in my childhood was beef stew and I experienced so much nostalgia creating this recipe. Tons of assorted nutritious vegetables and chunks of lean meat simmering in its own juices come together to create a simple yet hearty crock pot dish that's perfect for these chilly months.
I'm about moderation in all things and hopefully I will inspire my kids to love a little bit of this and a little of that and responsibly experience all the amazing foods our bodies are able to enjoy!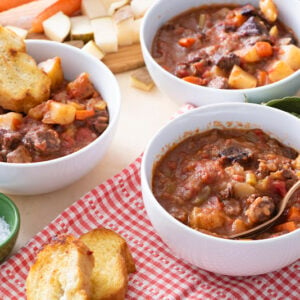 Beef Stew in the Crock Pot
Ingredients
2

pounds

beef chuck, cut into 1-inch cubes

1/4

cup

all purpose flour

2

tablespoons

olive oil

1/2

cup

red wine

1

cup

low sodium beef stock

1

tablespoon

minced fresh thyme

2

russet or yukon gold potatoes, peeled and cut into 1-inch cubes

2

stalks

celery, diced

2

carrots, peeled and diced

1

large onion, diced

2

cloves garlic, minced

1

1/2 teaspoons

kosher salt

1

15 ounce can unsalted diced tomatoes
Instructions
Place the cubed meat and flour and in a Ziploc bag, seal and shake until the pieces are fully coated with flour.

Heat the olive oil in a large sauté pan over medium high heat and sear the pieces of meat for 4 minutes until all sides are nicely brown. Remove the meat from the pan and place in the crock pot.

Add the red wine and stock to the sauté pan and bring to a boil for one minute, scraping off the bits of meat that have caramelized in the pan with a wooden spoon.

Add the reduced liquid to the crock pot along with the remaining ingredients and stir to combine.

Cook on low in slow cooker for 6-8 hours, or high for 4-6 hours.
Video
Nutrition
Calories:
600
kcal
|
Carbohydrates:
23
g
|
Protein:
31
g
|
Fat:
41
g
|
Cholesterol:
105
mg
|
Sodium:
800
mg
|
Fiber:
3
g
|
Sugar:
5
g