This Spiced Carrot Cauliflower Soup is so good, your autumn evenings will never be the same!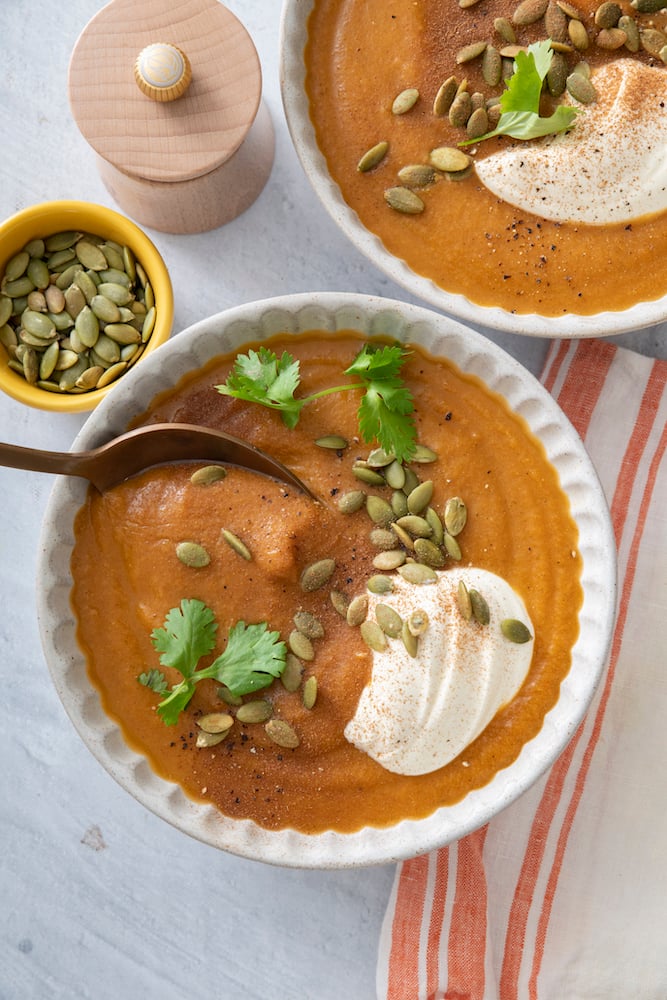 Every year we go to a family party at one of my dearest friend's house and she serves up homemade warm winter soups from great big, bubbling stock pots. This year, while all the kids were scurrying around playing together, Chloe and I sat quite practically nose to nose sharing a bowl of bright orange pureed soup. Then we shared another. And another, until we had refilled our bowl four times. It made perfect sense since it was a cold night and we were both really hungry, but there was something about the flavors of this vegetarian soup that made it irresistible and equally unforgettable.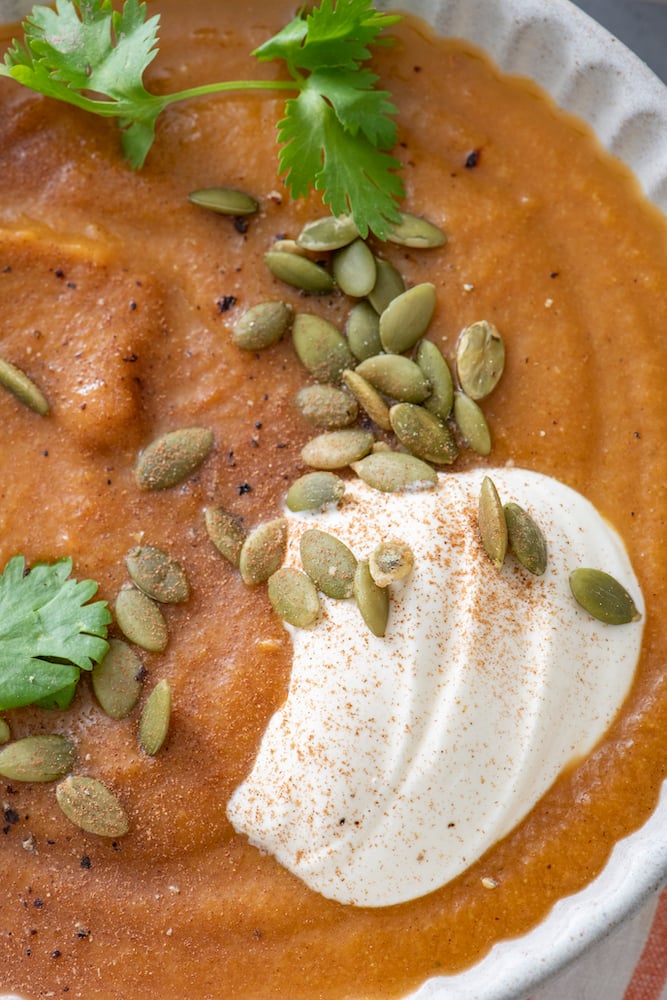 Since that day I've remade and retested this Carrot Cauliflower Soup recipe over a dozen times trying to figure out the precise measurements. Sometimes I used more veggies, sometimes I tried more liquid or spices, but no matter what my variation was, my family devoured each attempt. I guess it shows that it's hard to mess this recipe up. The best part? It's super duper nutritious without tasting like something that you'd find yourself eating on a diet.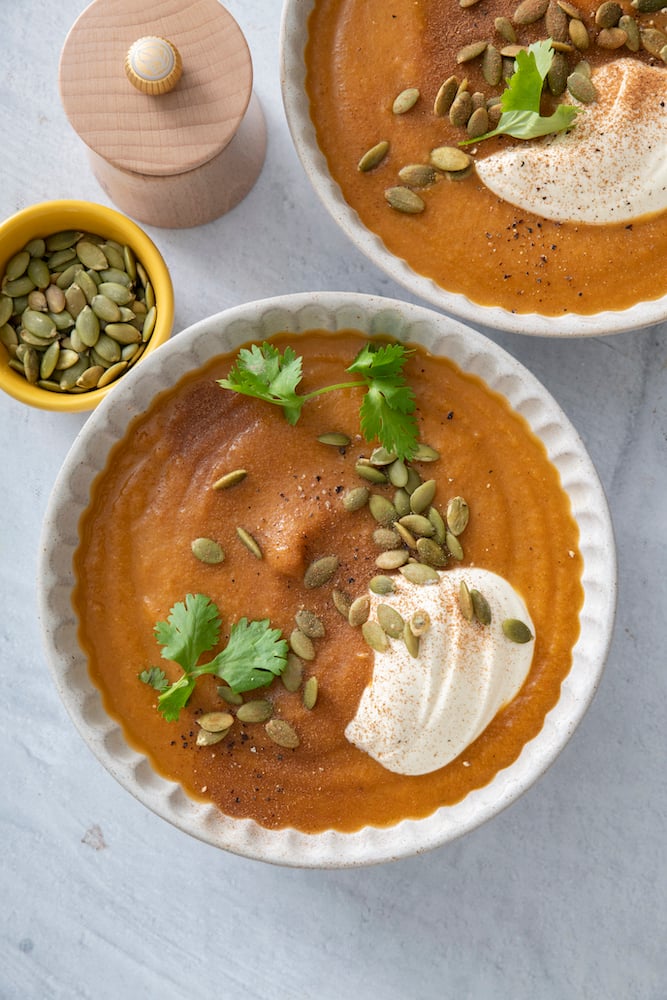 The flavorful spice combination of curry, cinnamon, and garam marsala partnered with the sweet taste of the carrots and creamy texture of the cooked cauliflower makes for one of the most flavorful soups you could imagine. While you're making it, let your kids smell and taste the spices. You can also let them shake them into the pot and even use a hand blender (pretty kid-safe with adult supervision) to puree everything together. They will really feel a part of the fun and it's a great way to introduce kids to the incredible world of spices.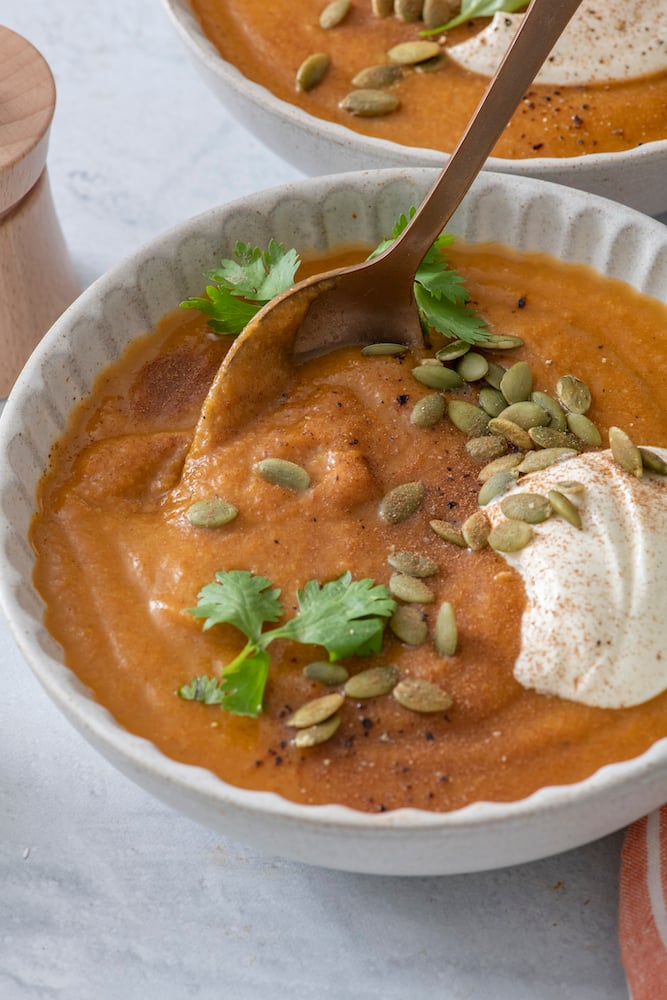 Eating healthy food rarely tastes this heart-warming. This soup is just plain ol' good.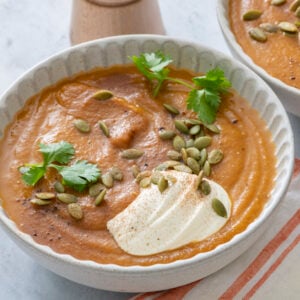 Spiced Carrot Cauliflower Soup
This Spiced Carrot Cauliflower Soup is so good, your autumn evenings will never be the same!
Ingredients
1

tablespoon

olive oil

1

small onion, chopped

5

cups

warm water

2

tablespoons

vegetable bouillon

(I like to use Organic Better Than Bouillon instead of the cubes)

1

head

cauliflower, chopped (about 4 cups)

3

cups

peeled and chopped carrots (about 8 medium carrots)

1 1/2

teaspoons

curry powder

1

teaspoon

ground cinnamon

1

teaspoon

garam masala

1

teaspoon

kosher salt
Instructions
Heat the oil in a large saucepan over medium heat and cook the onions for 3 minutes, or until soft.

Dissolve the vegetable bouillon in the water and add to the pot.

Add the remaining ingredients to the pot and stir to combine.

Bring to a boil, cover, and reduce heat to simmer for 15-20 minutes, or until the vegetables are fork tender.

Using an immersion blender or standing blender, puree all of the ingredients until smooth.
Video
Nutrition
Calories:
70
kcal
|
Carbohydrates:
11
g
|
Protein:
2
g
|
Fat:
2
g
|
Sodium:
420
mg
|
Fiber:
3
g
|
Sugar:
5
g