This has been a fun-filled week here at Weelicious preparing to share ton of dye-free St. Patrick's Day recipes. Not only is naturally green food festive, but foods like broccoli, spinach and kale are high in antioxidants that help keep your body healthy. Read on for 18 Green Recipes for St. Patrick's Day that you and your family will love!
Spinach Smash Cake
This cake is gorgeous and naturally green from spinach! You'd never know it has veggies in it though because it's just so tasty.
Green Vegan Pancakes
A big stack of Green Vegan Pancakes is perfect for a super fun St. Patrick's Day breakfast. They're naturally green, festive and oh so delicious!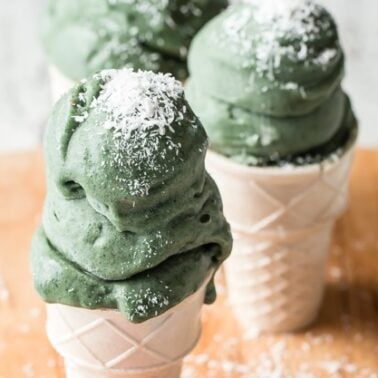 Green Nice Cream
Spirulina gives this nice cream it's naturally green hue. It's just as tasty as ice cream and so good for you!
Creamy Avocado Lime Parfaits
These parfaits are a decadent way to make a vibrant emerald treat using ripe avocados, lime juice (for zing) and a crunchy crumble topping with pistachios, sweet dates and unsweetened coconut.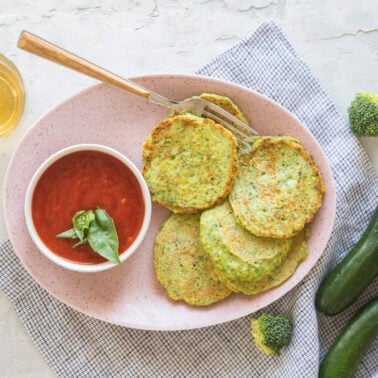 Green Veggie Pancakes
These savory green veggie pancakes have a whole cup of vegetables and are a super tasty lunch, snack or even side dish for dinner!
Bright Green Smoothie
This bright green smoothie is a great way to start any day, but especially fun for a St. Patrick's Day breakfast!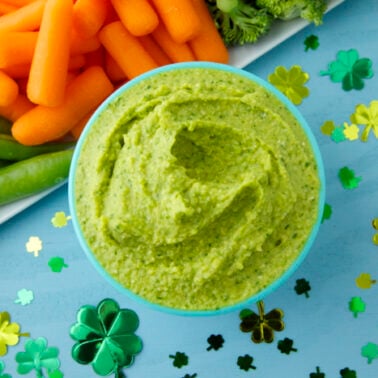 Cheesy Green Hummus
Cheesy Green Hummus is a simple and tasty snack for St. Patrick's Day. Or add it to a school lunch!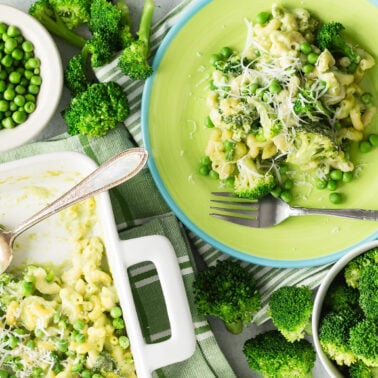 Green Mac and Cheese
If this macaroni and cheese weren't green you'd have no idea it has THREE vegetables in it! It's cheesy, delicious and a perfect St. Patrick's Day entree.
Super Green Tropical Smoothie
A big bright beautiful green smoothie is one of the best ways to get your day started! This Super Green Tropical Smoothie is one of my favorites lately.
Spinach Cake Muffins
These muffins have a full serving of spinach and are naturally sweetened with applesauce. They're tasty and healthy!
Avocado Honey Dip
Avocado Honey Dip is a slightly sweet delicious snack that kids and adults will both love! Plus, it's a gorgeous green for St. Patty's Day!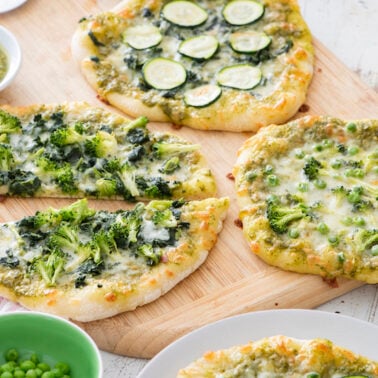 Green Machine Pizza
Pizza for St. Patrick's Day! This green machine pizza uses green pesto for the base and tons of green veggies for toppings.
Spinach Cheddar Chive Scones
My kids love when I make these savory scones. They have a touch of green spinach, cheddar cheese and are super delicious!
Green Treats
Green treats are a healthy snack perfect for St. Patrick's Day! Add them to a lunchbox or serve for an after school snack.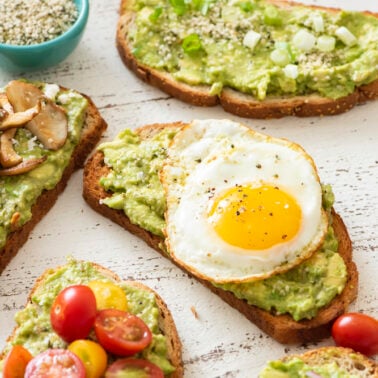 Avocado Toast
Avocado toast is a go to breakfast for us any day, but it's especially fun for St. Patty's Day! A super healthy way to start off the day.
Avocado Shake
If you're a fan of avocados and love a good smoothie, then you're in for a treat. This Avocado Shake is perfect for breakfast, snack time, or any time of the day really.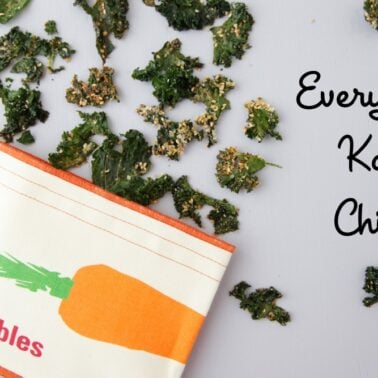 Everything Kale Chips
This recipe is SO easy! Kale chips with Everything but the Bagel seasoning. A delicious, crunchy snack!
St. Patrick's Day School Lunch
Let your kids be the talk of the classroom with this all green St. Patrick's Day School Lunch! So much fun and tasty!
What naturally green recipes are you making for St. Patrick's Day? Let me know in the comments and tag me on social media if you make any of these!