Want to make a festive dessert for St. Patrick's Day? These Creamy Avocado Lime Parfaits are the jam!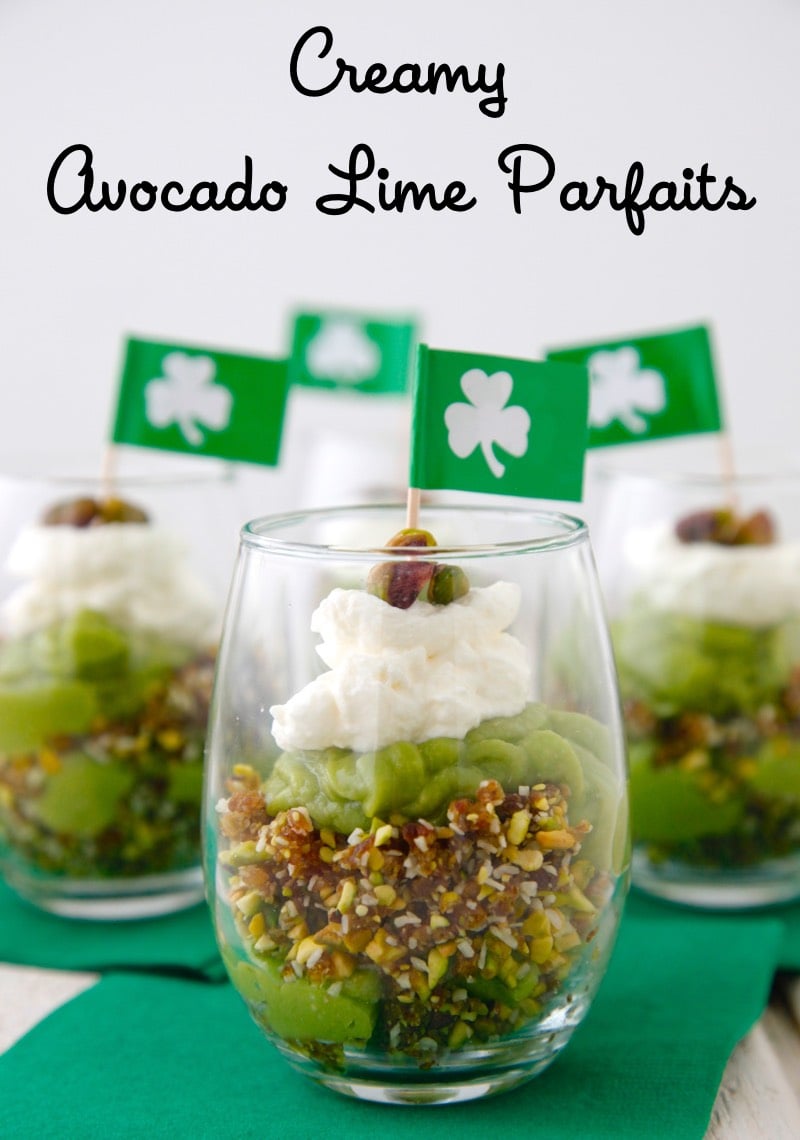 Pin
Over the past week Chloe's class has been preparing for St. Patrick's Day, discussing and learning about four leaf clovers, leprechauns and what the holiday is all about. Next week they're even going to make bright green Spinach Pancakes to celebrate the holiday. It's easy to fall back on using green food dye in St. Patrick's Day recipes, but when you can make something dye-free using naturally verdant foods it's raises the fun and health antes!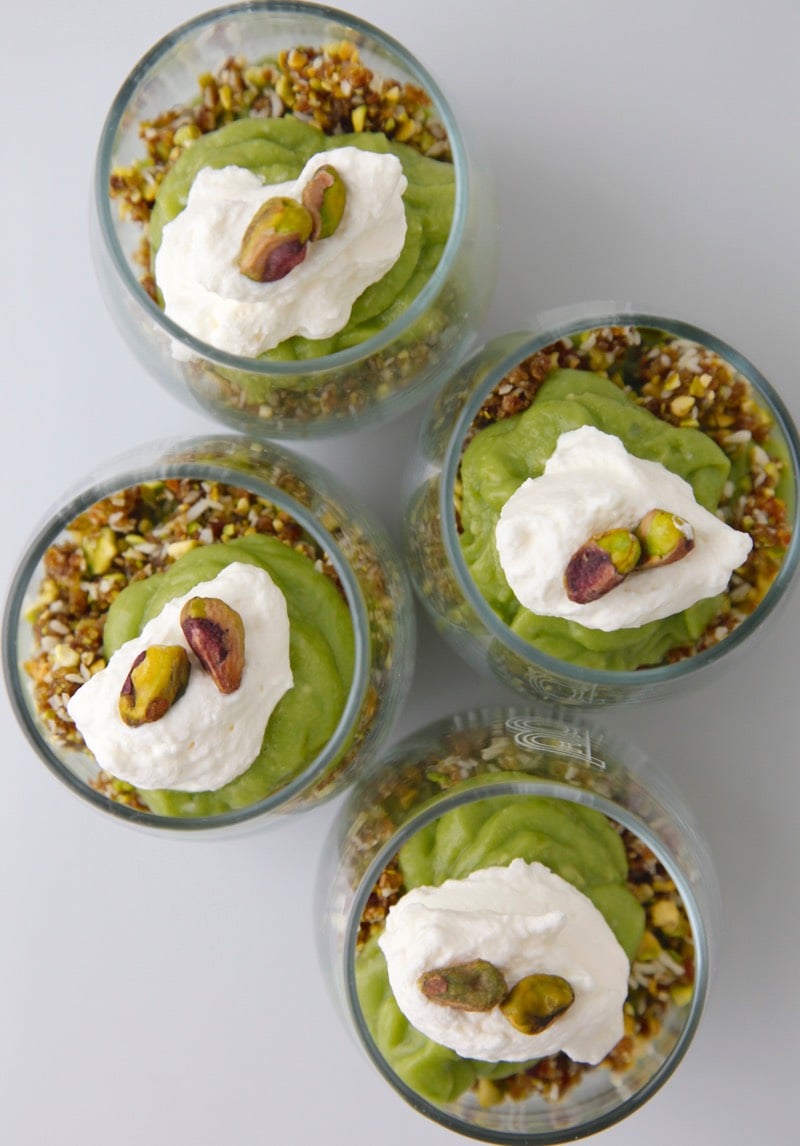 Pin
These Avocado Lime Parfaits are a decadent way to make a vibrant emerald treat using ripe avocados as the puree, lime juice for zing (and to retain the avocados bright green color) and a crunchy crumble topping made from pistachios, sweet dates and unsweetened coconut. Not only is this dessert free of gluten, dairy and refined sugars, it's also a no-bake recipe which makes it especially appealing if you want instant gratification and are not in the mood to turn on the oven.
I like to chill the parfaits for a few hours, but trust me when I tell you they're also unbelievably good the moment they're prepared. If you want to discover more dye-free St. Patrick's Day recipes for parties or school functions check out a bunch right here!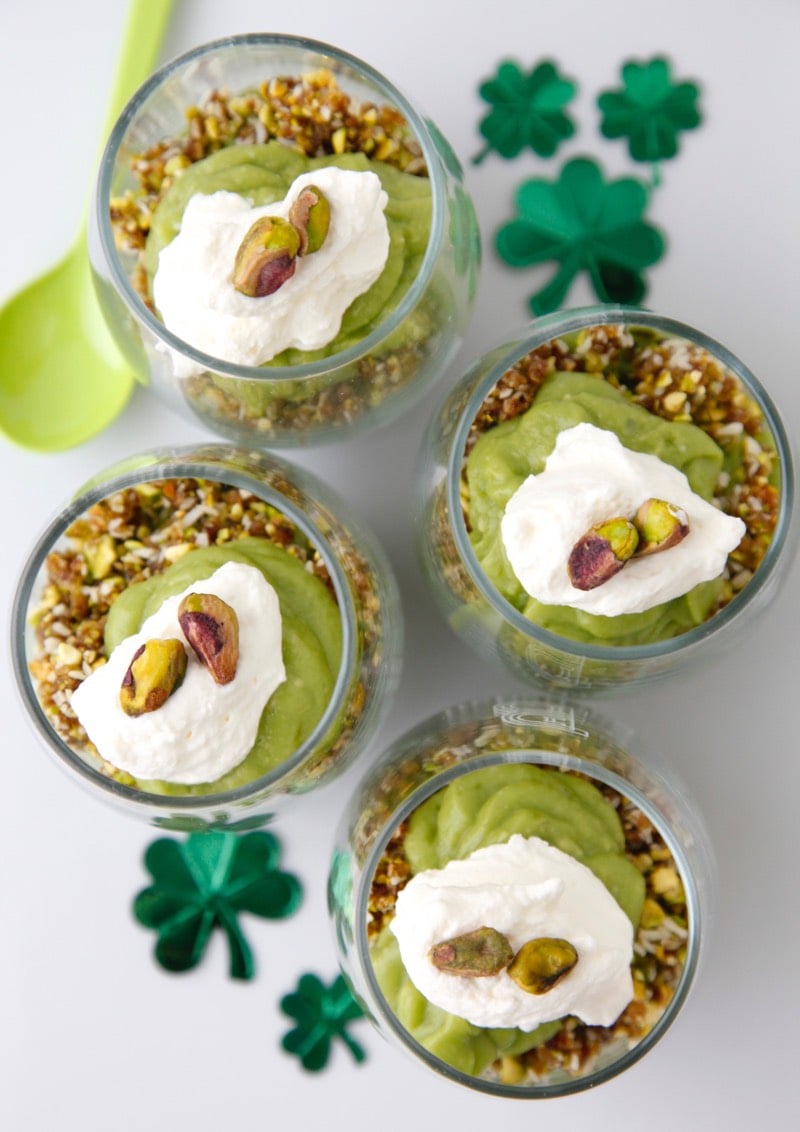 Pin
In an attempt to entice you to make a special dye-free green dessert this St. Patty's Day, I partnered with my friend and talented chef, Byron Talbott, to come up with luscious, irresistible desserts that are easy to prepare for St Patrick's Day. You can see this dye free dessert here along with tons of other videos by this YouTube star!
Watch my Creamy Avocado Lime Parfaits Video above and get all kinds of tips and tricks to make this recipe for St. Paddy's — or any time of the year you want to be green….naturally!
Creamy Avocado Lime Parfaits
Ingredients
2

ripe

Avocados

1/4

cup

lime juice

1/4

cup

honey

1

tablespoon

coconut oil

1

1/4 teaspoons

lime zest, divided

1/2

cup

chopped pistachios

1/2

cup

pitted dates (about 12 medjool dates)

1/4

cup

unsweetened shredded coconut

kosher salt
Instructions
Using an electric mixer, combine the avocado flesh, lime juice, honey, coconut oil, and 1/4 teaspoon of the lime zest and mix until smooth and creamy.

In the bowl of a food processor, combine the remaining lime zest, pistachios, dates, coconut and salt and pulse until the mixture is finely chopped.

Place a heaping scoop of the avocado puree in a glass or bowl and top with a scoop of the pistachio/date crumble.

Layer another scoop of the avocado puree, top with the date/pistachio crumble and finish with a scoop of whipped cream if desired.