Who needs artificial dyes when you can have naturally tasty green food?! This St. Patrick's Day School Lunch is so much fun!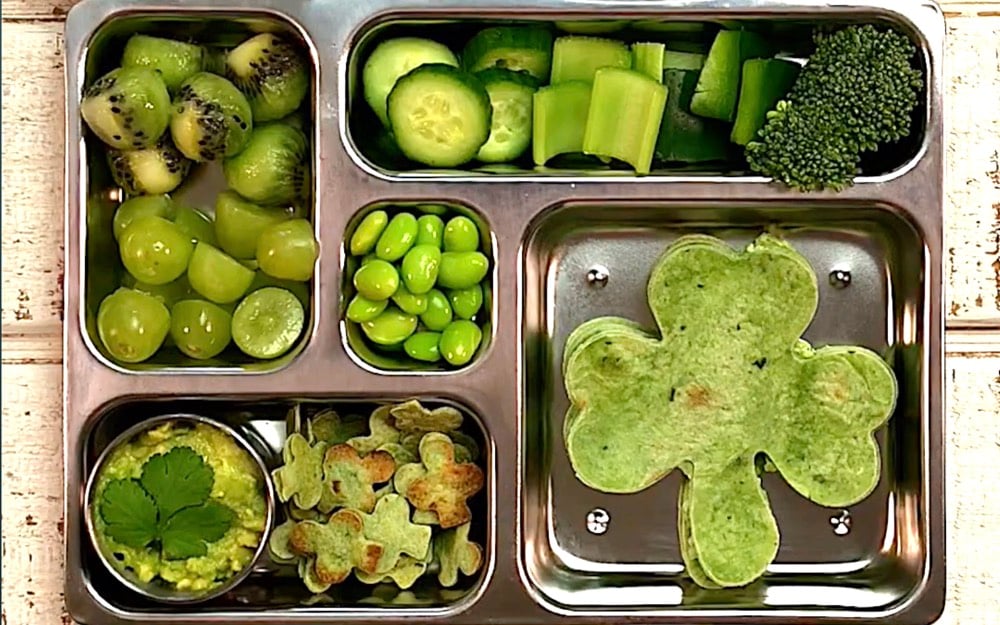 If you haven't figure it out by now, making school lunch fun and exciting is my passion. This St. Patrick's Day School Lunch was a blast to make! What would you put in your kid's St. Patty's Day school lunch? Let me know in the comments!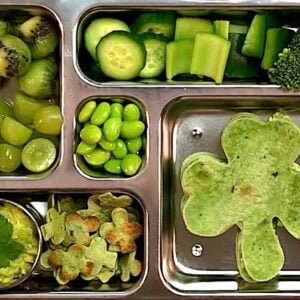 St. Patrick's Day School Lunch
Ingredients
Other Ingredients:
kiwi

cut with a melon baller

green grapes

edamame
Instructions
For the Shamrock Sandwiches:
In a food processor, combine whipped cream cheese, fresh baby spinach, lime juice, and salt. Pulse until creamy. Use a large (about 4inch) shamrock cookie cutter to cut the spinach tortillas, and spread with the green cream cheese. Top with second shamrock cutout to form a sandwich. Save the leftover tortilla scraps for the next step!
For Easy Guacamole and Crispy Tortilla Chips:
Simply mash together avocado, lime juice, and a pinch of salt. Serve with Crispy Tortilla Chips. Use a smaller shamrock cookie cutter to cut the remaining spinach tortillas, place on a baking sheet, and bake at 400 for 5 minutes, until lightly golden brown and crisp. 
For the Rest of the Lunchbox:
Combine the broccoli, cucumber, green bell peppers, and celery in a compartment of the lunchbox to form the ombre green veggie salad.

Place the kiwi melon balls, grapes and edamame in other compartments.