Easter is right around the corner, and that means dyeing Easter eggs (a perfect activity to do with your kids!). It also means cooking fun recipes with your family, so here are 28 Easy Easter Recipes – a one stop shop for all things Easter! From naturally dyed eggs, to recipes for those dyed eggs, to Easter Brunch, to that spectacular Easter dinner — it's all right here in one place!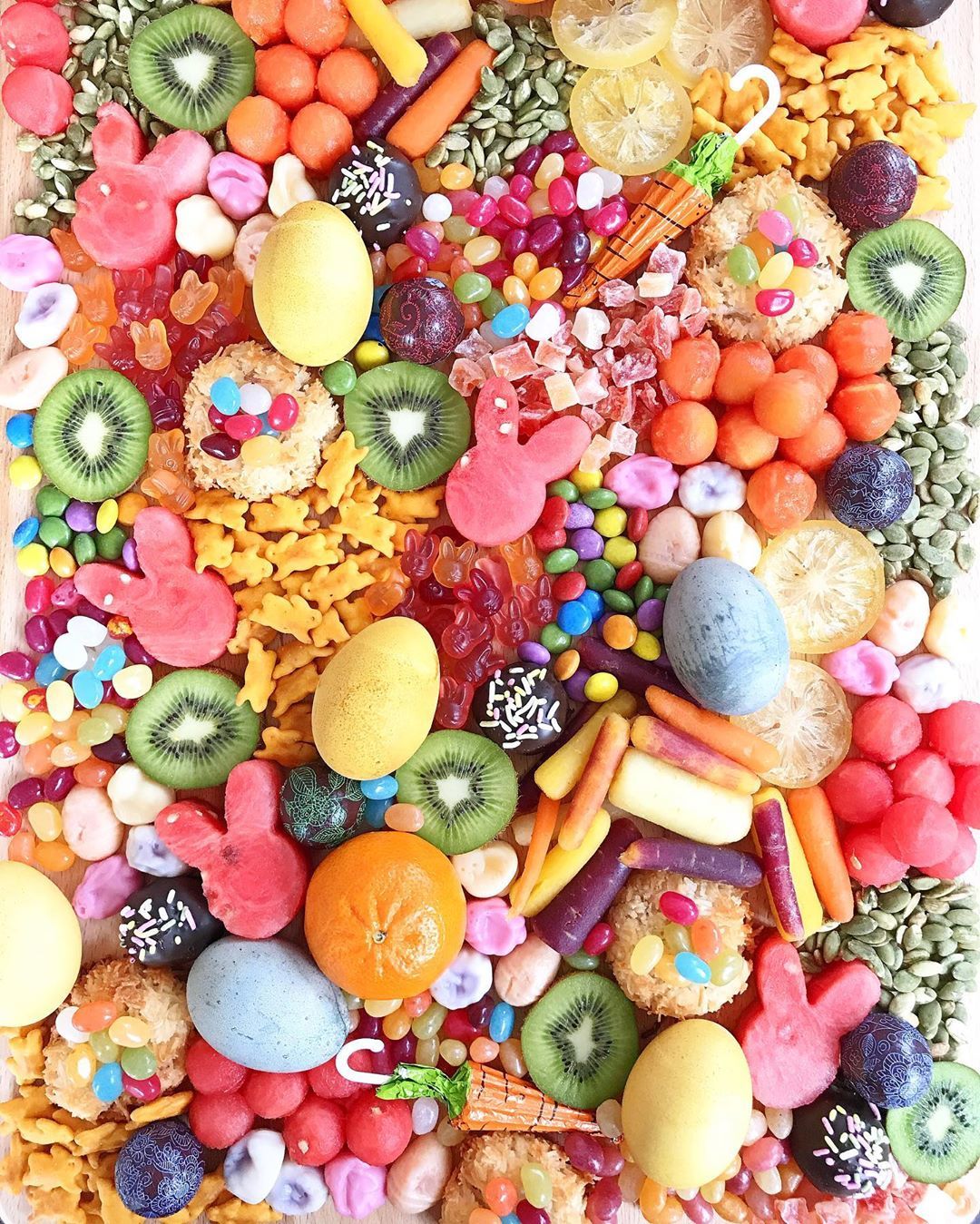 Carrot Recipe for Easter
You can't think Easter without thinking Easter Bunny which means…carrots! I There are so many favorite recipes of ours made with carrots which are perfect for your easter brunch or dinner. 
Carrot Cake Pancakes
Carrot Cake Pancakes are such a treat for Easter brunch, but are delectable any morning! They're fluffy, slightly sweet and absolutely delicious.
Carrot Ginger Soup
This soup is the perfect combination of sweet yet hearty and super healthy too! Plus, you only need a few ingredients to make it.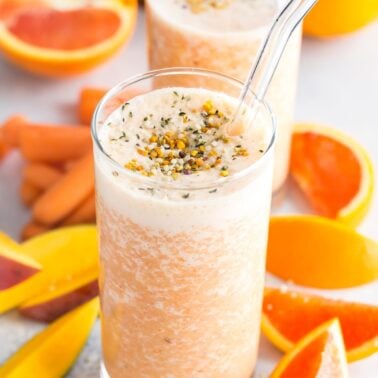 Carrot Orange Ginger Smoothie
Healthy, zippy and delicious, this smoothie is a perfect start to any day!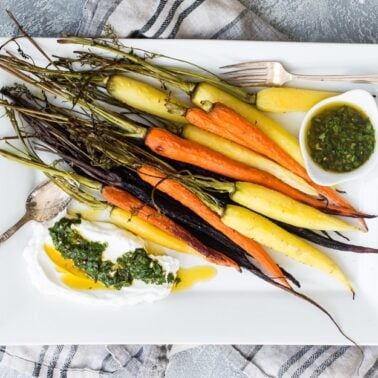 Caramelized Carrots with Chermoula
Caramelized carrots are unreal delicious, but with a chermoula sauce to dip them in they're next level!
Carrot Ginger Sauce
This sauce is great on pasta and full of flavor, plus it's super healthy! Win-win!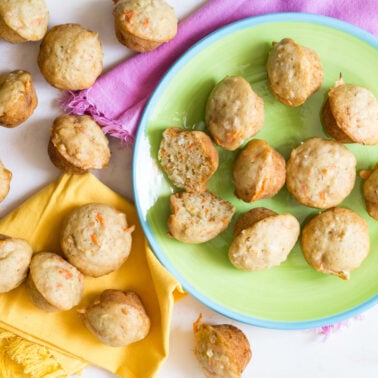 Carrot Apple Coconut Muffins
Fluffy and moist, these Carrot Apple Coconut muffins are an explosion of flavor! Great for a healthy breakfast, snack or dessert!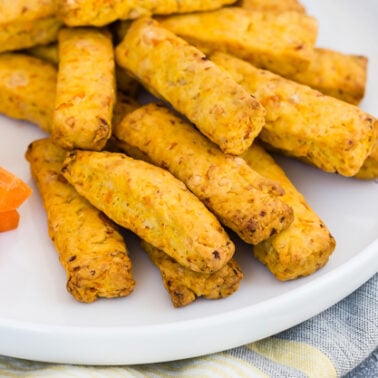 Carrot Snack Sticks
Carrot Snack Sticks are a crispy, crunchy, savory bite that are almost addictive.
Pineapple Carrot Cake with Cream Cheese Frosting
A classic carrot cake with a touch of pineapple takes this recipe to the next level. It's one of our all time favorites any time of year.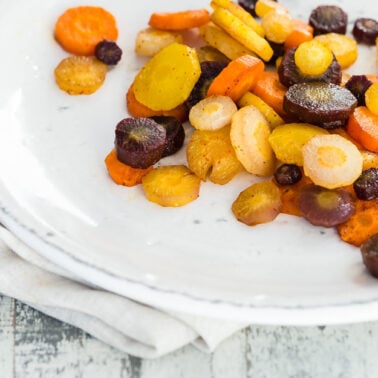 Roast Carrot Coins
Sometimes all you need is to roast a carrot and call it a day. This recipe is simple yet delicious!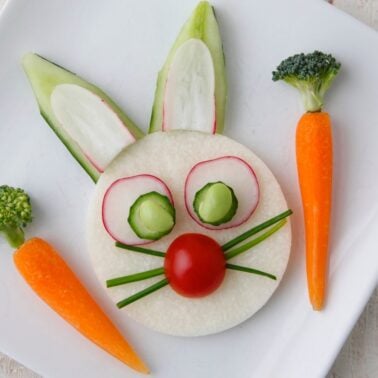 Veggie Bunnies
Making food fun (especially vegetables) is the best way to get little ones to try it! How cute are these veggie bunnies?
Easter Egg Recipes
Next up, you can't have the Easter bunny without Easter Eggs! These activities and recipes are so much fun to do with your kids for this holiday.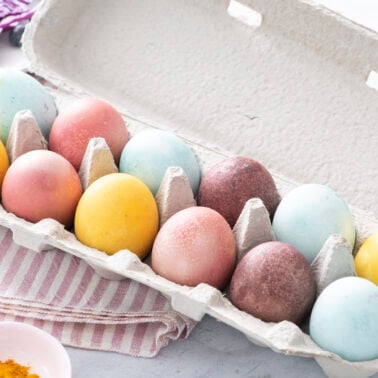 Naturally Dyed Easter Eggs
Dyeing eggs without using the artificial dye packets is super simple, healthier and cost effective! Use what you have on hand and have fun!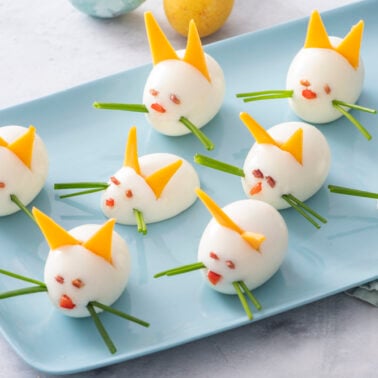 Egg and Bacon Bunnies
We get such a giggle out of making these little egg and bacon bunnies every year. They're as cute as can be and such a fun activity for kids (and adults)!
Deviled Egg Chicks
These little chicks are another cute and super fun Easter activity! They make me laugh every time.
Easter Brunch or Dinner Recipes
Now, for some recipes for that perfect Easter brunch and/or dinner you're having! 
HPB (Ham, Pineapple, and Biscuit) Sandwiches
I love these biscuit sandwiches. Sweet pineapple paired with salty ham is a flavor combo I can always get behind.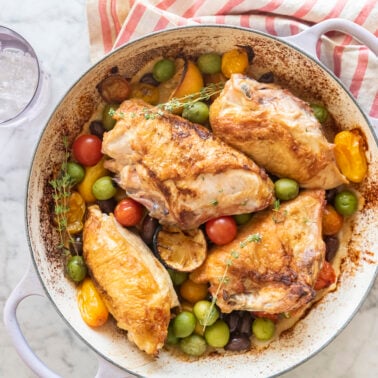 Roast Chicken with Caramelized Lemons, Cherry Tomatoes and Olives
This roast chicken recipe has quickly become one of my trusted, tried and true dinner entrees for a plethora of reasons. It's super simple (hello only 5 ingredients and only one pan) and incredibly delicious.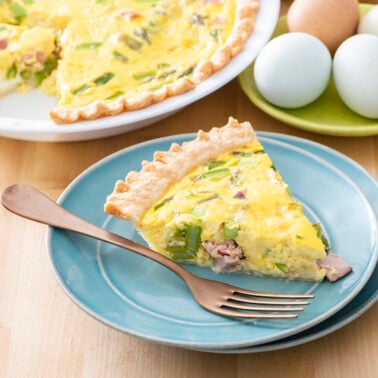 Ham and Asparagus Quiche
There's something about a quiche that just feels Easter-y to me. This one has fresh asparagus and ham but you could use any spring vegetable you have on hand.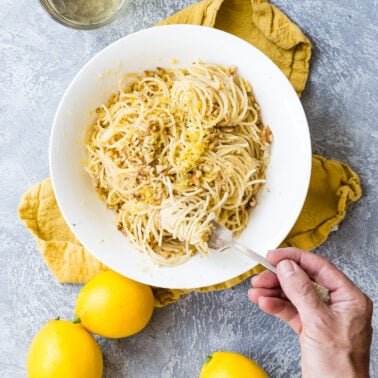 Lemon Spaghetti with Toasted Walnuts
It doesn't get more simple than this Lemon Spaghetti Pasta. Simplicity doesn't equal bland though, it's filled with tons of flavor and some extra texture from the toasted walnuts!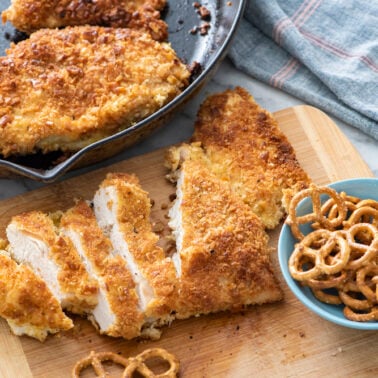 Pretzel Fried Chicken
Pretzel Fried Chicken is the crispiest and most tender fried chicken you'll ever make! Crunchy pretzels coat the outside to give you the most satisfying crunch.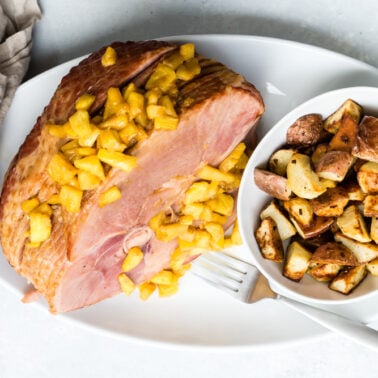 Pineapple Brown Sugar Glazed Ham
Another ham recipe because why not! This recipe creates a juicy, slightly sweet ham that is irresistible.
Garlic Roasted Red Potatoes
Crispy on the outside, tender on the inside and full of flavor, these garlic roasted red potatoes are the perfect addition to any Easter dinner.
Shaved Vegetable Salad
This Shaved Vegetable Salad is about change the game for the way you and your family enjoy veggies.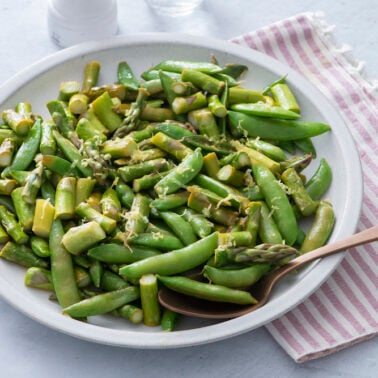 Sugar Snap Pea and Asparagus Saute
This Sugar Snap Pea and Asparagus Sauté is a simple, fresh side dish that can be ready in no time.
Roasted Balsamic Brussels Sprouts
Roasted Balsamic Brussels Sprouts are roasted with crisp edges, and then tossed in syrupy sweet reduced balsamic vinegar.
Bacon Wrapped Air Fried Asparagus
Bacon Wrapped Air Fried Asparagus is one the simplest vegetable side you can make! The crispy bacon wrapped around this spring vegetable is out of this world tasty!
Avocado Honey Dip
A great appetizer to snack on when you're getting your dinner ready. Serve with crispy crackers or crunchy veggies!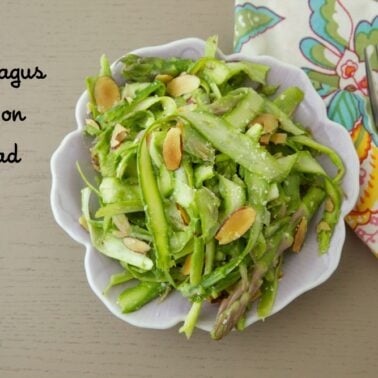 Asparagus Ribbon Salad
Using fresh spring produce is always a win for Easter lunch or dinner. This asparagus ribbon salad will be quick to disappear from the table!
Easter Desserts
Air Fryer Donuts
These Air Fryer Donuts are a delectable sweet treat that taste like the real deal. No deep frying needed!
Lemon Pound Cake Mini Doughnuts
These delectable treats are baked with a slight lemony, sweet flavor and fluffy texture.
What Easter recipes and activities are a tradition for you and your family? For us, holidays are all about being together and having fun with our family and friends and enjoying delicious food with each other. Let me know if you make any of these recipes! Tag me on social media @weelicious so I can see them! Happy Easter everyone!