To say that my family loves this HPB (Ham, Pineapple and Biscuit) Sandwich would be the understatement of the year. And once you introduce this recipe to yours, I know they'll feel the same.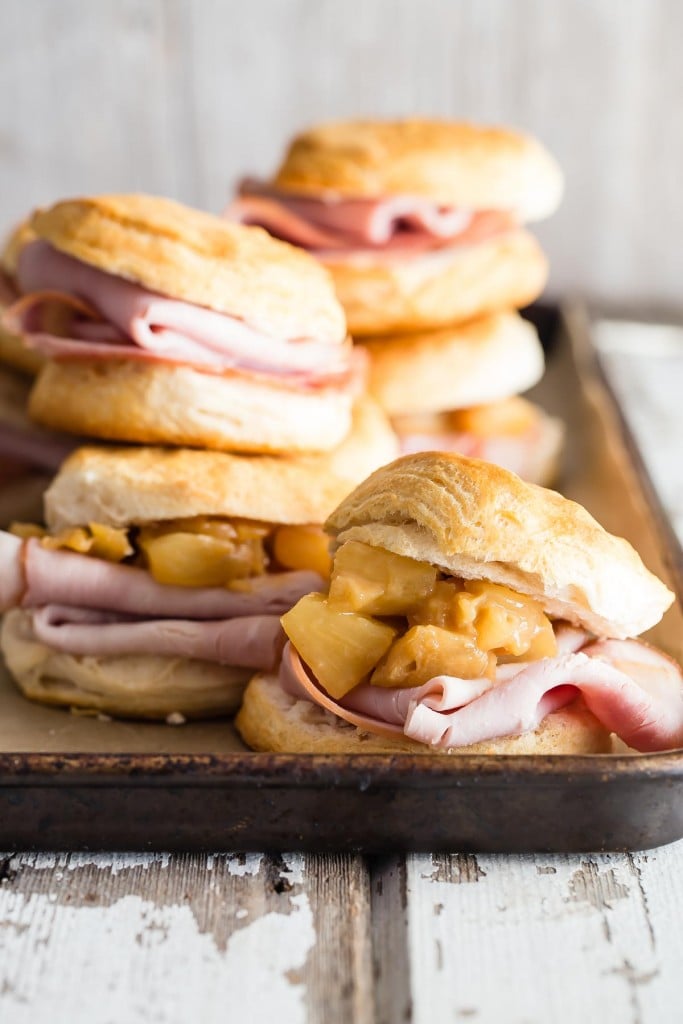 As much as I love Christmas Eve dinner, the meal(s) I crave more than anything are the ones that follow. After a day of lazily lounging by the fire in our wrapping paper strewn living room, our entire family casually sits around the kitchen table devouring leftovers. You see, I've been making the same country ham with brown sugar pineapple sauce on Christmas Eve for the past 17 years. It's a simple dish that's always the precursor to me doing all of my last minute gift wrapping (yes, the kids and I are still wrapping for family events days after Christmas) and is the star of our holiday table. Everyone always looks forward to the moment it comes out of the oven.
The first time I heard my city mouse mother-in-law profess her love for my "good country ham" I knew I had found the way to her heart. I've made slight variations to the recipe over the years, but what never changes is the mountain of flavor the ham gets from the tang of the the sugar sweet pineapple, zip of the mustard and deep molasses flavor from the brown sugar. It always keeps you coming back for another helping.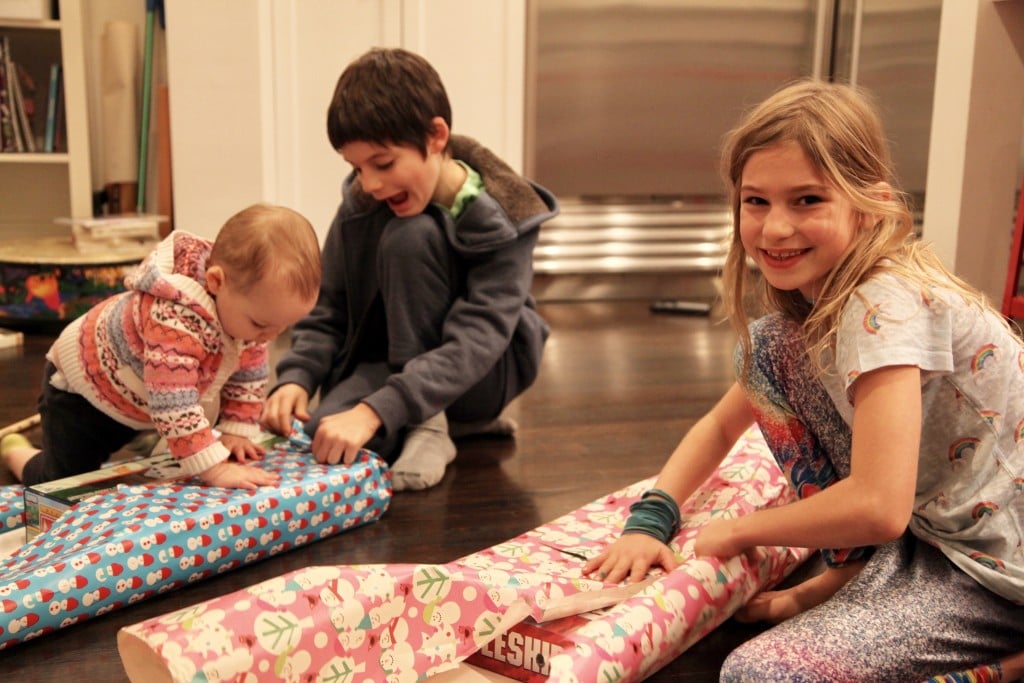 Pin
However, the creations we make with the leftovers on the ensuing nights, like these HPB (ham, pineapple, biscuit) sandwiches, are enough inspiration to get me to buy the biggest ham I can get my hands on at the butcher. After all, holiday eating for me is all about the leftovers…and I plan for it. While HPBs with country style ham are my favorite way to use leftovers, you could also make this dish with any type of ham you have right at home. I've used deli ham here.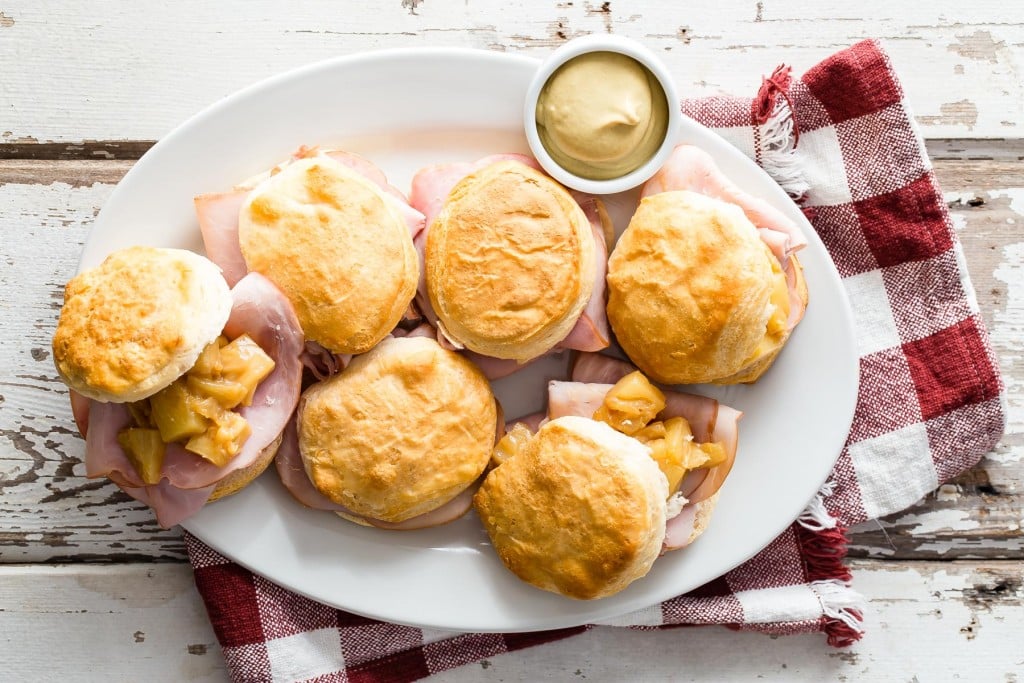 I teamed up with the National Pork Board to send you a recipe that should make the "H" in HPB stand for happy! This year, the National Pork Board is helping you to make every moment one worth celebrating, no matter how big or small. To celebrate those moments – and inspire more – the National Pork Board is serving up recipes in a new way.
A Pork Be inspired® Facebook bot will provide you with a great-tasting pork recipe to match whatever is on your agenda – whether that's playing board games with your kids, making hot cocoa or building a snowman as a family. Pairing new social media technology with survey data, the interactive bot will ask you a series of questions to determine the best recipe for your occasion. For meal inspiration – from now to New Years – follow Pork Be inspired on Facebook and click "message" to talk to the Bot. You can also visit PorkBeinspired.com to discover new pork recipes. It's almost as easy as chatting with a loved one.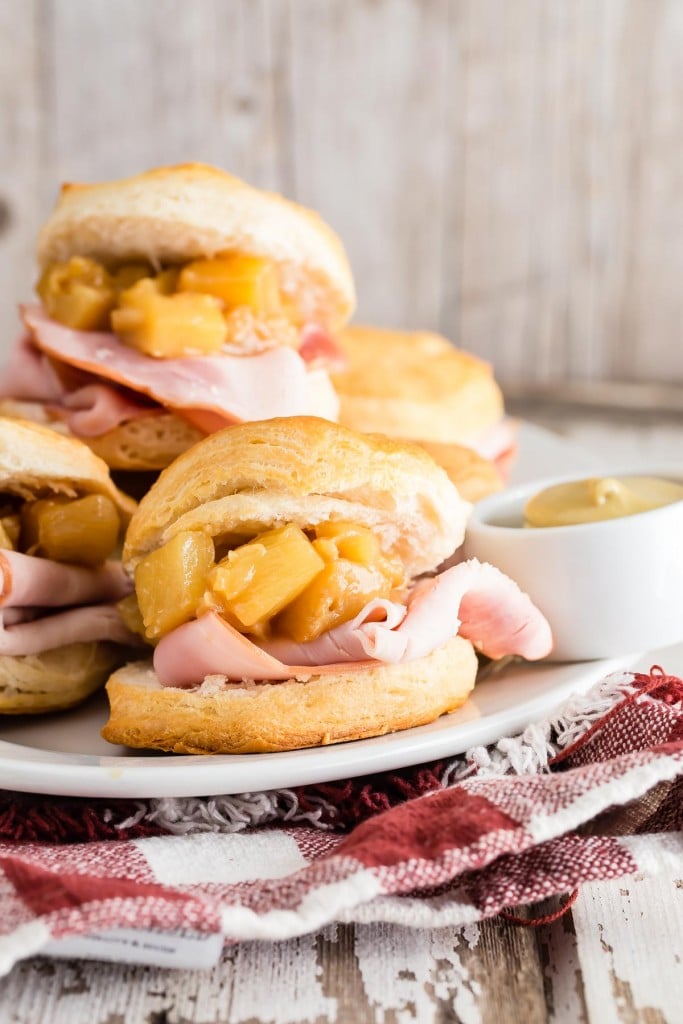 They say necessity is the mother of invention, and I invented this sandwich because I needed to come up with new ways to use leftovers. You can certainly play around with my simple recipe to suit your personal taste, but to make what I consider the quintessential HPB, take a warm biscuit right out of the oven (you can also use a day-old one and quickly reheat it), slice it in half, place a thick piece of ham on top, spoon some of the fresh pineapple sauce (that's actually more of a jam, with big pieces of juicy pineapple in every bite) over the ham, and then top it with the other half of your golden, buttery biscuit. All of a sudden you have a handful of heaven.
Not sure what type of ham to use? I've made them with everything from old fashioned, smoked, deli sliced, country, even southern style and each one is as tasty as the last.
You can make these sandwiches for a variety of occasions — cocktail party, tailgate or large family gatherings spring to mind — but I find nothing beats just sitting around the table with family and friends watching everyone build their own. No matter how you prefer them, you'll never look at leftovers the same way again.
Join me December 8th (this Thursday) at 10am PST/ 1pm EST for a Facebook Live you won't forget! I'll show you a variety of ham you can use for this recipe, show you a bunch of tips for total success making these gems and a HUGE giveaway you won't want to miss!
Photos by Gerry Speirs
HPB (Ham, Pineapple, and Biscuit) Sandwiches
Ingredients
Biscuits:
2

cups

all purpose flour

1

tablespoon

baking powder

1/4

teaspoon

baking soda

1

teaspoon

kosher salt

1

teaspoon

sugar

6

tablespoons

butter, cubed

3/4

-1 cup

cold milk
Pineapple Sauce:
1

cup

fresh pineapple, diced (about the size of corn kernels)

1

tablespoon

dijon mustard

2

tablespoons

brown sugar
Sandwiches:
1

pound

country ham (or your favorite type of ham)
Instructions
Biscuits:
Preheat oven to 425F degrees.

Place the first 5 ingredients in a food processor and pulse to combine. This can also be done in a bowl.

Add the butter and pulse until the butter is in tiny pieces the size of rice.

Add the milk using 3/4 cup to 1 cup making sure the dough doesn't get too wet. Do not over mix or the dough will become tough.

Place the dough on a lightly floured surface and roll to 1 inch thick.

Cut biscuits out with a circle ring cutter.

Place biscuits on a silpat or parchment lined baking sheet and bake for 12 minutes or until starting to become golden.
Pineapple Sauce:
Place ingredients in a small saucepan over medium heat, lower to a simmer and cook for 5 minutes or until pineapple begins to soften.
Sandwiches:
Cut the biscuits in half, top with country ham, add a scoop of pineapple sauce, top and serve.


Note: Country ham is a specialty of the southern U.S. Old-fashioned, country-style or Southern-style ham is dry cured and contains no added water. It is extremely salty and usually served in small portions, very thinly sliced. You can use this, or any type of ham you prefer for these sandwiches.