If you've been looking for a refreshing smoothie that's packed with nutrition to aid in keeping you healthy, the Carrot Orange Ginger Smoothie is for you. This smoothie has easily become one of my family's favorites and is my go-to for whenever any of my little ones are starting to feel a bit under the weather.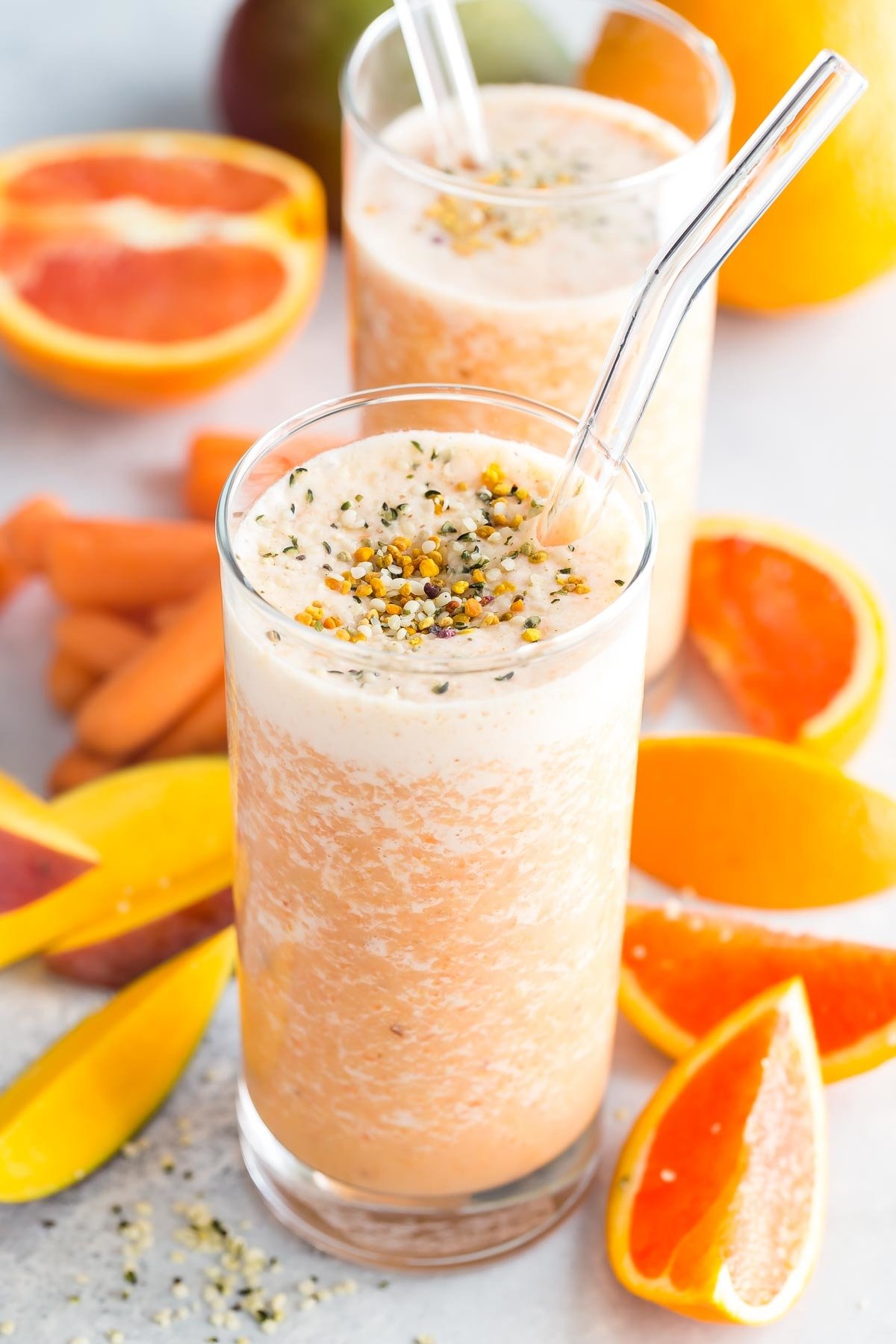 I get asked all the time: do we really have a different smoothie every day? It may seem challenging at first, but once you get in the swing of keeping a variety of frozen fruits, a few fresh ones and a bunch of dry goods on hand, it's honestly easy to mix, match and play. Not only does it get selective (aka "picky") eaters out of their rut, but it's also the best way to get a variety of foods in your body day in and day out. This Carrot Orange Ginger Smoothie is so incredibly healing you'll crave it.
The first time I made us Carrot Orange Ginger Smoothies for breakfast was during a week a few kids in Kenya's class were out sick and I was praying my kids wouldn't get it too. So, I loaded them up with tons of vitamin C (from the orange), beta carotene (from the carrot), turmeric (which helps with inflammation), bee pollen (an amazing immunity booster), medicinal fresh ginger and a ton of other healing foods. 
You would think that a raw carrot and whole orange would be challenging to grind up, but in a strong blender it's no problem at all. Just pop everything in and whiz it up. If you really want to absorb all of the medicinal benefits of the fresh turmeric you can add in some coconut oil and a pinch of black pepper which activate it's medicinal properties. Either way you've got a delectable smoothie to get your day kicked off right!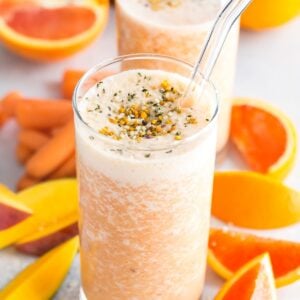 Carrot Orange Ginger Smoothie
Ingredients
1

peeled

orange

1

large

carrot

1

inch piece

fresh ginger, peeled

1

inch piece

fresh turmeric, peeled

1

dates

2

tsp

coconut oil

1

crackbl

black pepper

2

teaspoons

bee pollen

1

tablespoon

hemp seeds

3/4

cup

frozen mango

1

cup

milk (cow, almond, rice, etc)
Instructions
Place all of the ingredients in a blender and puree until smooth.


Pour into a tall glass, pop in a straw and you're ready!