These Egg and Bacon Bunnies are so cute, you might not want to eat them at first. But they're so delicious that you won't be able to help yourself!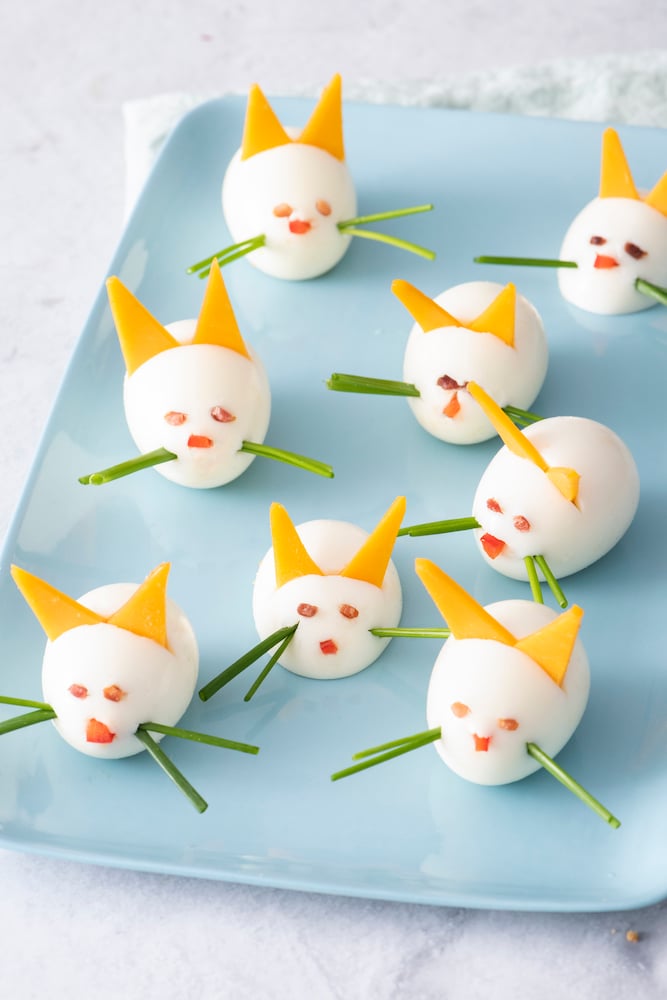 When one thinks of Easter, two things usually come to mind — bunnies and eggs. When planning my recipes for this year's Easter brunch, I knew I wanted to make something fun and which also had a bit of whimsy for the kids. These Bacon, Egg and Cheese Bunnies fit the bill absolutely perfectly.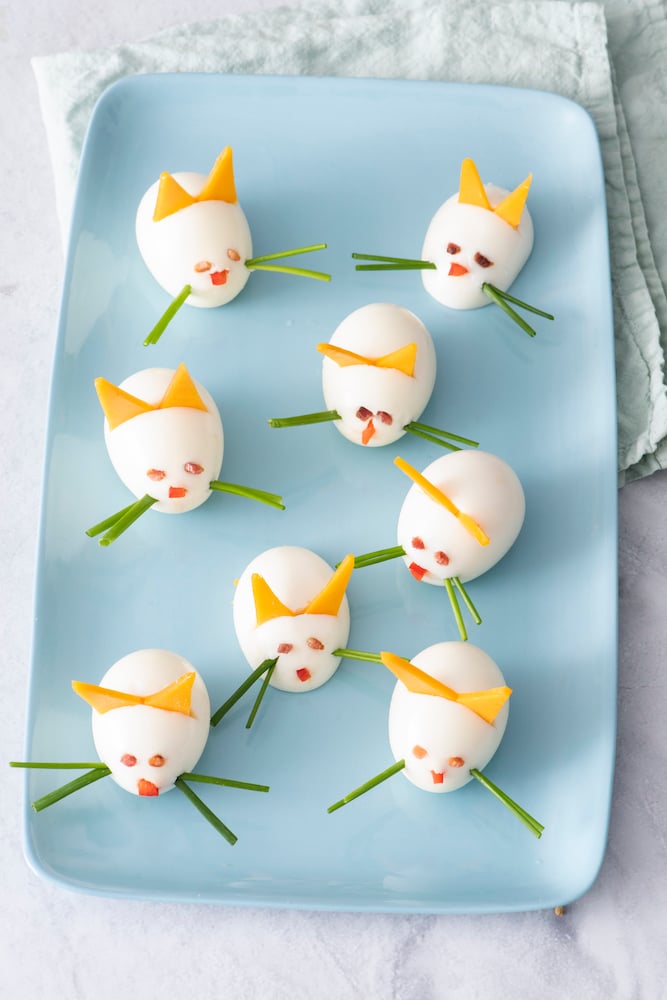 Just cook up some nice crispy bacon, boil a batch of eggs, and cut out triangles of your favorite cheddar cheese slices (you can even have your kids help you with this last step). The hardest part of the recipe is making the hard boiled eggs, which if you haven't boiled them before can often feel daunting, but in reality they are very simple to make. If you personally don't find boiling eggs easy, this hard boiled egg recipe will show you how!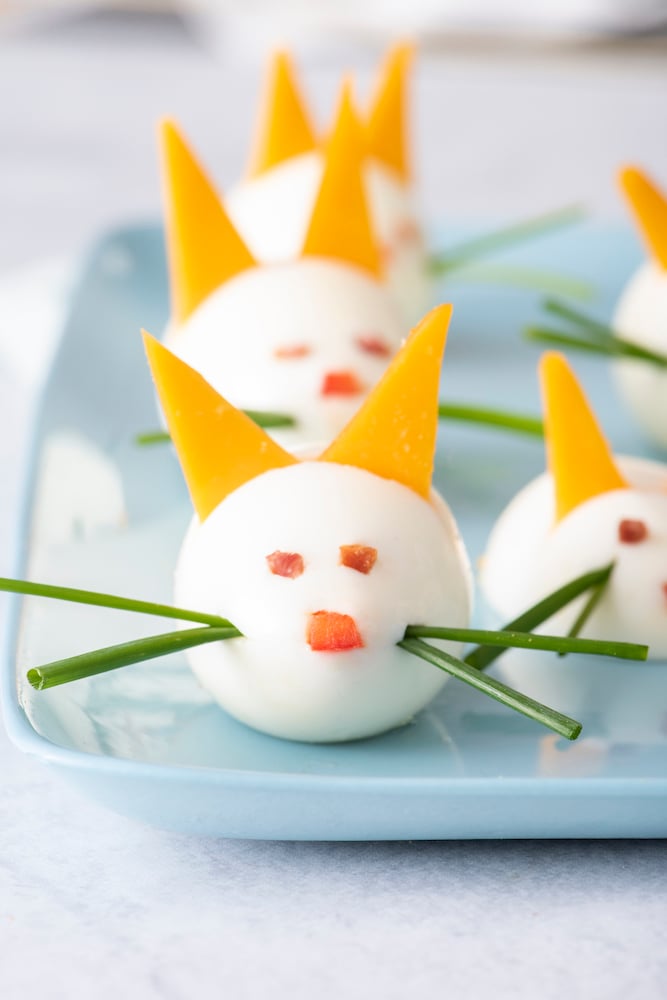 Once you are onto decorating these little cuties, this can be a wonderful Easter activity to do with your kids. If it were up to Chloe, she would even make tiny bunny clothes for these little bunnies. Who knows, maybe edible bunny outfits will even be on next years menu with these guys!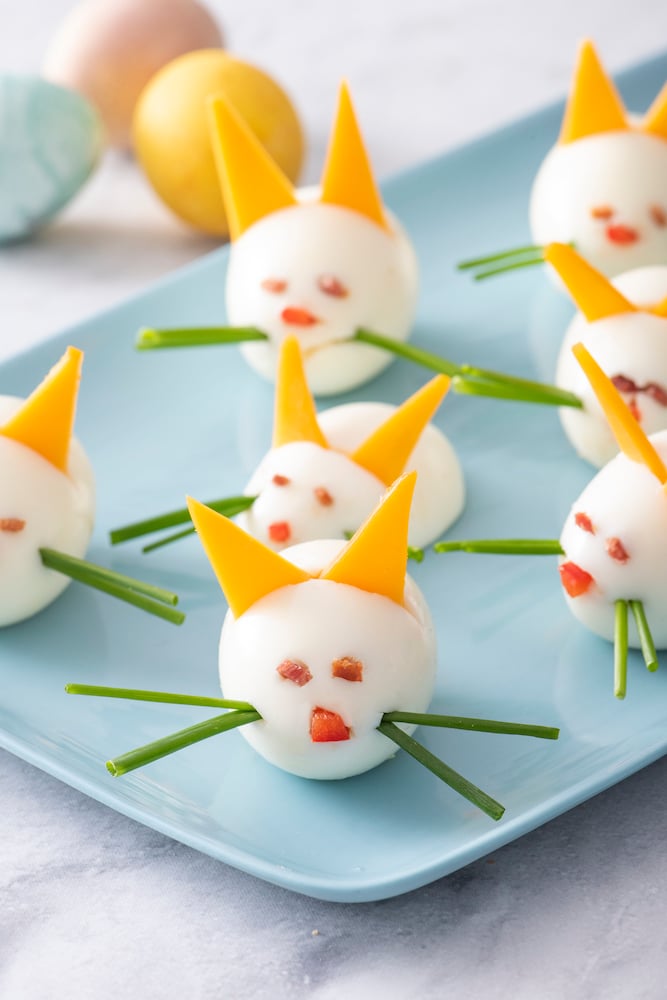 As with all little bunnies, the ones in this recipe look totally cute, but they are also delicious to eat. You get the creaminess of the egg, the smoky taste of the bacon, and the sharp saltiness of the cheese in every bite. Easter never tasted so good and looked so cute!
I posted a video making these on my Instagram if you need any tips and tricks!
Egg and Bacon Bunnies
Ingredients
6

hardboiled eggs

1

slice cooked bacon

6

chives

4

slices cheddar cheese
Instructions
Peel the hardboiled eggs and using a starp knife off a tiny piece so the hard boiled egg lays flat. Alternatively you can slice the eggs in half lengthwise.

Place the eggs, cut side down, on a serving platter.

Slice the cheddar cheese into small triangles.

Using a sharp knife cut a slit in the top of the egg closest to the narrow side and slide in 2 cheddar cheese triangles to resemble bunny ears.

Finely dice the bacon, use a knife to make 2 tiny cuts into the egg and push 2 pieces into to resemble eyes.

Finely chop the bell pepper into tiny pieces, use a knife to make a tiny slit into the center and push in pepper to resemble a nose.

Chop the chives into 1 1/2 inch long pieces, make a tiny slit into the sides of the eggs just below each bacon eye and push 2 pieces into the egg to resemble whiskers.